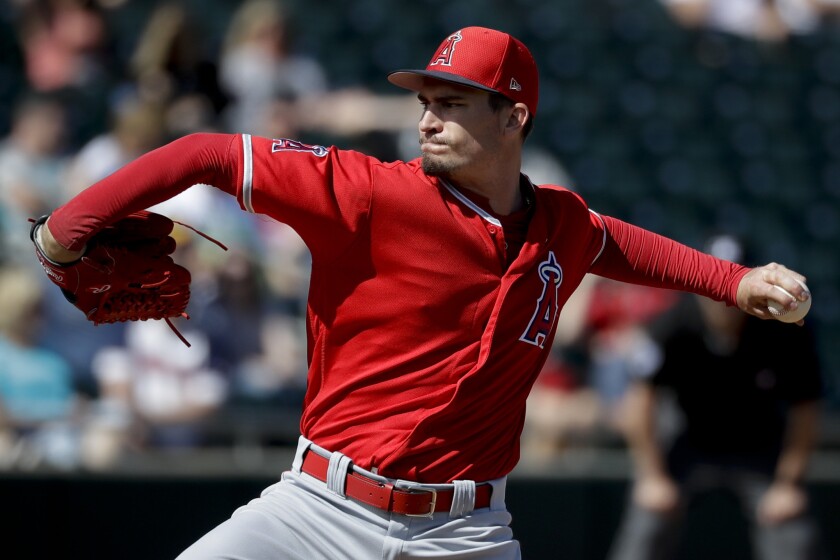 Andrew Heaney played catch Tuesday afternoon at Angel Stadium for the first time since receiving a cortisone shot in his elbow last week, a small step forward in his return to the starting rotation.
The left-hander has been sidelined because of elbow inflammation since early March. Tests performed last week revealed no damage to his ulnar collateral ligament, which he had surgically repaired nearly three years ago, and determined that chronic changes to the elbow caused the irritation.
Heaney was not available for comment prior to Tuesday's game against Milwaukee, but there's reason to be optimistic. Still, the Angels are going to be cautious. They need Heaney, who said during a 20-minute interview Friday that he is trying to be more honest with the team and its trainers, to show measurable signs of progress.
"It's been a couple times where it's kind of flared back up, so we want to avoid that," manager Brad Ausmus said. "So I think at this point we want to be patient."
Without Heaney in the rotation, Angels starters have held their own. Opening day starter Trevor Cahill has an earned-run average of 3.50 and Tyler Skaggs' is more than a full run better. Matt Harvey, who made his third start Tuesday night, and Felix Pena both have had encouraging outings. Right-hander Chris Stratton, acquired days before the season to make up for Heaney's absence, also has proven serviceable at the back of the rotation.
But Heaney's eventual return would provide a boost. In his comeback season last year, Heaney set career highs and led the Angels with 30 starts, 180 innings and 180 strikeouts. He started the campaign with an injury similar to the one he sustained this spring, but still managed to put together his best year in the majors.
The Angels were counting on Heaney to help lead the rotation, but his elbow began to bother him after his first Cactus League start Feb. 26. He was scratched from a March 3 start but allowed to continue throwing when an MRI exam revealed no damage to his elbow. He made his second start March 8 and said he felt no lingering problems. But five days later, Heaney was stopped from throwing altogether. His elbow bothered him again, and the discomfort was enough to raise a red flag.
Sign up for our daily sports newsletter »
Heaney's third setback occurred in late March, a few days before the start of the season. He threw 20 pitches in a bullpen session at Angel Stadium during the Freeway Series and felt the discomfort in his elbow return.
Now that he is playing catch, Heaney should begin throwing off a mound again soon.
"All in all, it's good news," Heaney said Friday when asked about the results of his CT scan. "Something we're going to have to be diligent about and kind of manage throughout the year, keep an eye on, be smart about, kind of change up the way we do a few things. Just be smart about it."
Umpire removed
Home plate umpire Tom Hallion was removed from Tuesday night's game after being hit in the face mask by a foul ball off the bat of Andrelton Simmons during the second inning.
Hallion, 62, was examined by Angels head trainer Adam Nevala and allowed to finish the inning. Hallion did not remain on the field for the third inning and was replaced by Todd Tichenor. The rest of the game was played without a second-base umpire.
---