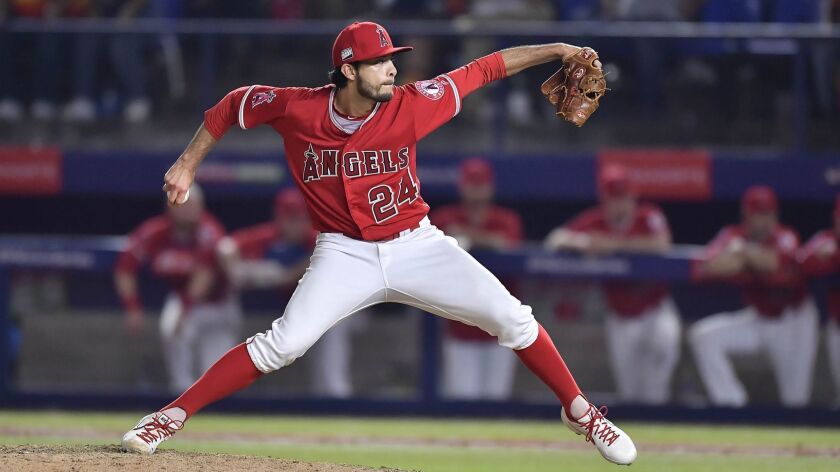 Reporting from MONTERREY, MEXICO —
He tried hard to ignore the screamed requests for autographs, the demands for his belongings. But as Angels reliever Noe Ramirez warmed up in the bullpen at Estadio de Beisbol Monterrey on Saturday night, there came a point he had to give it up.
"They were hilarious," Ramirez said. "They were asking for everything. I think they even asked for my jockstrap."
The worst of the Angels was on display in a 14-2 loss. A near-capacity and vibrant crowd of 18,177 witnessed the Houston Astros beat a team that was riding a four-game win streak. Trevor Cahill surrendered six runs on six hits, including three home runs in an atrocious 31/3-inning start that came after eight days rest and continued a trend. Cahill has historically induced more ground balls than balls in the air, but he has now given up 12 homers this season.
The results left manager Brad Ausmus searching for a solution.
"Either the altitude, or air or whatever you want to call it, environmental factors played into it," Ausmus said. "We still need to figure out why the ball is in the air so much. Could be location. Could be usage. Could be a number of things, but we need to figure it out."
Angels reliever Chris Stratton fared worse. He gave up eight earned runs on seven hits in four innings.
But there was one silver lining.
Ramirez, whose parents were born in Guadalajara and relocated to Boyle Heights before he was born, got to fulfill his goal of pitching on Mexican soil for the first time as a professional athlete.
Sign up for our daily sports newsletter »
"I tried to enjoy it as much as I could," Ramirez said. "Awesome energy again, even in the ninth inning down a lot of runs. It was pretty special."
A day earlier, Ramirez had stood in the Angels dugout during a workout and expressed desire to pitch in his parents' homeland.
"Yeah, man," he said. "A few of us were joking around when we landed. Do you feel that? Do you feel that energy? They're like no. And I said because you're not Mexican. I'm excited to be here, man. The stadium is awesome, too. The whole vibe. Just everything going on. I can't wait to play in front of this Mexican crowd."
The energy lived up to the hype. Fans remained engaged throughout the game, dancing to the music piped into the stadium and paying attention to at-bats even as the Astros (19-14) walloped the Angels (15-18) and Mike Trout, who was hitless in four at-bats and had his season-starting on-base streak stopped at 29 games. He departed the game after the seventh inning.
The festive atmosphere lasted beyond the game. After the final pitch was thrown, fans remained on the premises, enjoying live music and ducking in and out of a bar that was showing the Canelo Alvarez-Daniel Jacobs fight.
Ramirez navigated the backend of the Astros' lineup, which by then featured only two of the game's starters, with relative ease. He allowed a two-out double to Tyler White, who also doubled to lead off the eighth inning against Stratton, but escaped the jam.
Ramirez hasn't been entrusted with many high-stress situations this season. Still, he's been serviceable. Batters have hit him at a .196 clip. He has issued five walks while striking out 19.
Ramirez got some work for the first time in a week. On a night in which Albert Pujols' solo home run for the 1,999th RBI of his career provided the main Angels highlight, Ramirez's outing was momentous.
Even fans noticed. Ramirez received some extra attention, drawing a hearty cheer as he jogged to the mound. "I appreciate the love," Ramirez said. "It'salways cool to be welcomed in somewhere, especiallyon the Mexican side of things."
---