Angels beat Athletics 8-7 in Garrett Richards' return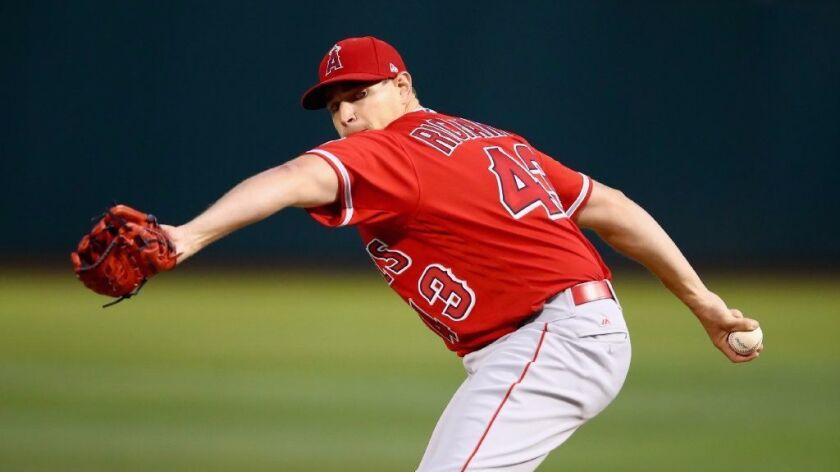 Reporting from Oakland —
When he does not start a game at Angel Stadium, Ben Revere uses every inch of the facility to keep his body warm for a potential pinch-hitting situation. He'll run the underground trail from the clubhouse to the players' parking lot and take incessant swings in the batting cages.
At the Oakland Coliseum, doing so is more difficult. The visitors' cages are behind the center-field fence, inaccessible during games. There's no room to run. So, for the first four hours of Monday's and Tuesday's games here, Revere kept a bat in his hands at virtually all times, and frequently retreated into the clubhouse to take dry swings.
In Monday's tied 10th inning, the left fielder was called upon to pinch-hit and did not succeed. On Tuesday, he came up in the same situation and delivered the winning single to left, landing a liner inches away from Matt Joyce's approaching glove.
"I almost fainted," Revere said. "And then the third-base umpire, he said, 'Safe.' And I'm like, 'Oh, thank you, Jesus.'"
The Angels were elated to vault themselves into playoff position by beating Oakland, 8-7, in 10 innings, though it again took them more time they wanted. They started the talented right-hander Garrett Richards, and with every 96-mph fastball he delivered with ease, he strengthened their playoff dreams. With every 90-mph slider spun out of reach, Richards supplied hope. But for him, the end came quickly, and for the next week, until he's back on a major league mound, that hope will have to suffice.
"It felt great to be grinding right with my teammates instead of sitting on the side, watching games go by," Richards said.
Richards desires to prove he can be depended on, and the Angels need him to reach their goals this year. They, as first baseman C.J. Cron said, "have missed him quite a bit."
"When he's right," right fielder Kole Calhoun said, "he's a guy who is a front-line starter, a No. 1 for a lot of teams. To get a guy back like that who hopefully feels good and can definitely help us going forward is big."
Both parties took a step toward their ambitions at the Oakland Coliseum, an odd place for an event so important to the Angels. Midweek night games at this spacious, empty facility can take on the feeling of community theater, the athletes performing for a select few, with periods of noticeable quiet.
Richards pitched his first game of the season in the same situation, exactly five months earlier. That night, Richards tore through the Athletics lineup until he felt pain in biceps in the fifth inning. Diagnosed with an irritated nerve, he didn't pick up a baseball for 100 days. This was his return, a bit unconventional, as Richards knew going in he would throw only 50 or so pitches.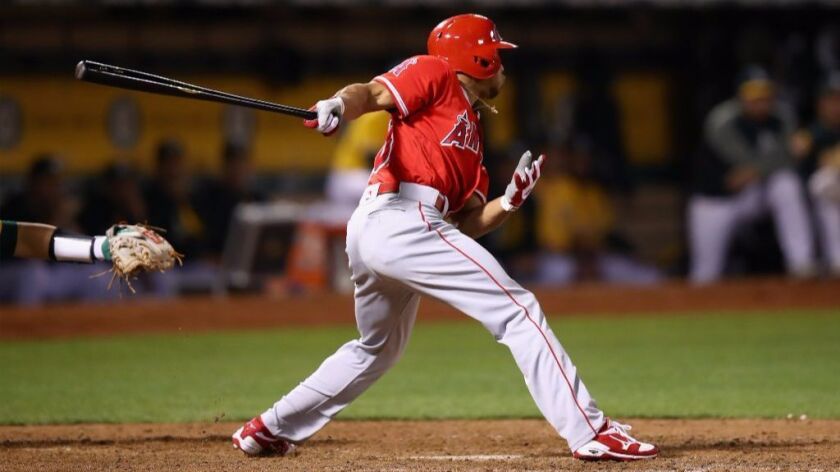 Conveniently, he required only five pitches to finish the first, each Athletic biting on the bait he threw at the strike zone's edges. He struck out two men in the second and still needed only 14 more. The third inning was not different in results, but a bit in ease.
As Blake Wood began to warm behind him, Richards found the fourth more difficult. Jed Lowrie punched a double, and Khris Davis lined a first-pitch fastball into center. Richards struck out Matt Olson, then hung a slider to Chad Pinder, who pounded it to the left-field wall.
That scored Oakland's first run and forced Richards' exit at 52 pitches. In relief, Wood worked out of the jam. In the next inning, the Athletics hit him with a barrage of two-out home runs. First, it was Joyce, then Davis, then Olson, the three scoring four runs and demanding his departure.
The Angels threatened often against Oakland starter Kendall Graveman, who fought control issues. Three walks, two singles, and a sacrifice fly meant three third-inning runs. Come the fifth, Trout stood on second with out after reaching on a fielder's choice, and third-base coach Ron Roenicke sent him home when Justin Upton laced a single into left. Joyce's throw beat Trout to the plate, and catcher Bruce Maxwell tagged him in time. Upton took second on the throw, though, and he scored easily when Pujols singled into center field.
Cron clubbed a two-run homer in the sixth to push the Angels back ahead, 6-5. They did not stay there for long. Scioscia quickly pulled a struggling Troy Scribner in the sixth, then used two more pitchers to keep the game tied.
So it continued, the teams matching each other until Revere's hit. In the bottom of the 10th, Eduardo Paredes recorded his first career save. With the bases loaded and two outs, he took Jed Lowrie all the way to a 3-and-2 count, then pumped a fastball down the middle.
Lowrie flied it to medium-length center field, the Angels' infielders holding up their hands in anticipation until Trout caught it.
The Angels are 72-67, for the first time this season not within four games of .500. On Tuesday, they climbed over Minnesota to take control of the American League's second wild-card spot.
Over his seven-year career for five teams, Revere has built a remarkably consistent reputation: He is always cheerful, and he is always the last person to arrive for every team bus, no matter the time of day, no matter the intended location. When there are two buses, he is always on the second bus.
Late Tuesday night, anxious to get some rest before a 12:35 p.m. first pitch Wednesday, players reminded each other of the necessity to board the first bus. If not, they would have to wait for Revere and the second departure.
He doesn't mind waiting.
Short hops
The Angels added right-hander Guerra to their active roster, bringing their current total of pitchers to 18. To make room for Guerra and Richards, the Angels designated for assignment right-handers Mike Morin and Vicente Campos. …They will activate right-hander Bud Norris from the 10-day disabled list Wednesday, though the right knee soreness that has hindered him for most of the season has not yet healed. He will attempt to pitch through it for the season's final month, then explore all his options to fix the problem in the off-season.
Follow Pedro Moura on Twitter @pedromoura
ALSO
Dodgers fall again to the Diamondbacks with 3-1 loss in extra innings
Dodgers' Enrique Hernandez worries about family in Puerto Rico because of Hurricane Irma
MLB: Red Sox reportedly used Apple Watch to steal Yankees' signs
---
Get the latest on L.A.'s teams in the daily Sports Report newsletter.
You may occasionally receive promotional content from the Los Angeles Times.