Dodgers' Enrique Hernandez worries about family in Puerto Rico because of Hurricane Irma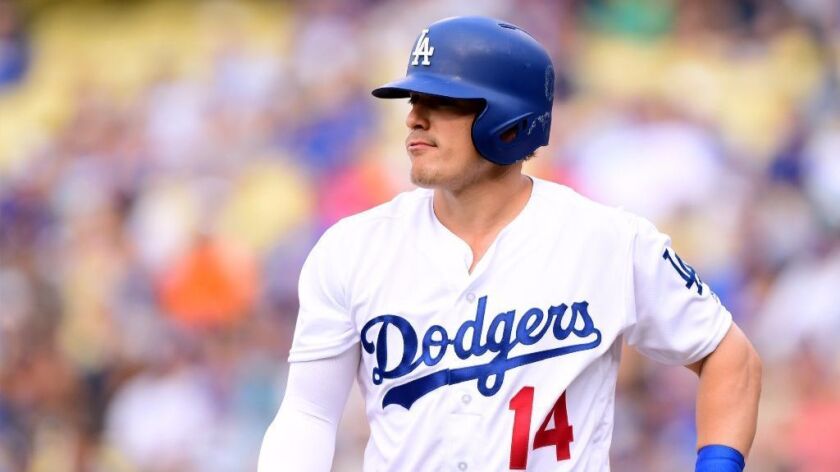 For the family and friends of Enrique Hernandez, life as they know it could soon be washed away.
Hernandez, the Dodgers' utility player, lives in Puerto Rico. Hurricane Irma is expected to strike there Wednesday, barreling into the island with the force of the most powerful storm recorded in the Atlantic Ocean.
Residents there have been told to prepare for a worst-case scenario.
"That could be three to four months without power," Hernandez said. "It's a really scary situation. I'm just really helpless right now."
Hernandez said his father's parents are too old to get on a plane and fly to safety, so they'll ride out the storm with his parents in a neighborhood he said was a "two-minute drive" from the coast. The area never has flooded, but the island never has been hit as hard as this hurricane might hit.
He said he remembers all the downed palm trees from Hurricane George, when he was 7. He saw the pictures from Houston last week, after Hurricane Harvey hit, and from New Orleans in the aftermath of Hurricane Katrina.
That such great damage could be sustained in "a big country like the United States" tugged at Hernandez's heart, since Puerto Rico is three times the size of Rhode Island.
"Puerto Rico," he said, forcing a thin smile, "is about the size of Dodger Stadium."
Lasorda rant still king
After J.D. Martinez hit four home runs Monday, Dave Roberts was asked his opinion of Martinez's performance.
Roberts did not pick up on the reference to Tommy Lasorda's classic 1978 rant after Dave Kingman hit three home runs against the Dodgers and a reporter asked Lasorda his opinion of Kingman's performance.
"I need some comic relief," Roberts said Tuesday. "What did Tommy say?"
Roberts said he remembered another Lasorda rant.
"What's the utility guy in San Diego?" Roberts said.
That would be the Padres' Kurt Bevacqua, whom Lasorda once said "couldn't hit water if he fell out of a [bleeping] boat."
Said Roberts: "That was a good one. Is this even better?"
Roberts put a cellphone next to his ear and laughed as he listened to a replay of Lasorda's 85-second Kingman rant that started with: "What's my opinion of Kingman's performance? What the [bleep] do you think is my opinion of it? …"
Said Roberts: "You won't hear that from me."
Short hops
Roberts said the Dodgers hope shortstop Corey Seager can return to the lineup Friday. Seager has not started in nine days because of a sore elbow. … Yasiel Puig raced into the clubhouse 15 minutes after the daily hitters' meeting had started. Roberts said Puig did not need to be punctual on a day he had been notified in advance he would not start. Puig had played in a team-high 131 games through Monday, including every game since June 28. "He's going to play more than he has ever played," Roberts said. … Ross Stripling, who pitched at Texas A&M, wore a baby blue UCLA football jersey in the clubhouse and while shagging flies during batting practice. He lost a bet on Sunday's football game to Roberts, who played at UCLA. … Justin Turner is the Dodgers' nominee for the Roberto Clemente award, baseball's top humanitarian honor.
Follow Bill Shaikin on Twitter @BillShaikin
---
Get the latest on L.A.'s teams in the daily Sports Report newsletter.
You may occasionally receive promotional content from the Los Angeles Times.