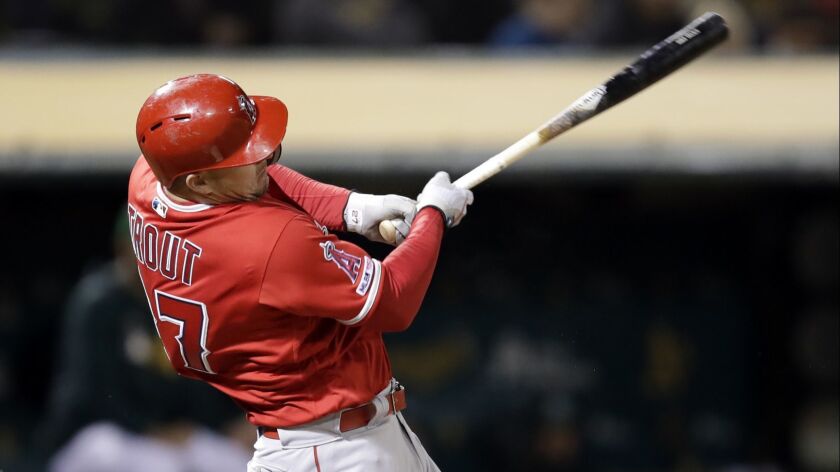 Reporting from Oakland —
When it seemed the Angels would remain frozen and drag their season-opening scoring drought to two full games, Jonathan Lucroy cracked a single up the middle of the Oakland Coliseum infield to lead off the eighth inning and didn't return to the Angels dugout until he'd scored their first run of the season on Kole Calhoun's RBI double to deep center field.
Lucroy's hit opened the floodgates for the Angels, who knocked around Athletics reliever Joakim Soria for four runs in the eighth on their way to a 6-2 win Friday in their second game of the season.
The Angels were shut out for the first 16 innings of the season, overmatched by two Athletics starters who could barely hit 90 mph on the radar.
When the Athletics dipped into their bullpen, the Angels' hopes should have shriveled. After all, Oakland's relief corps ranked third in baseball with a 3.37 earned-run average last season and returned most of its key pieces. The Angels had seen those relievers shut them down over three innings in their season-opening loss a day earlier.
Instead, newcomer Brian Goodwin followed Lucroy with a single of his own. If there was any frustration, which no Angels player admitted feeling in a clubhouse that thrummed with the bass of Tyga's "Taste" and Lil Jon and the East Side Boyz's "Get Low," it evaporated within moments.
"I didn't think we'd go scoreless the whole year," manager Brad Ausmus quipped.
Calhoun drilled the first pitch from Soria to center field, allowing Lucroy to cruise home. Mike Trout, upon whom an announced crowd of 22,585 rained boos each time he came to the plate, was intentionally walked. All three scored — Goodwin when Justin Bour drew a bases-loaded walk, and the other two when Andrelton Simmons, who'd struggled all spring to reach base and in the sixth inning of Friday's game grounded into an inning-ending double play with two runners on base, ripped a single up the middle.
"It's frustrating when you don't come through," Simmons said. "That could be a big situation right there. I had a good approach, just didn't execute what I was trying to do. I'm glad I got another opportunity to do well or to give my team a winning chance. I'm happy I came through."
The barrage absolved Angels starter Matt Harvey of what would have been an ill-fated loss. He'd been nearly perfect through four innings, allowing only a leadoff walk in the first inning and retiring 12 in a row. He pumped the zone with strikes, worked his fastball to both sides and made strides with the curveball he'd spent the spring tweaking. He ran into trouble in the fifth, when he lost the no-hitter on an infield hit by Marcus Semien, but he worked around it by striking out Ramon Laureano and inducing a groundball for an inning-ending double play.
Harvey didn't get the chance to stop the Athletics offense in the sixth. Second baseman Tommy La Stella mistakenly cut off a relay throw from Calhoun in right field, allowing Matt Chapman to reach second base on a double. Chapman scored two batters later when Harvey hung a curveball to Khris Davis, who crushed a two-run homer over the scoreboard in left field.
"I think the big test was that fifth inning," Harvey said. "To get through that with no runs and strike a guy out and get a weak ground ball for a double play, that's what I remember from when I was good. Being able to get out of jams like that, that's definitely a positive."
Sign up for our daily sports newsletter »
Harvey, the former New York Mets ace who turned 30 on Wednesday, had everything going for him. He got six called strikes on his slider and eight swings-and-misses overall. He only struck out one batter but induced weak contact, laying waste to the Athletics lineup.
"That's a good lineup there and he went through them pretty easily there for a little bit," Lucroy said. "It was definitely a lot of fun being behind the plate."
The Angels struggled to back him up. Athletics starter Marco Estrada gave up only two hits — one to Simmons in the third and another to Trout in the sixth — after retiring the first 11 batters of the game. He never allowed a run.
With a 2-0 lead heading into the seventh, Athletics manager Bob Melvin trotted out Lou Trivino, opening the gate for his formidable bullpen.
The strategy failed this time. After Trivino pitched a scoreless seventh, the Angels got to Soria, chasing him from the game before he could get an out. He was relieved by left-hander Ryan Buchter, who couldn't put away the left-handed hitting Bour and walked in the game-tying run. Liam Hendriks was promptly summoned to end the rally, but Simmons knocked a high fastball for a hit.
Trout added two runs of insurance when he went after an outside fastball from Fernando Rodney and hit it for a two-run double off the right-field wall.
Meanwhile, Ausmus had opened the door to his own fledgling bullpen. Hansel Robles retired the side in the seventh inning, rookie Ty Buttrey pitched a scoreless eighth and closer Cody Allen earned the save for Ausmus' first win as Angels manager.
"We had great at bats up and down the lineup, especially late against that bullpen," Lucroy said. "Overall a really good game. A really good team win."
---