Erick Aybar is feeling more comfortable as Angels' leadoff man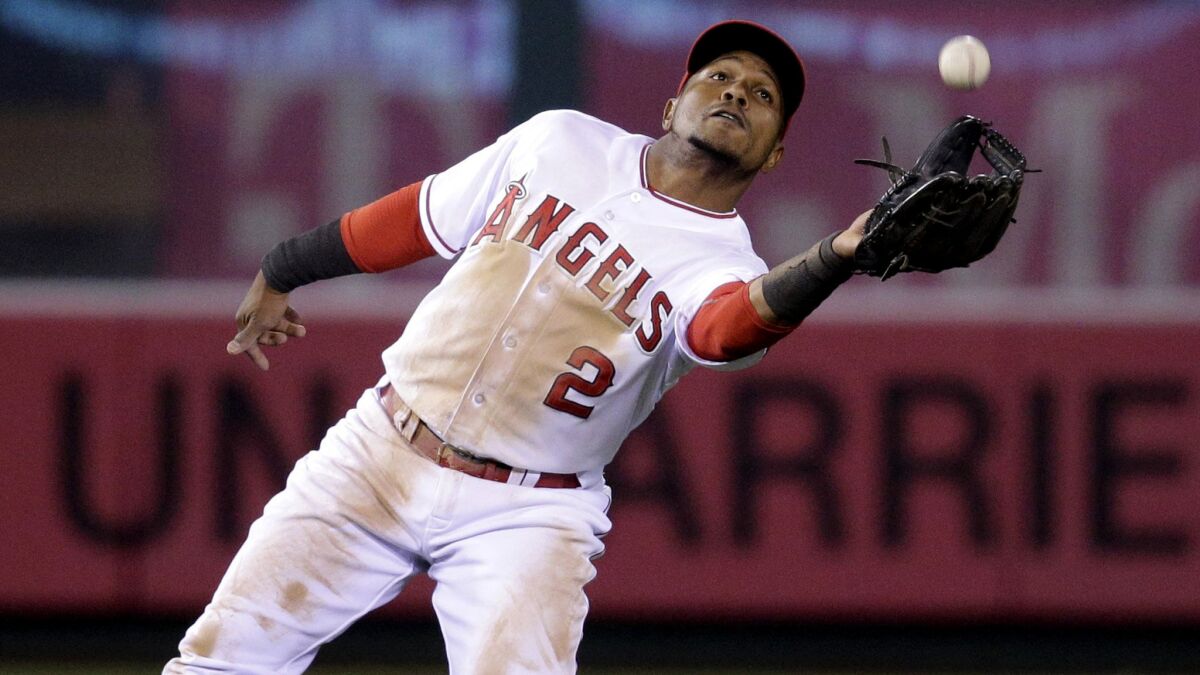 Reporting from ST. PETERSBURG, Fla. —
Shortstop Erick Aybar chuckles as he recalls the 2010 version of himself, the one the Angels tried in the leadoff spot.
The 5-foot-10, 180-pound switch-hitter fit into the role then about as comfortably as he would fit into Albert Pujols' uniform.
"It was almost like I was a little kid back then," said Aybar, now 31. "I put too much pressure on myself."
In his first try as a leadoff man, Aybar was tabbed to replace Chone Figgins, who hit .298 with a .395 on-base percentage and an American League-leading 101 walks in 2009 before signing with the Seattle Mariners.
Aybar is an aggressive hitter and has never walked more than 36 times in a season. But he began 2010 thinking he had to take more pitches, work counts and draw walks.
These are the desired traits of a good leadoff man, but they were not in Aybar's DNA. He hit .238 with a .310 OBP in the first two months of the season.
"I think Erick tried to change his game to something that really took some of his strengths away," Manager Mike Scioscia said. "Erick is not going to strike out much. He's going to put the ball in play. He's really not at his best when he's trying to work counts and take walks."
Three weeks into another stint at leadoff, but older, wiser and more experienced — he has 1,086 at-bats as a leadoff man — Aybar knows better than to try to change his approach to fit his position in the batting order.
"Back then, I tried to be like Figgins," Aybar said. "I tried to take some pitches and get some walks and it didn't work. Now, I go to home plate, and if the pitch is right there and I can handle it, I swing. I don't want to change my approach."
The Angels have lost five games in a row before Tuesday night's game at Tampa Bay, and if they are to snap out of a season-long offensive funk they'll need Aybar to provide a spark at the top of the order, a spot he was moved to May 18.
The early returns: not great, not bad.
In 18 games at leadoff, Aybar is hitting .247 with a .391 OBP, 11 runs, 13 strikeouts and four walks. Those numbers were better before a two-for-15 skid in his last four games.
Aybar's career .273 batting average and .312 OBP in the leadoff spot is on par with his overall .277 average and .317 OBP, an indication he feels more comfortable there.
"I don't think you ever ask a player to do something he's either not comfortable with or not suited for," Scioscia said. "With Erick, although he's not going to see as many pitches as a traditional leadoff guy, he's athletic, he's going to get in scoring position a lot.
"His on-base is not going to be off the charts, but it's not going to be awful, either. He's going to get on base enough, get in scoring position enough to where he can still be effective as a table-setter."
It's tough to draw walks batting in front of one of baseball's best all-around hitters, Mike Trout, because opposing pitchers don't want to put anyone on base ahead of Trout.
"I think you see more strikes, but not necessarily more fastballs," Scioscia said. "You're not going to see guys try to paint [the corners] on that 2-and-2 count. Guys are going to come after you. … Guys who hit in front of Albert, in front of a guy like Mike, you're most likely going to have to hit your way on."
Aybar is not a slugger opponents fear, and he has noticed a lot more pitches in the strike zone lately.
"It's not just good — it's very, very, very good," Aybar said of hitting in front of Trout. "It's a lot different having him behind you. He's one of best hitters in baseball. They'd rather face Aybar. They don't want to face Trout, because he can go deep to any field."
Up next
Angels right-hander Matt Shoemaker (3-4, 5.08 ERA) will oppose Tampa Bay right-hander Nathan Karns (3-2, 3.63) on Tuesday at 4 p.m. PDT at Tropicana Field. TV: FS West; Radio: 830.
---
Get the latest on L.A.'s teams in the daily Sports Report newsletter.
You may occasionally receive promotional content from the Los Angeles Times.