How Brad Ausmus used advanced data to spur Justin Verlander's career resurgence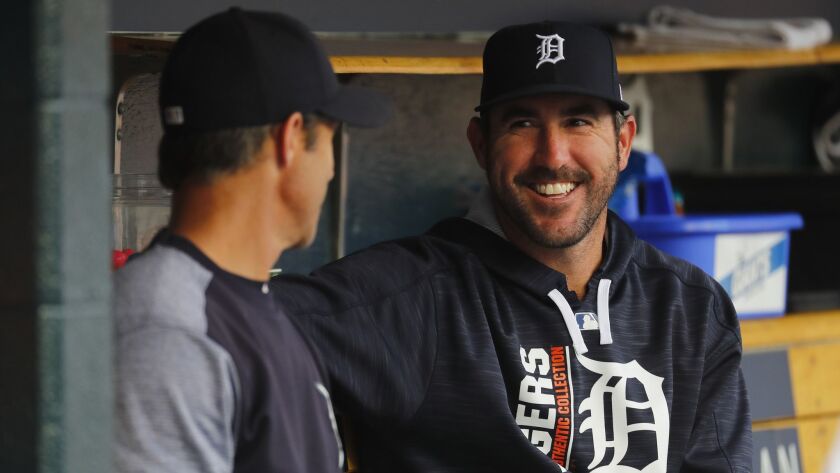 Brad Ausmus remembers the conversation clearly.
In 2014, his first year managing the Detroit Tigers, he summoned ace starter Justin Verlander into his office and told him, "You may never throw 97 [mph] again."
The concept seemed absurd. Verlander was 31 years old and three seasons removed from winning Cy Young and most-valuable-player awards. He still dominated the league. But for months after sustaining a core injury that required offseason surgery, Verlander struggled to recapture his velocity early in 2014.
Ausmus, now in his first year as Angels manager, had good intentions. He only wanted Verlander to stop fighting his body and focus on what he still had to offer.
"I told him, 'You still have four good pitches that can get big league hitters out on a regular basis, be a good pitcher,'" Ausmus said Sunday, several hours before the Angels boarded a plane to Detroit. "And probably within a month, he hit 97. He pitched well, he came out of the game and we were coming up the stairs to shake hands in the clubhouse and he goes, 'Told you I'd hit 97 again.'
"He completely proved me wrong."
Verlander has always been a fireball pitcher, but what makes him effective is the wide range in his velocity. He can throw in the low 90s throughout a game and reach for more power on command, as he did Sunday. In the Angels' 10-4 loss to the Astros in Monterrey, Mexico, Verlander struck out Mike Trout swinging at a 98-mph fastball to end the fifth inning.
Velocity was only one part of a broader conversation between Ausmus and Verlander.
Verlander had not grasped the art of game-planning in modern baseball. He hadn't really needed to. By the time Ausmus took the helm, Verlander had already finished in the top five in Cy Young Award balloting four times.
Unfazed, Ausmus encouraged Verlander to incorporate statistical information into his prep work. He thought it would make Verlander even better. Verlander took to it and now he's on a trajectory toward the Hall of Fame.
"He kind of led me down the path of, 'Then you're just not getting all the information you need to get,' " Verlander said. "And that kind of led me down the path of analytics, diving into numbers and looking into some stuff."
Sign up for our daily sports newsletter »
The Angels hired Ausmus in October to replace Mike Scioscia. Ausmus, a graduate of Dartmouth College and a major league catcher for 18 years, demonstrated a knack for statistical reasoning, as well as proficiency relating analytics to players who might not always agree with their value.
But Ausmus stood out among the managerial candidates as much for his understanding of advanced data as for his ability to gauge when and how to deploy it.
"I can take the numbers and use my playing experience to wrap my brain around them and say, 'How does this apply on the dirt and grass?'" he said during his introductory news conference. "That's a unique perspective. That's what managers have to do nowadays, take those numbers and understand them. They don't have to write the algorithm, but they need to understand and apply them to the players on the field."
Ausmus demonstrated a feel for the numbers in Detroit, which won the AL Central title in his first season but finished last in 2017, his final season. Verlander said Ausmus at times chose bad moments to question his pitch selection or discuss his evolving fastball, but the conversations often produced favorable results.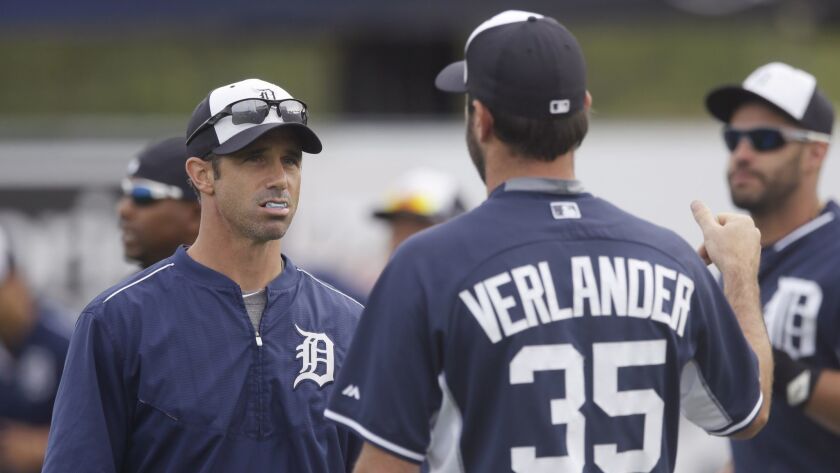 It's still too early in Ausmus' tenure with the Angels to evaluate his influence. The Angels are 15-19. They haven't had much fall their way, with preseason injuries claiming starter Andrew Heaney and outfielder Justin Upton for the first two months of the season, and poor performances from offseason acquisitions first baseman Justin Bour and starter Trevor Cahill.
Some differences in management style have indeed emerged. The Angels are more prone to altering defensive alignments than they were under Scioscia. And Ausmus has not hesitated to use his best relievers in high-stress situations early in a game, as long as someone equally talented is available in later innings.
Whether he offers advice that leads to a career revival for an Angels player remains to be seen. At least there is precedent.
"I mean, really, I owe Brad a lot of thanks," Verlander said. "I owe myself for getting back to 97, 98, that was all my work and body work and just picking what I knew I needed to do. And adding that with some more information and the path he kind of led me down has led to this resurgence I've had in my career."
---
Get the latest on L.A.'s teams in the daily Sports Report newsletter.
You may occasionally receive promotional content from the Los Angeles Times.