Albert Pujols' 599th homer starts Angels' 9-3 romp over Braves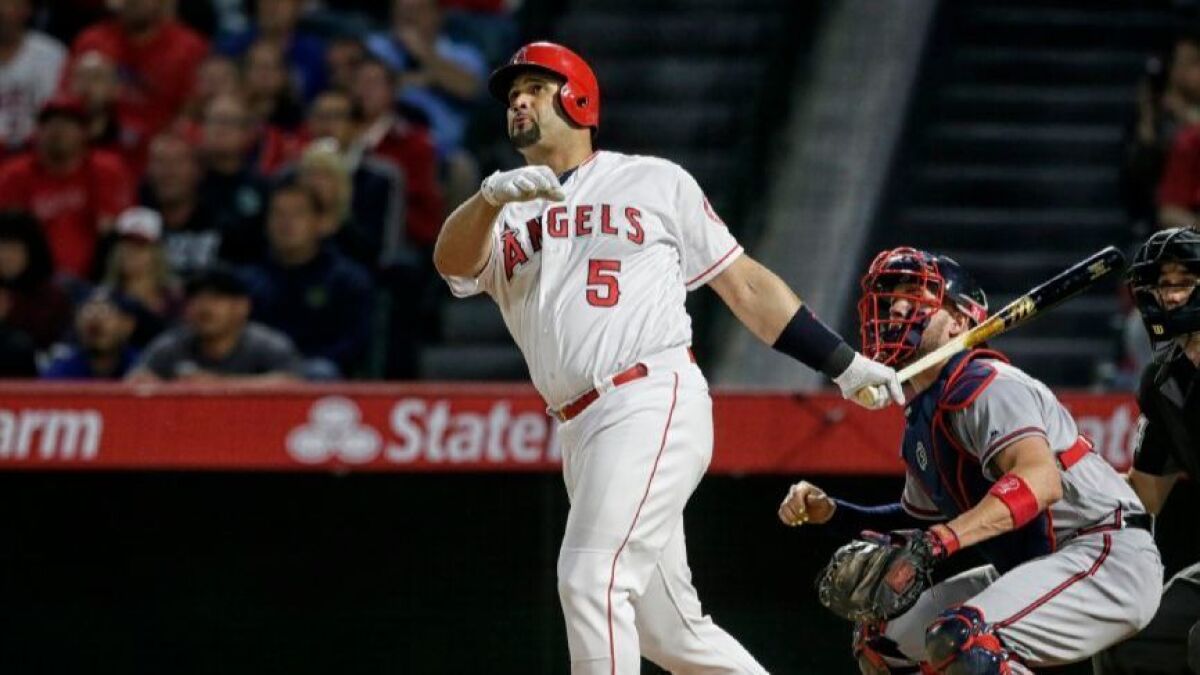 When Albert Pujols reached 500 career home runs, he improbably hit Nos. 499 and 500 on the same night, three years ago in Washington. On Tuesday at Angel Stadium, Pujols had the opportunity to one-up himself and complete his latest milestone within the same inning.
He could not, but he aided the Angels' efforts in a 9-3 victory over Atlanta.
At 8:01 p.m, Pujols slammed the 599th home run of his lengthy, illustrious career off of fellow Dominican Bartolo Colon. At 8:19, he came up to bat again, amid the Angels' bizarre nine-run third inning. Rookie right-hander Luke Jackson had replaced Colon, and he walked Pujols to the disappointment of the home crowd. The fans sat back down and put away their cellphones. The anticipation again surfaced in the fifth inning, when Pujols flied out, and the eighth, when he struck out.
With his homer, Pujols did tie Babe Ruth with his 2,873rd hit, 44th all time.
Milestone home runs are never a surprise. The Angels have long had an adjustable billboard promoting this impending achievement beyond the bleachers in center field. But in his swooping pursuit, Pujols managed to inject some excitement into the inevitability.
After Juan Graterol singled to begin the third inning and Kole Calhoun reached on a one-out throwing error, Pujols battled Colon to eight pitches before he received a 3-and-2 fastball up in the strike zone. Like he has so many times since the turn of the century, Pujols whipped his hands and forced the baseball into the left-field bleachers, 410 feet from home plate. The three-run homer moved the Angels ahead, 3-2.
"That's a huge hit to get us back on top," manager Mike Scioscia said. "And then we just put the ball in play, ran the bases and ended up looking up and seeing nine runs on the board."
Stadium officials got to work changing the billboard from 598 to 599, and the Angels continued to rally. Luis Valbuena singled through to right field, Andrelton Simmons reached on an error by young Braves shortstop Dansby Swanson, and Ben Revere reached on a fielder's choice that first baseman Matt Adams fielded but inexplicably could not throw. Cliff Pennington reached on a similar mistake by Colon, and on it went until Luis Valbuena lined into a double play after Pujols' walk.
There were three Atlanta errors in all and several more misplays.
"They cracked the door open for us," Scioscia said. "But we put a lot of pressure on them."
The Angels' spot starter was 25-year-old right-hander Parker Bridwell, who was making his first major league start. He began by allowing singles to three of the first four hitters he faced. On the third, to right field by Adams, Calhoun threw home to erase Nick Markakis, who was trying to score from second. Bridwell settled, struck out Tyler Flowers looking and retired the next four Braves to bat.
"I pride myself on not showing any emotion," Bridwell said.
He issued a one-out walk to Ender Inciarte in the third and grooved a first-pitch fastball to Matt Kemp, who hit a two-run homer. Bridwell did not permit another hit until Flowers led off with the seventh inning with a home run to center.
When Rio Ruiz followed with a single, Scioscia called in right-hander Deolis Guerra. He and David Hernandez worked through the rest of the game without issue.
"He was not fazed by Kemp's home run," Scioscia said of Bridwell. "Great poise."
While successful, Bridwell's major league stay should be brief. He was filling the spot of right-hander Alex Meyer, who is now likely to rejoin the rotation Thursday against his former team, the Minnesota Twins.
The Angels announced a Tuesday crowd of 32,028 fans, most of whom immediately exited as soon as Pujols swung and missed at an Ian Krol breaking ball in the eighth inning.
Twitter: @pedromoura
Get the latest on L.A.'s teams in the daily Sports Report newsletter.
You may occasionally receive promotional content from the Los Angeles Times.