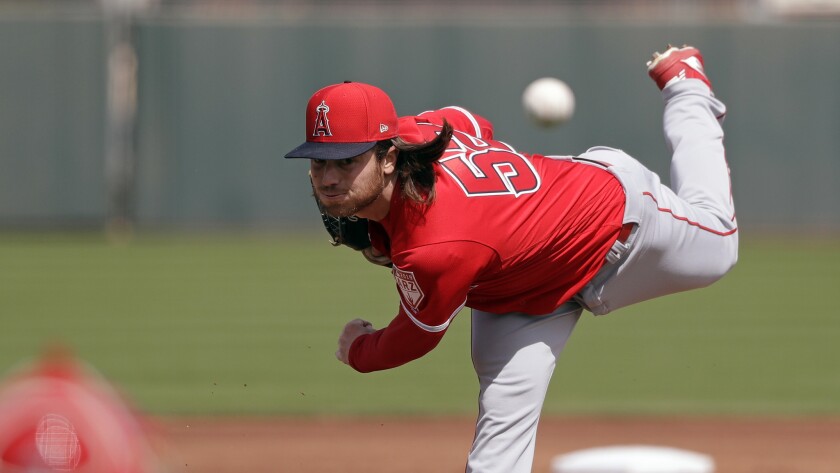 Reporting from Arlington, Texas —
Entering Tuesday night's game against the Texas Rangers at Globe Life Park, Angels starting pitchers had thrown the eighth-fewest innings in baseball this year. The paltry 76 2/3 innings of work have forced manager Brad Ausmus to dip into the bullpen so often that the Angels have taken to shipping relievers back and forth from triple-A Salt Lake and the major league clubhouse. They've moved around six pitchers since April 8.
Pitcher Dillon Peters received the latest promotion. He was recalled Tuesday to take the roster spot of right-hander John Curtiss, who was optioned back to the minor leagues after he pitched 2 1/3 innings in Monday night's 12-7 loss to the Rangers.
"Trust me, it's been on my mind a lot," Ausmus said of the bullpen, which had worked 60 1/3 innings in 16 games. "We've obviously gone to the 'pen quickly. We've had a lot of tight games in the middle innings. I feel like our 'pen is a strength, but we can't continue to use them at this rate. Otherwise we get into August and they'll be exhausted."
Unlike the other pitchers who have come through the Angels' bullpen this season, Peters throws left-handed.
The Angels' bullpen has been one of the best in the major leagues. Its 2.98 earned-run average and 1.18 walks-plus-hits-per-inning-pitched rate were the fifth lowest entering Tuesday's game.
Despite being filled with right-handed pitchers, the Angels' bullpen hasn't struggled mightily against left-handed batters. Relievers have held them to a .185 batting average and a modest .352 slugging percentage.
Still, Peters, who struck out 14 in 18 2/3 innings in spring training, provides a new look. Because he's a starter, he can also help ease the bullpen's burden in a long-relief role.
"I'm here to be called upon," Peters said. "Whenever and wherever they need me, I'll be ready to pitch. I like playing ball, and I'm happy being here."
Peters, 26, gave up no runs, one hit and one walk in a 5 1/3-innings start for Salt Lake City on April 7.
"We kind of know what we got with him," Ausmus said. "He impressed me with his mound presence in spring training. He didn't seem very intimidated. Obviously has big league time. I'm very comfortable [putting] him in against any left-handed hitter."
Injured pitchers progressing
Right-handed pitchers J.C. Ramirez and Keynan Middleton will face hitters for the first time since each had elbow ligament replacement surgery roughly a year ago.
Ramirez, who underwent surgery about a month before Middleton, will pitch in simulated games in early May. He will be built up to a 60-pitch threshold. The Angels will determine whether he will be a starter or reliever when he is activated from the injured list.
Middleton, the Angels' closer last season until he was hurt, will face hitters for the first time in mid-May.
Short hops
Left-handed pitcher Andrew Heaney is expected to begin throwing off a mound in about 10 to 15 days. He has reported feeling fine since receiving a cortisone shot to alleviate elbow inflammation that has sidelined him on and off since early March. … Justin Upton is expected to be done wearing a walking boot on his left foot around April 25. Fellow outfielder Michael Hermosillo should begin baseball activity in about two weeks. … Right-handed pitcher Nick Tropeano, who has battled shoulder inflammation since last season, threw 45 pitches in an extended spring training game Tuesday in Tempe, Ariz.
Sign up for our daily sports newsletter »
---