Angels survive Cubs' rally and escape with a victory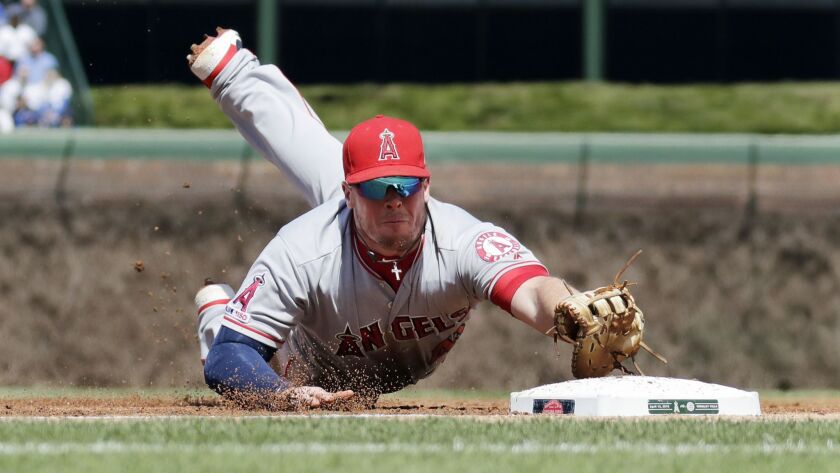 Reporting from Chicago —
It was about 3 1/2 hours into the Angels' 6-5 victory over the Chicago Cubs on Saturday afternoon. Shadows were drawing over the diamond at Wrigley Field. There were runners in scoring position with one out in the ninth inning. The Angels had a two-run advantage against the Cubs and they needed veteran closer Cody Allen to preserve it.
Drama ensued. A fan stuck his arm out over the left-field wall as a ball sliced down the line. Angels outfielder Brian Goodwin's view was obstructed as he slid feet-first into the wall in an attempt to make a play. The ball glanced off his glove and into fair territory, allowing Cubs first baseman Anthony Rizzo to score on what was deemed a sacrifice fly and an error by Goodwin.
In the Angels' dugout, the replay phone had gone kaput. Manager Brad Ausmus hadn't noticed from his vantage point that a fan had interfered so he didn't challenge. By the time instant replay coordinator Matt Martin reached Ausmus, the 30-second window in which the Angels could move for a reversal had expired.
"I don't know if it would have been overturned for fan interference," Ausmus said, "but it was certainly something we would have challenged."
Tension mounted but Allen, who earned a save at Wrigley during the 2016 World Series the Cubs eventually won, remained focused. He got Willson Contreras to swing at a down-and-away curveball for the second out of the inning. Then he got Kyle Schwarber to swing at a 3-and-2 curveball that dove toward his back foot. Schwarber thought he checked his swing, but third base umpire Gabe Morales ruled it a strikeout.
As Schwarber threw down his helmet, received ejections from two sides and charged Morales, Allen met catcher Jonathan Lucroy between the mound and home plate. The Angels, despite all the Cubs' attempted rallies, survived.
"It was a big spot, right there," Allen said. "Lucroy did an unbelievable job. We just kind of grinded through it, just trying to make one pitch, then make another pitch, make another pitch. Hopefully just stack enough good pitches together and come out on the right side of it."
The Angels might never have arrived at such a dramatic point if Ausmus had been able to keep Allen out of the eighth inning, forcing a four-out save.
Angels reliever Hansel Robles, a bargain-bin pickup by the Angels last summer who dazzled down the stretch with an overpowering high-90s fastball, had put the Angels in jeopardy. After allowing runners on the corners with one out, he struck out Schwarber looking at a high-and-tight 98 mph fastball.
He then issued a walk to load the bases before facing pinch-hitter Mark Zagunis. Zagunis battled for eight pitches and fisted the final one— an 89-mph slider that dropped over the middle of the plate — into center field for a two-run single. The The Angels led 6-4 as Allen entered the game.
"The bullpen did their job," Ausmus of his relief corps, which boasts a 2.08 earned-run average that ranks third-lowest in baseball. "It was not as smooth as it had been recently but they got the job done."
So did the offense. One day after struggling to reach base against the Cubs, Angels hitters scraped together enough attacks against Cubs starter Kyle Hendricks to hold on. Zack Cozart, who entered the game batting .030, had three hits and drove in one run. Former Cubs player Tommy La Stella reached base four times without getting a hit and scored a run. David Fletcher went one for three with two walks and an RBI. Andrelton Simmons was the only Angels starting position player not to reach base.
"It's never easy here," Cozart said. "I've had a lot of leads before that seem all of the sudden there's some magic that happens late. Cody was big right there to lock it down."
Justin Bour made a baserunning blunder in the first inning. After taking a wide turn around first base on his two-out single to right field, he ran past the bag thinking he had a double. He dived back to first when he noticed outfielder Ben Zobrist cut off the hit and beat Zobrist's throw. The baseball hit Bour, who was safe, on the leg and skipped away. Bour jumped to his feet and charged for second base. In the meantime, catcher Willson Contreras got to the ball, fired a strike to shortstop Javier Baez at second base and seemed to throw out Bour. Second base umpire Marty Foster called Bour safe, but Bour had already turned back to the Angels' dugout. Baez took advantage and tagged Bour to end the inning.
"He said he knew he was out because Baez tagged him," Ausmus said. "I think from now on he'll wait for the call and force them to use a challenge, but I don't think it would have made much difference in the outcome."
Bour redeemed himself. On a groundball to first hit by Rizzo, Bour beat a speeding Rizzo to the bag by diving with his glove extended toward to the base. It was the second out of the first inning and it saved Angels starter Chris Stratton from getting into a bind. Bour also hit a double to lead off the seventh inning, the Angels' first extra-base hit of the game, but he was left stranded at third as Cubs reliever Tim Collins retired the next three batters.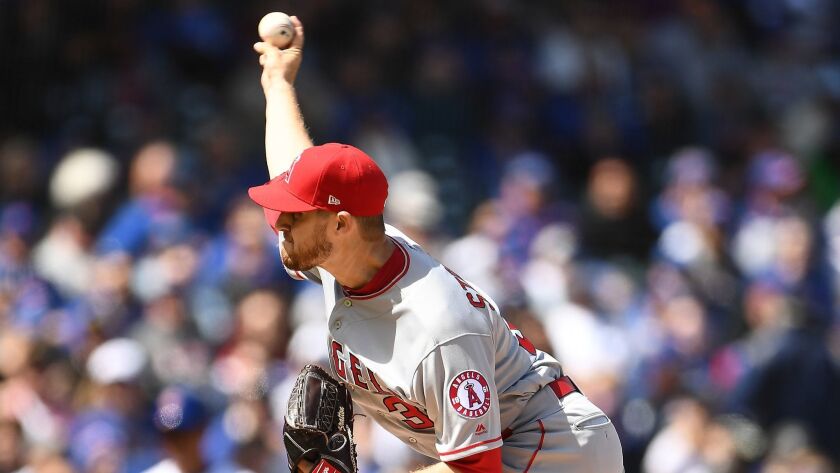 Stratton, who was acquired a few days before the start of the season to fill in the Angels' Andrew Heaney-less rotation, pitched efficiently through four innings at Wrigley. He ran into trouble in the third inning: After allowing a leadoff single to Hendricks, he issued a one-out walk to Zobrist and then surrendered a run on Baez's two-out, broken-bat blooper to right field. But he struck out Contreras on a low, 86-mph changeup to escaped what a bases-loaded jam in the third then pitched a quick fourth inning to keep his pitch count at 66.
Stratton labored in the fifth and forced Ausmus to dip into his bullpen before the end of the fifth inning for the second consecutive day. Three batters reached base against Stratton in the inning, including Baez again. Baez, last year's runner-up in balloting for the National League most-valuable-player award, roped a run-scoring double into the left field corner. He added to his final line against Allen, lacing a double to right field in the ninth that Peter Bourjos struggled to handle.
"I feel like there's kind of a barrier there and I don't know why," said Stratton, who hasn't logged five innings in any of his three starts this season. "I've never really had an issue with not going deep into games like that, so I don't know what the deal is with the fifth right now. But we'll get over it. It's still early. We made some adjustments in my last pen and I feel really good about it, so hopefully that continues to be a thing."
A couple of disputed calls threatened the balance of the game, but the Angels, a team that began the season with one win in its first seven games, improved to 8-7.
"There's rules everywhere you go where people are supposed to stay in the stands and respect the game, stay out of the plays," said Goodwin, "but you can only control what you can control. … We won the game, we did what we needed to do to hold out and at the end of the day we still came out on top."
Sign up for our daily sports newsletter »
---
Get the latest on L.A.'s teams in the daily Sports Report newsletter.
You may occasionally receive promotional content from the Los Angeles Times.