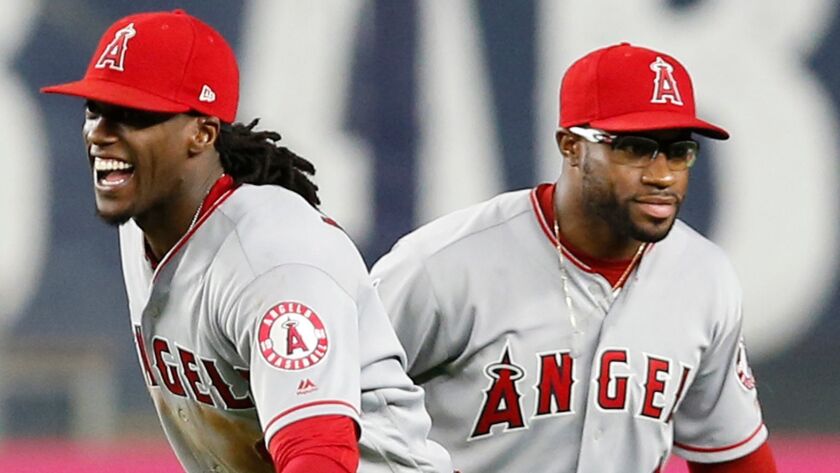 Last rites were administered to the Angels on May 29, the day they learned that star center fielder Mike Trout would need surgery to repair a torn ligament in his left thumb and miss six to eight weeks.
The rotation was already in tatters, having lost ace Garrett Richards to a right biceps strain after one start, Tyler Skaggs to a rib-cage strain in late April and Andrew Heaney and Nick Tropeano to season-ending elbow surgeries.
General manager Billy Eppler was running out of spackle to patch a bullpen that lost its best reliever, Cam Bedrosian, to a groin strain for two months, erstwhile closer Huston Street to a back strain for 2½ months and late-inning man Andrew Bailey to a shoulder injury for 2½ months.
Third baseman Yunel Escobar was on the disabled list, and left fielder Cameron Maybin was about to join him. First baseman Luis Valbuena was hitting .167, and second baseman Danny Espinosa (.141) and right fielder Kole Calhoun (.209) were in deep slumps.
The Angels were already buried in the American League West, a division the powerful Houston Astros led by 11½ games entering Saturday.
Surely, they could not withstand the loss of baseball's best all-around player, a two-time most valuable player who was batting .337 with 16 homers, 36 runs batted in and a league-leading 1.203 on-base-plus-slugging percentage when he injured his thumb on a head-first slide into second.
Yet, as the Angels enter their fifth week without Trout, they were 2 games out of the second AL wild-card spot heading into Sunday, alive and kicking, their ability to tread water in a pool of mediocrity putting them in position for a possible second-half playoff push.
"It's miraculous, the job the Angels and [manager] Mike Scioscia have done," John Smoltz, a Hall of Fame pitcher and Fox television analyst, said on a conference call last week. "Their pitching has just been decimated, and then they lose Trout.
"If they can get some pitching back, then they're a threat for a wild card. I didn't think with that many injuries they'd even be hanging around."
That the Angels are 13-12 without Trout — and 39-39 overall — through Saturday seems as improbable as their 12-0 record on Tuesdays. Even with Trout's dominant two months, they were 14th in the AL in OPS (.709) and ninth in runs (335) through Friday.
But they're averaging 5.0 runs a game in Trout's absence because Maybin and Calhoun heated up, Albert Pujols continued to drive in runs and Andrelton Simmons and Escobar continued to hit. They're pressuring teams with a league-leading 67 stolen bases, and Eric Young Jr., has filled some of Trout's void.
Young, signed to a minor league deal last winter, was called up from triple-A when Trout went on the DL. He was batting .288 with an .826 OPS, three homers, 10 RBIs, 15 runs and six stolen bases in 23 games through Friday.
Calhoun followed an eight-for-65 skid by hitting .341 (28 for 82) with five homers and 20 RBIs in 22 games through Friday. Since moving to the leadoff spot on May 16, Maybin is hitting .374 with a .466 on-base percentage, five homers, 10 doubles and 30 runs in 25 games. Pujols is fifth in the AL with 51 RBIs.
Bud Norris, Blake Parker, Yusmeiro Petit, David Hernandez and Keynan Middleton solidified a no-name bullpen that ranks fifth in the AL with a 3.62 ERA and has stranded 91 of 117 inherited runners, an AL-best 22.2% scoring percentage.
Norris, a former starter who signed as a minor league free agent, had a 2.43 ERA and converted 11 of 13 save opportunities before going on the DL because of an inflamed right knee last Tuesday.
Parker, a winter waiver claim who made the club because of Street's injury, was 3-2 with a 2.16 ERA, 49 strikeouts and nine walks in 33 1/3 innings through Friday. Petit, a minor league free agent, has a 2.42 ERA, 51 strikeouts and 11 walks in 44 2/3 innings of 28 games.
Hernandez, who was pitching for Atlanta's triple-A team when the Angels acquired him for cash or a player to be named on April 24, has a 2.28 ERA, 27 strikeouts and four walks in 23 2/3 innings of 26 games.
And Middleton, with his 100-mph fastball, has risen toward a high-leverage role with a 2-0 record and 3.43 ERA in 24 games since being called up.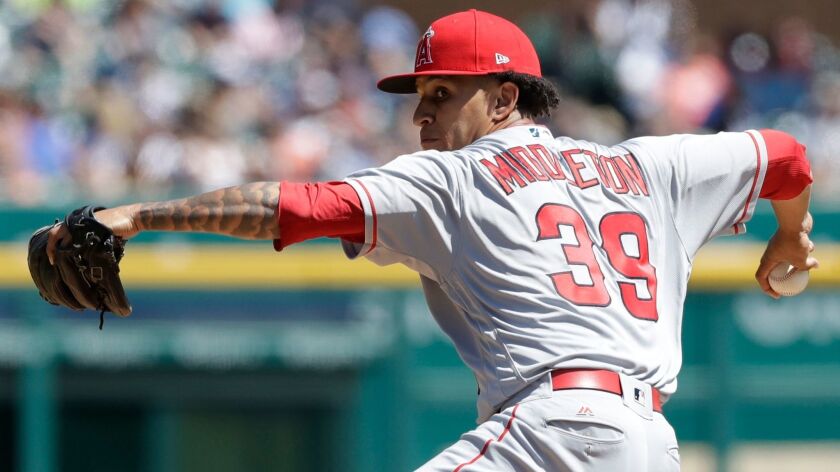 "When Mike went down, we needed multiple people to step up and contribute — we were in an all-hands-on-deck situation," Eppler said. "It's been an overall team effort, from position players to the bullpen holding leads and the starters keeping us in pretty much every game.
"You look up at the scoreboard in the middle of the fifth inning, and we're generally plus or minus two runs, and that's an opportunity to win a game."
The Angels had a similar rash of injuries last season, but the players Eppler acquired to plug holes — Tim Lincecum, Jhoulys Chacin, David Huff, Brett Oberholtzer, Daniel Wright — were ineffective. This year's roster-bolstering efforts have paid off.
"I think Billy Eppler did a magnificent job of building the depth to where we're keeping our heads above water right now," Scioscia said.
Eppler said his approach to adding depth was the same as it was in 2016: Target players with proven track records who may have underachieved in the previous season but could, with adjustments, bounce back.
"The credit goes entirely to the players," Eppler said. "Those guys are out there night in, night out, completely maximizing their potential, and it manifests in their performance."
The Angels got some good news as they began a 10-game stretch against three top-tier teams — the New York Yankees, Boston Red Sox and Dodgers — last Tuesday. Trout began swinging a bat and could return by the All-Star break. Bedrosian also returned last weekend, and Street was activated Thursday.
But Richards hasn't begun throwing, and Matt Shoemaker, the team's second-best starter, is on the DL because of a forearm strain. Skaggs should be back in July, but can Alex Meyer, JC Ramirez, Ricky Nolasco, Jesse Chavez and Parker Bridwell hold the rotation together for much longer?
The AL has resembled an old child-education law — No Team Left Behind — for three months. Seven teams entered Saturday within 3½ games of a playoff spot, all hovering around .500. That won't last. Teams will get hot and separate themselves.
The Angels, to their credit, have not wilted. They're a resilient bunch, with 26 comeback wins, including Thursday's 10-5 victory in which they erased a 5-1, second-inning deficit in Yankee Stadium.
Eppler said he sensed a special chemistry in the clubhouse in spring training, and those bonds have held in the face of adversity. The Angels survived for a month without Trout. That should bode well for when he returns.
"We didn't throw any kind of pity party or wallow in any circumstances," Eppler said. "If we can get some players back from the DL, it will strengthen us. But our guys aren't waiting for anyone to return. They're battling every day."
Follow Mike DiGiovanna on Twitter @MikeDiGiovanna
---