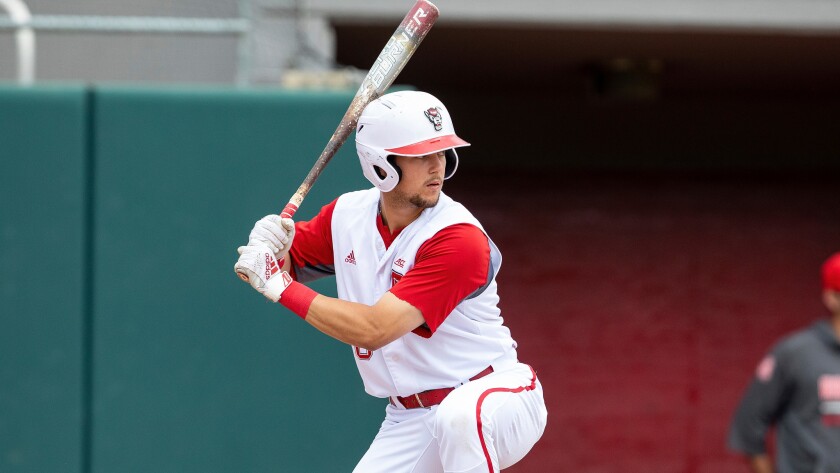 A day after signing their top pick of the 2019 amateur draft, the Angels welcomed second-round pick Kyren Paris into the organization.
Paris, a 17-year-old shortstop from Freedom High in Oakley, Calif., was committed to Cal, the alma mater of Angels scouting director Matt Swanson. He decided to begin his professional career instead, signing for an above-slot bonus of $1.4 million, said a club official who was not authorized to publicly comment. MLB recommended a slot value of $1.31 million for the 55th pick of the draft, which Paris was.
Paris will start his professional career Wednesday with the Angels' rookie affiliate in Tempe, Ariz.
Paris entered his senior year somewhat under the radar. He didn't make last summer's Under Armour All-America team, a showcase for the top prospects in the nation. He figured he was heading to Berkeley.
The Angels swayed him. After meetings with members of the front office, including one visit to his parents' home in the Bay Area that featured five to seven members of the organization, Paris told his agent, Phil Ortiz, that he loved the Angels and would like playing for them if given the chance.
It helped that the Angels currently employ shortstop Andrelton Simmons, at least through 2020. Paris said he modeled his own game after the four-time Gold Glove winner.
"For one, his arm strength is incredible, so that's something I've definitely worked on playing shortstop," said Paris, who was treated to the finale of the Freeway Series at Angel Stadium. "I like how quick he is and agile and how much range he has."
Paris hit two home runs in 91 games, yet his burgeoning power showed up whenever he played with a wooden bat. The skill put him on the map.
"Our scouting group was really surprised with the strength, with the twitch, with the projection in the wiry strength that he's gonna have as he grows into his body," he said. "There's gonna be power in there someday. … I think the good thing is we have a lot of time on our side to allow him to develop."
Limited by injury as a senior, Paris batted .306 in 19 games this year and .312 throughout his four-year high school career.
"I feel like my offensive approach, driving balls in the gaps, stealing bases, scoring runs, ultimately helps a team win," Paris said. "I think that's my biggest strength."
The Angels signed their top pick Monday night, inking 15th overall pick Will Wilson under-slot for a bonus of $3.4 million. The value of the 15th pick with which the Angels chose Wilson was $3,885,800.
Among other signings, the Angels agreed to terms with 13th-round pick Edwin Sanchez. The right-hander out of B You Academy in Puerto Rico throws a nice curveball and a low-90s fastball that has reached 92 mph. He's got good mound presence and is aggressive, said Angels scout Omar Rodriguez.
They also agreed to terms with 14th-round pick Zac Kristofak, a junior from the University of Georgia who had a 3.80 ERA over 47 1/3 innings as a reliever. He struck out 63 batters and issued 15 walks. North Carolina Greensboro pitcher Chad Sykes, a fifth-year senior chosen in the 10th round, also signed.
The Angels were allocated a signing bonus pool of $7,608,700 for their picks in the first 10 rounds. All teams have until July 15 to sign the players they select in the 40-round draft.
Sign up for our daily sports newsletter »
---