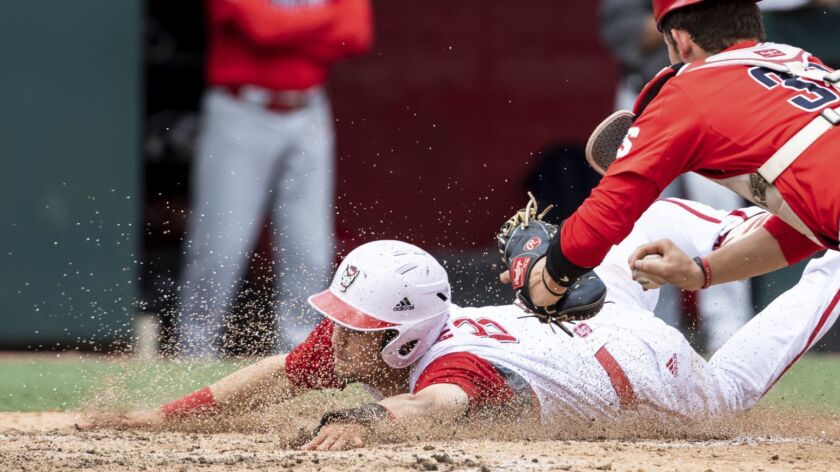 Here's a brief look at the Angels' draft picks this week:
Round 1: SS Will Wilson, North Carolina State, R/R (6-0/184):
2019 Season Stats: .335 BA | 57 RBIs | 16 HR
Brooks Wallace Award finalist
Dick Howser Trophy semifinalist
Collegiate Baseball second-team All-American
All-ACC first team
Round 2: SS Kyren Paris, Freedom High School (Calif.), R/R (6-0/165):
2019 Season Stats: .312 BA | 34 RBIs
Round 3: RHP, Jack Kochanowicz, Harriton High School (Pa.) L/R (6-6/220):
2019 Season Stats: 6-0 W-L | 0.32 ERA
Virginia commit
Throws 90-94 mph fastball
Round 4: LHP Erik Rivera, Puerto Rico Baseball Academy (PR), L/L (6-2/200):
2019 Season Stats: N/A
Florida International commit
Throws 88-92 mph fastball
Round 5: RHP Garrett Stallings, Tennessee, R/R (6-2/200) 6-7 record in 94.2 innings pitched.
2018-19 Season Stats: 8-5 W-L | 3.33 ERA | 106 K
SEC Pitcher of the Week
Rated as No.119 overall 2019 MLB Draft Prospect by DIBaseball.com
Round 6: RHP Zach Peek, Winthrop (S.C.), R/R (6-3/190): In two seasons for the Eagles, Peek was 8-3 with a 4.00 ERA in 96.2 innings.
Round 7: RHP Daniel Davis, Auburn, L/R (6-1/190): Davis, a 34th-round draft pick by the Chicago Cubs in 2016, amassed a 5.37 ERA with 135 strikeouts in three seasons with the Tigers.
Round 8: RHP Kyle Brnovich, Elon University, L/R (6-2/190): In his junior season, he had a 7-3 record with a 3.66 ERA. Brnovich finished his pitching career second all-time (360) in strikeouts in Colonial Athletic Assn. history.
Round 9: Zach Linginfelter, Tennessee, L/R (6-5/220): A 16th round draft pick by the New York Yankees in 2016, Linginfelter compiled a 12-14 record and a 4.50 career ERA for the Vols.
Round 10: RHP Chad Sykes, UNC Greensboro, R/R (5-11/180): Sykes posted a 0.96 ERA his senior season, the best ERA among Division I pitchers. He missed the 2018 season because of UCL and Tommy John surgery.
Round 11: LHP Brent Killam, Georgetown, L/L (5-11/180): In three seasons for the Hoyas, Killam had a 9-10 record and 3.57 ERA.
Round 12: LHP Jack Dashwood, UC Santa Barbara, R/R (6-6/225): After a medical redshirt his freshman year, Dashwood has an 11-8 record and a 3.53 career ERA.
Round 13: RHP Edwin Sanchez, B You Academy (PR), R/R (6-0/160): The left-handed hitter is a Coastal Carolina commit who tallied a .667 batting average.
Round 14: RHP Zac Kristofak, Georgia, R/R (5-9/181): In 26 appearances for the Bulldogs, Kristofak had a 5.24 career ERA and a 3-1 record in 44.2 innings.
Round 15: RHP Greg Veliz, Miami (Fl.), L/R (6-2/200): In three seasons for the Hurricanes, Veliz had an 8-6 record with a 3.05 ERA and 161 strikeouts.
Round 16: RHP Dakota Donovan, Central Arizona College, R/R (6-6/230): The second-year junior college pitcher compiled a 6-3 record and 3.15 career ERA.
Round 17: CF Brandon White, West Virginia, R/R (5-11/160): In three seasons for the Mountaineers, White hit .279/.381/.332 and added 61 stolen bases.
Round 18: LHP Ryan Smith, Princeton, L/L (5-11/185): Smith finished his college career with an 8-10 record, 4.52 ERA and 166 strikeouts.
Round 19: RHP Garrett Lawson, Delaware State, L/L (6-3/200): In his junior season, Lawson had a 7-4 record and a 1.89 ERA.
Round 20: RHP Jared Southard, Rouse HS (Texas) R/R (6-2/215): Southard, a Texas signee, has velocity in the 88-91 mph range.
Round 21: RHP Andrew Blake, North Carolina State, R/R (6-5/227): Last season, Blake (1-0) had a 4.79 ERA in 20.2 innings.
Round 22: SS Morgan McCullough, Alabama, L/R (5-9/180): In his junior season, he hit .309 with 29 RBIs.
Round 23: CF Matthew Corlew, North Broward Prep HS (Fla.), R/R (6-3/180): In his senior season, Corlew hit .308.
Round 24: RHP Shane Kelso, Oklahoma Baptist, R/R (6-3/220): Last season Kelso, compiled a 4-3 record and a 5.40 ERA.
Round 25: C Anthony Mulrine, Samford, R/R (6-1/205): In his junior season, he hit .275 and added 30 RBIs.
Round 26: RHP Kyle Molnar, UCLA, R/R (6-3/211): Molnar, a Cardinals pick in the 2015 draft, has a 6-5 career record and 3.27 ERA with 73 strikeouts.
Round 27: RHP Kenyon Yovan, Oregon, R/R (6-2/222): Yovan, a two-way player for the Ducks, has a 7-5 record and 2.73 ERA. He also hit .208/.311/.312.
Round 28: RHP Coleman Crow, Pike County HS (Ga.), R/R (6-0/175): Crow is a Kennesaw State commit.
Round 29: CF Matthew Woods, Rowan University (N.J.), R/R (6-2/185): Woods, a transfer from St. John's, hit .421/.505/.743 in his senior season.
Round 30: RHP Andrew Bash, California Baptist, R/R (6-0/190): Last season for the Lancers, Bash recorded a 6-4 record and 1.98 ERA.
Round 31: CF Spencer Jones, La Costa Canyon HS, L/L, (6-7/215): Jones, a Vanderbilt commit, is a two-way prospect. In his junior season he hit .414.
Round 32: RHP Chase Walter, Western Carolina, R/R (6-7/235): In 36 appearances, Walter has an 8-13 record and 5.14 ERA.
Round 33: C Justin Kunz, Gardner-Webb University, R/R, (5-9/190): In four seasons for the Runnin' Bulldogs, Kunz hit .280/.380/.474.
Round 34: RHP Ridge Chapman, South Carolina, R/R (6-0/210): Previously drafted by the Red Sox (2017) and Nationals (2018), Chapman had a 1-4 record and a 4.93 ERA.
Round 35: RHP Vincent Bianchi, Red Bank Catholic HS (N.J.), R/R, (6-3/175): Bianchi is a St. John's commit.
Round 36: SS Keaton Weisz, Coastal Carolina, R/R (5-8/155): Weisz, an Auburn transfer, hit .223/.291/.359 with 46 RBIs in two seasons for the Chanticleers.
Round 37: OF Levi Usher, Kirkwood CC (La.) L/R, (6-1/195): The first-year junior college product hit .409/.493./.538 and added 31 RBIs.
Round 38: RHP Luke Boyd, Baylor, R/R (6-2/180): Boyd recorded a 4.98 ERA with 58 strikeouts in 56 innings.
Round 39: SS Spencer Brown, Northern Essex CC (Ma.), L/R (5-10/185): Brown, a first-year junior college prospect, hit .486/.512/1.000 with 17 home runs.
Round 40: RHP Tyson Heaton, Yucaipa HS, R/R (6-2/205): Heaton, a Brigham Young commit, had a 1.27 ERA and 228 strikeouts in 253 innings pitched his senior year.
---