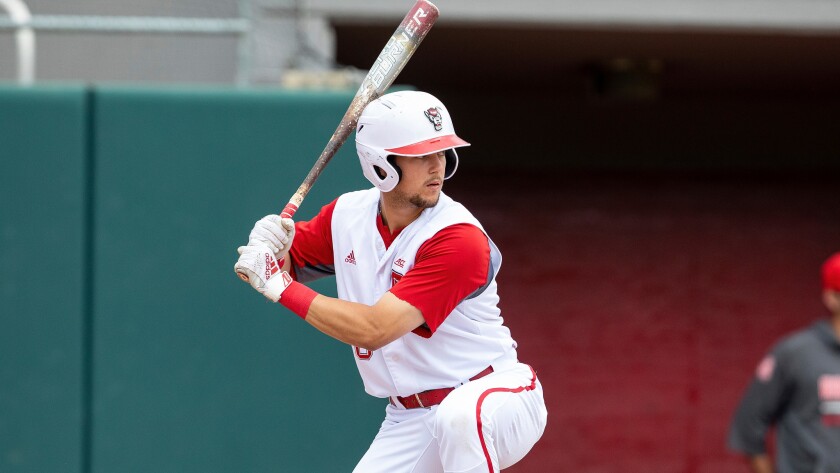 The Angels began the process of bolstering their mid-ranked farm system Monday, selecting two shortstops at the onset of the 2019 amateur player draft.
The Angels selected North Carolina State shortstop Will Wilson with the 15th overall pick. Wilson, 21, was ranked 22nd on Baseball America's list of prospects. He began the season lower on that chart but his stock steadily rose.
They also landed Kyren Paris from Freedom High in Oakley, Calif., with their second-round pick.
The Angels, encouraged by Wilson's progress in the field and by what scouting director Matt Swanson referred as "high-end upside" at the plate, were confident about using their first pick on a player who went undrafted out of high school.
"We think extremely high of Will," Swanson said in a conference call. "Obviously, on the field, I think the performance in a major conference speaks for itself. I think sometimes what is lost in the shuffle is the makeup and character. And this is just an awesome, awesome young man who is going to blend right in. He has a chance to move quick, but [he will] work on his own pace and just get acclimated to being an Angel and see how quickly he can move."
A 6-foot, 184-pound junior from Kings Mountain, N.C., Wilson led the Wolfpack in batting average (.335), doubles (20), home runs (16) and slugging percentage (.661). He also drew 33 walks and struck out 46 times in 258 plate appearances. He was one of five finalists for the Brooks Wallace Award, given to the best college shortstop.
Under the leadership of general manager Billy Eppler and Swanson, who took that role in 2017, the Angels have tended toward athletic players considered higher-risk picks with higher upside. First rounders Jo Adell, the 10th selection of the 2017 draft, and Jordyn Adams, the 17th pick in 2018, fit that mold.
The Angels didn't stray much from that philosophy by picking Wilson. Untouched by major league teams out of high school, Wilson shot up the prospect boards. He ranked in the top 10 in the Atlantic Coast Conference in slugging percentage the last two seasons. He performed well enough in 2018 — he hit .307 with a .588 slugging percentage and 53 RBIs — to be a semifinalist for the Dick Howser Trophy, awarded to the best college player.
Scouts picked at Wilson's lacking speed as an infielder, according to reports from Baseball America. Many expect him to move to second base, where he played for USA Baseball's collegiate national team last year.
But the Angels will develop Wilson, who was the ACC's defensive player of the year, at shortstop for the time being.
"That's how we value him," Swanson said. "It's a really good blend of defense and there is a high-end upside here as a hitter as well. … I think Will is very athletic and carries that upside in his own right."
The Angels drafted another middle infielder in Paris, who is still five months away from his 18th birthday. Paris, who committed to California, is 6 feet and 167 pounds, and is expected to continue growing into his frame.
He hit only two home runs in 91 games, yet his burgeoning power showed up whenever he played with a wooden bat.
"Our scouting group was really surprised with the strength, with the twitch, with the projection in the wiry strength that he's gonna have as he grows into his body," Swanson said. "There's gonna be power in there someday. You see it a lot with middle infielders. It's kind of the nature of the game and how swings are developing. Certain players develop more power than what you expect out of them. I think the good thing is we have a lot of time on our side to allow him to develop."
Paris, who was limited by an undisclosed injury Swanson said was not concerning, batted .306 in 19 games this year and .312 throughout his four-year high school career.
"When you capture a young dynamic talent like that it's pretty exciting," Swanson said.
Wilson is the second collegiate position player drafted in the first round by the Angels under Eppler. In Eppler's first summer as a top baseball operations executive, the Angels drafted catcher-turned-first baseman Matt Thaiss from the University of Virginia in 2016. Thaiss, who has a .782 on-base-plus-slugging percentage at triple-A Salt Lake, is the Angels' eighth-ranked prospect, according to Baseball America.
Sign up for our daily sports newsletter »
"This was the player we felt very comfortable just anchoring our draft on," Swanson said of Wilson.
The Angels were allocated a signing bonus pool of $7,608,700 for their picks in the first 10 rounds. All teams have until July 15 to sign the players they select in the 40-round draft, which runs through Wednesday.
Two Southland players were drafted in the first round: Pitcher Nick Lodolo of Texas Christian and La Verne Damien High was taken seventh by the Cincinnati Reds, and first baseman-outfielder Michael Toglia of UCLA was taken 23rd by the Colorado Rockies.
---