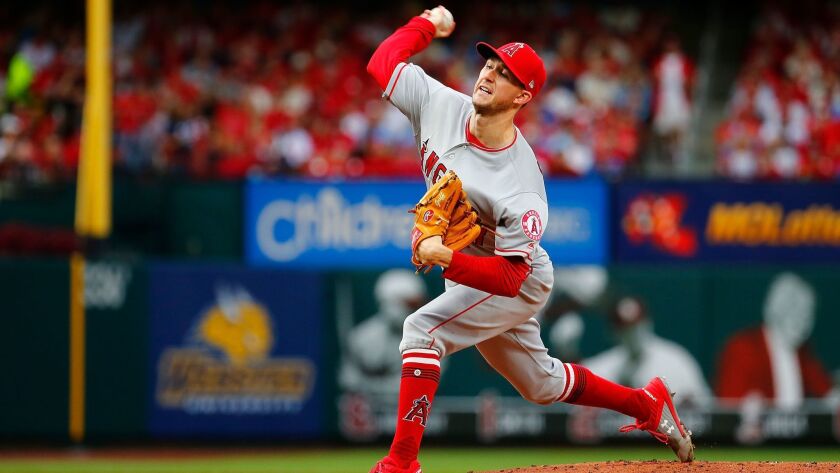 Doug White didn't know much about Griffin Canning when he became the Angels pitching coach last October. Once he started asking around, though, the testimonials came pouring in.
Even after Canning's first minor league season, White was told repeatedly that the former second-round pick appeared to be on the verge of a big league breakthrough.
"Everybody else who was involved in the organization, that's how they felt," White said. "To what degree? They didn't know. Nobody ever knows."
In hindsight, however, maybe they did. Ten starts into his MLB career, Canning has performed as advertised. Entering his start Thursday against the Oakland Athletics, he has posted a 3.88 ERA, a 57-to-13 strikeout-to-walk ratio, and a .212 opponents batting average, vaulting himself into the American League rookie-of-the-year conversation.
"It's freaking awesome," White said.
Canning, 23, offered a more measured evaluation of his first two months in the majors.
"I didn't really put any expectations on it, honestly," he said. "I just take it day by day, start by start."
That methodical process has proved productive for Canning (2-4). Between starts, he's a frequent visitor to White's office. He analyzes everything from situational stats to the shape of his pitches. His search for nuggets to think about during bullpen sessions is never-ending.
"Right now, it's more mental than anything," Canning said. "Which is how I've always been."
His college coach John Savage can attest to that.
The longtime UCLA skipper watched Canning, a slightly overlooked recruit out of Santa Margarita High who earned a rotation spot with the Bruins almost immediately, turn into an All-American in college and first-day MLB draft pick.
The only serious setback of his career came in 2015, his freshman year at UCLA. During a trip to Arizona State, Canning walked into the visitor's clubhouse at Phoenix Municipal Stadium the day before a start and bent to reach into his bag.
The motion was innocuous, nothing compared to the stress on his back the wiry right-hander caused hurling his mid-90s fastballs. But as he tried to straighten, Canning's back locked up. Once he sat in the dugout, "he literally could not get out of his chair," Savage said. "We thought it was a spasm or some sort of pulled muscle. It turned out to be much worse than that."
Doctors diagnosed a stress fracture in Canning's back. His season was over.
Sign up for our daily sports newsletter »
Yet, Canning didn't panic. He consulted a teammate who had overcome a similar injury, took the summer off to recover, and returned to form his sophomore season.
"It helped me build a better routine for myself," said Canning, who possesses not only an impressive pitching repertoire — complete with two breaking balls plus a changeup to complement his four-seam fastball — but also a refined mind-set that has helped him clear the obstacles in his path. They've been few and far between.
He collected 12 wins and nearly 250 strikeouts during his final two years at UCLA before quickly climbing the minor league ladder last summer. Less than 13 months after making his first start in Class A, he was called up to the Angels, becoming the third pitcher in the 2017 draft class to reach the majors.
"He's proven that he's a potential, [No.] 1 or 2, front-end of the rotation guy," said Savage, who has closely followed his former ace's rapid development. "It's just the tip of the iceberg right now."
White concurs, especially when it comes to his promising pitcher's mental approach.
"His mind-set," White said, "could carry him through the rest of his career."
Twitter: @Jack_A_Harris
---