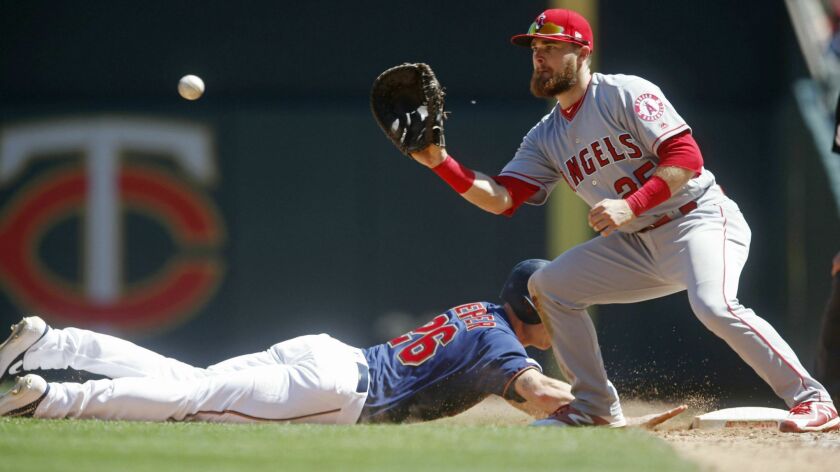 Reporting from MINNEAPOLIS —
Reinforcement for first baseman Albert Pujols arrived in the Angels clubhouse Wednesday, hours before the team played the finale of a three-game series with the Minnesota Twins.
Prospect Jared Walsh, a 25-year-old first baseman and occasional left-handed reliever and outfielder, was promoted from triple-A Salt Lake. He was thrust into action, playing first base and batting eighth, and went three for five in the Angels' 8-7 loss. He admitted to feeling jitters.
"No question," he said. "I wasn't even necessarily trying to do too much. I was just trying to control the breathing and swing at good pitches."
When he met with reporters before the game, he admitted he thought he might never get this chance.
"I think it always kind of catches you by surprise, especially not being on the 40-man [roster]," Walsh said. "Just wanted to play my game. I'd hoped I'd get the opportunity, and I'm very grateful for that.
As he stood at his locker, the one in the far corner of the visiting clubhouse at Target Field vacated not even 12 hours earlier by first baseman Justin Bour, Walsh reflected on his long journey to the major leagues.
Walsh was not highly regarded coming out of the University of Georgia during the 2015 draft. He pitched to some success there, posting a 2.60 ERA despite walking 44 batters in 55⅓ innings his final season. His bat came along too. He hit a career-best .306 with 14 doubles, two triples, three home runs and 22 RBIs as a senior.
But enough questions remained about his major league potential that teams passed him over — until the Angels claimed him in the 39th round.
Walsh awaited the news anxiously. He went the first two days of the three-day draft without hearing his name called. His mother, Lisa, tried to divert his attention by offering to take him to whatever major league ballpark he wanted to visit.
So they wound up in Baltimore on June 10, 2015. Walsh, still stressed, sat in the stands at Camden Yards, constantly refreshing the draft tracker on his phone. The later it got, the more hopeless he felt. Angels scout Todd Hogan called Walsh in the 35th round to barter with him on a signing bonus and tell him he was petitioning the Angels to give him a chance.
His phone did not ring again when the Angels' pick in the 35th round came up.
"Almost Mr. Irrelevant," Walsh said.
He finally got another call from the Angels in the penultimate stage of a 40-round draft.
"At that point you kind of lose hope," Walsh said. "I got lucky."
Sign up for our daily sports newsletter »
The Angels are banking on Walsh bringing them a bit of luck. Bour did not perform well enough at the plate to fill the role of backup first baseman.
Walsh has morphed into a two-way threat, returning to the mound last season as an emergency reliever and pitching more this year. However, manager Brad Ausmus said Walsh would only pitch in a mop-up role for the Angels in the early going.
The Angels want to see what Walsh can do with his bat. He hit 29 home runs, 34 doubles and one triple and drove in 99 runs last year playing at three minor league levels and batted .302 with 12 doubles, 10 home runs, 26 RBIs and 19 walks this year at triple-A.
"Draft day was kind of a tough day, so all these years later to still be playing is something I'm very appreciative of," Walsh said. "I don't think with a lot of other organizations I would have gotten the opportunity. For this development to be able to push me along this far means a lot to me."
---