Angels prospect Jared Walsh adjusting to life as a two-way player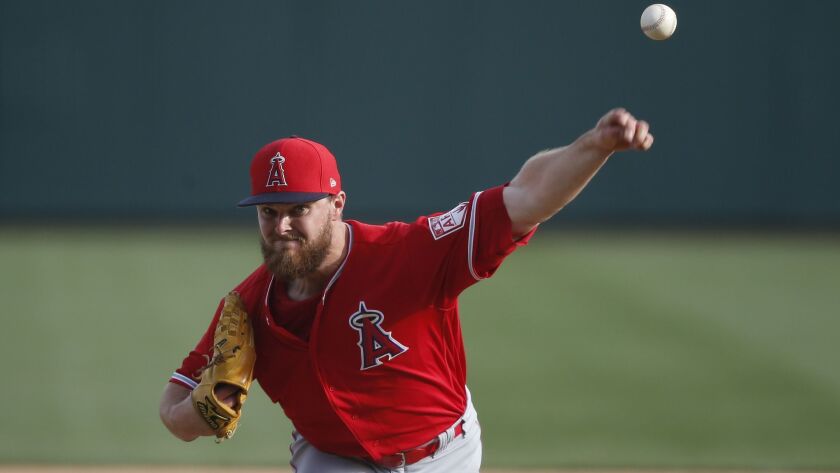 Reporting from Tempe, Ariz. —
Jared Walsh, a budding two-way prospect for the Angels in his first big league camp, knows early spring training results can be deceiving, so he didn't put much stock in the fact he retired the first nine batters he faced in exhibition play.
"I think I had some pretty good fortune," Walsh said of his first three Cactus League appearances. "I definitely missed over the middle with a few more pitches than I would have liked."
Walsh, a left-handed reliever and first baseman, missed the strike zone often in his fourth game, walking three of five Seattle batters in the eighth inning Sunday before moving to first base.
All three runners scored, bumping Walsh's spring ERA from 0.00 to 7.36 and dousing any speculation — warranted or not — that he was on a fast track toward mound mastery.
But the rocky outing did nothing to diminish Walsh's determination to become a competent two-way player or the organization's belief he could pitch and hit in the big leagues, if not at the stratospheric level two-way star Shohei Ohtani reached during his 2018 American League rookie of the year season.
"He hasn't thrown a ton of innings in the minor leagues, so there's a little bit of experience that needs to be gleaned, but we know he has the ability to do it," Angels manager Brad Ausmus said.
"I honestly believe Ohtani doing this last year has almost made it OK again. He's kind of reset the precedent. It's OK to not specialize in just pitching, or just being a position player, when you have the capability of doing both."
Walsh, who pitched as a starter and reliever at the University of Georgia, has shown good life on a fastball that sits in the 92-mph range, an improving curveball and a developing change-up.
Sign up for our daily sports newsletter »
He's also been pretty good with the bat, hitting .278 (five for 18) with four doubles and five RBIs in 11 games, including a score-tying two-run double in the ninth inning Sunday.
Walsh, 25, hit .277 last season with an .895 on-base-plus-slugging percentage, 29 homers, 34 doubles and 99 RBIs in 128 games across three levels — Class-A Inland Empire, double-A Mobile and triple-A Salt Lake City.
"It's awesome," Walsh said of his first professional full-time foray into life as a two-way player. "It is a lot of work, but it's something I'm definitely thankful I've had an opportunity do, and I hope they continue to give me that chance."
The 6-foot, 210-pound Walsh said the physical demands of pitching and hitting were not as stressful as the extra weight-room and training-room work required to handle the rigors of both roles.
"It's keeping your body in a good position with all the rotation and torque you put on it with all the swings and throws," Walsh said. "I get together with the training staff and do maintenance every morning. That's something I'm diligent about."
Walsh made eight relief appearances last season, going 0-1 with a 1.59 ERA in 5 2/3 innings, but he was more of an emergency reliever, summoned in extra innings or lopsided games.
Ohtani's early success in 2018 intrigued Walsh, who said last June he would be open to being a two-way player "if that's something [the Angels] want to let me do."
When the Angels made the request last fall, Walsh, who works as a hitting instructor at a baseball facility in Georgia, added a weeklong visit to the Florida Baseball Ranch in Plant City to his off-season program.
The facility provides elite training for pitchers and hitters with an emphasis on arm health and mechanics. Justin Verlander, Jake Odorizzi and Kyle Gibson are among the major leaguers who have trained there.
"My mechanics still aren't really where I want them to be, but I think they helped me incorporate my lower half better than I did last year," Walsh said. "It's still a work in progress. It's understanding the way my body needs to work to keep my arm in good position and to keep my body healthy.
"I was hoping they would give me the opportunity to come to big league camp and do this, and I wanted to be prepared. I didn't want to look like I hadn't been doing anything all off-season."
Walsh is expected to open the season in triple A, but he has one important task before breaking camp: an in-depth conversation with Ohtani, who is rehabilitating from elbow ligament reconstruction surgery and is expected to return as a hitter in May.
"I haven't talked to him much — he's busy doing all his rehab — but I'm definitely going to pick his brain on the mental aspect of this," Walsh said. "If you're not pitching great, does that affect your hitting? And vice versa. I'm really interested to see what he has to say, because he had an awesome season."
Up next:
The Angels have a game at 6 p.m. PDT Wednesday against San Diego at Tempe Diablo Stadium. Right-hander Jaime Barria will start against Padres right-hander Chris Paddack.
TV: Fox Sports West; Radio: 830.
---
Get the latest on L.A.'s teams in the daily Sports Report newsletter.
You may occasionally receive promotional content from the Los Angeles Times.