Angels' teenage prospect Jo Adell on fast track to major leagues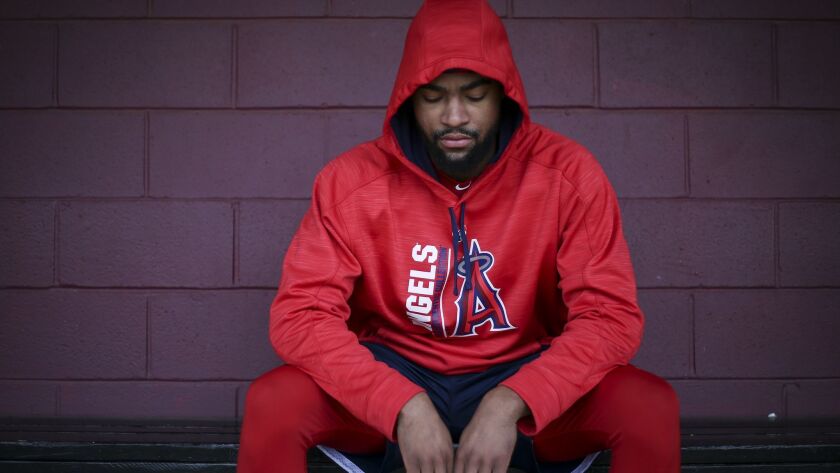 Reporting from lOUISVILLE, ky. —
The outfielder who just might be the next face of the Angels is in the middle of a two-hour workout in his hometown when he balks at the next exercise set.
The prescribed weight is too heavy, he halfheartedly complains. He's already been to the gym four other times this week in January.
His strength coach shrugs and says, "It's OK to be second fiddle."
Jo Adell, the Angels' top prospect and one of the best in baseball, rolls his eyes and fakes a laugh. "Ha, ha."
Adell has trained with and measured himself against Adam Duvall, an Atlanta Braves outfielder and fellow Louisville native, going on five years. It never mattered to Adell that Duvall was nearly 11 years older. He always wanted to match him in the weight room because the coach they share teases him relentlessly about Duvall's progress.
So when Duvall's name crops up again, a few weeks before Adell is set to leave for spring training, he turns back to the row of strength training cages. He is not going to settle for second-best.
Adell is 19 — and only 19 months removed from becoming the Angels' top pick and the 10th overall selection of the 2017 draft out of Ballard High. Most pros his age are still playing at the rookie level. Adell has blown past them: He will report to the Angels' clubhouse in Tempe, Ariz., late next week for his first major league spring training.
Adell's ascent through the minors has been meteoric. By the end of his first full professional season last year, Adell had breezed through two Class A teams, represented the Angels in the All-Star Futures Game and earned a promotion to double A, where most players were at least three years older.
No one he's close to is surprised by how quickly he's climbed. This manic progress is what Adell has always worked to achieve.
My whole life has been me doing what people said I shouldn't have done
Angels prospect Jo Adell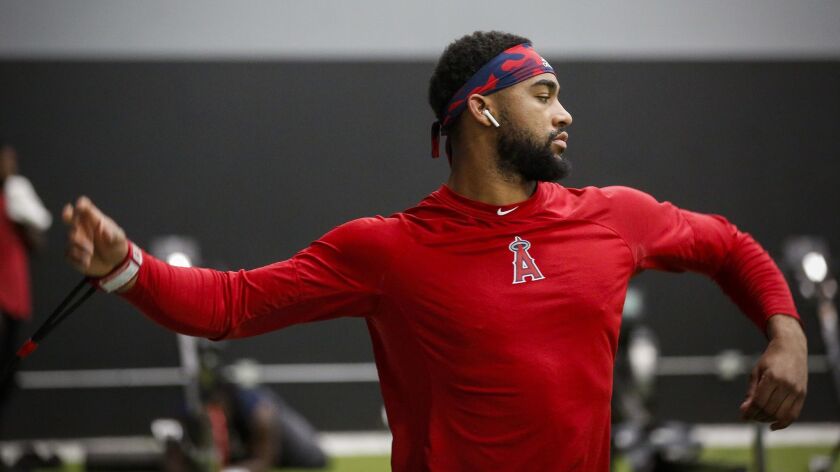 However, he acknowledges there's some irony to his situation. At this time two years ago, many major league executives weren't sure his raw talent would translate in the pros. They saw a perfectly built athlete — he is 6 feet 3, 215 pounds now — who hadn't performed exceptionally well on the high school showcase circuit.
It wasn't the first time Adell's capabilities were called into question. Multiple youth coaches preferred he focus on pitching. They were skeptical he would find a way to hit for both power and average; but they were confident in the mid-90s fastball and plus-grade breaking balls he threw. At the time, Adell was committed to the University of Louisville as a two-way player because he did not want to be pigeon-holed.
He willed himself to prove doubters wrong.
"My whole life has been me doing what people said I shouldn't have done," Adell says.
::
There are no urban myths about Adell's greatness, no tales of tape measures pulled out to quantify home-run distances. But there was plenty of gawking at Adell's power and athleticism.
He was strong, even as a 7-year-old, the kind of kid who would surprise himself when he drove a coach's soft pitch over the fence of a Louisville recreational field that was 108 feet to center and about 97 feet to the corners.
Ten years later, after the industry had cottoned onto Adell's talent, he had grown into his gifts. He drove the ball to all fields, hit towering home runs with wood bats, and made throws from the outfield measured at 96 mph.
Even now, strength coach Eric Hammer marvels at the progress. Adell came to Hammer at 14, when he was about 155 pounds and not yet 6 feet tall. He demonstrated what Hammer called elite movement capabilities in terms of how well he lunged, controlled his body weight and jumped. He just needed refining.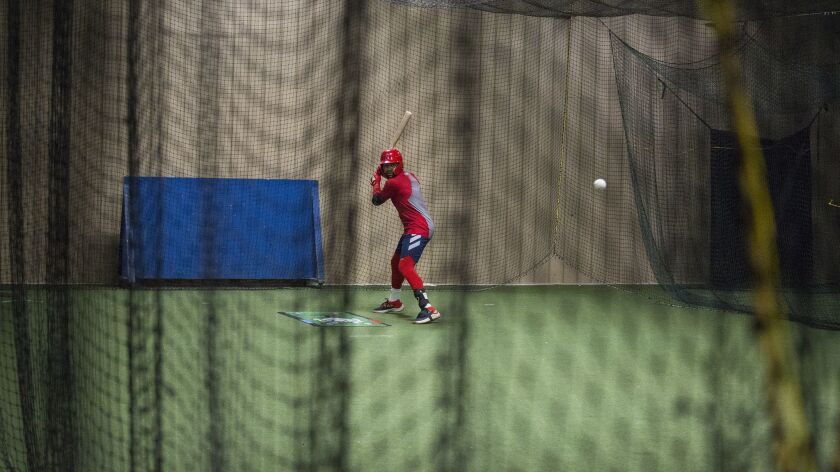 I didn't turn myself into a robot. I learned how to take coaching and really just elevate on all levels mentally
Jo Adell
"Jo was a beanpole," Hammer said, "but Jo could move."
As they worked, Adell's frame filled out. He added muscle and grew a few inches. He got bigger and stronger, but instead of losing speed his levels of explosiveness increased.
Adell can leap higher than 42 inches, record a broad jump distances of 11 feet 4 inches and complete a flying 10-yard sprint in 1.02 seconds — measurements that mirror athletes who topped the charts at the last two NFL and NBA combines.
Such strength manifested itself in the batter's box. Adell's estimated fly ball distance in his last 50 games of 2018 was around 320 feet, according to data compiled by Prospects Live. Such a number would rank in MLB's top 30 during the same time frame last year.
Adell gained 10 pounds of muscle this offseason while shaving time off his 10-yard sprints.
"There's no freak like this in the nation," Hammer said.
::
Adell had just turned 7 when he opened the door to a bedroom in his family's new home and found a bat and glove left on his bed by his parents.
The discovery surprised him. This was a new sport. He spent his childhood trying to follow everything his sister did, and Jessica hadn't yet moved toward baseball or softball.
Jessica, two and a half years older, flourished in softball and became a first-team high school All-America selection and Division I athlete.
"The goal was to get on [Jessica's] level, mentally," Adell said.
By the summer after he turned 11, he had found that gear. An opposing team's coach, impressed by Adell's prowess on the mound, asked him to play in the Elite 32 tournament in Florida.
Unlike his sister, he had never played outside of the Midwest. He wanted to know if his skill set matched those of kids raised in baseball hotbeds like Florida, Texas and California.
On the day the tournament began, Adell's father, Scott, said, it was so hot and humid that steam radiated from the turf field. The rubber on the soles of Jo's molded cleats began to melt.
Still, his fastballs zipped through the zone; his curveball made the hitters flail.
When his coach welcomed him back to the dugout with an opportunity to turn the ball over, Adell refused. He was dripping sweat after each inning, but it was a must-win game. He wanted to see it through, for himself and his teammates.
Sign up for our daily sports newsletter »
"So that was kind of when I knew that not only the athleticism was there," Scott said, "but there was maybe a little bit of a different heartbeat that was going on."
::
Physical ability and potential have always been pluses. What raised occasional doubt about Adell's hitting was his approach.
On the showcase circuit, his swing-and-miss rate was higher than most of the eventual first-rounders in his age group. He hacked at enough bad pitches that it cost him spots on the under-15 and under-18 rosters for Team USA.
Getting cut not once but twice, it just makes you go hard
Jo Adell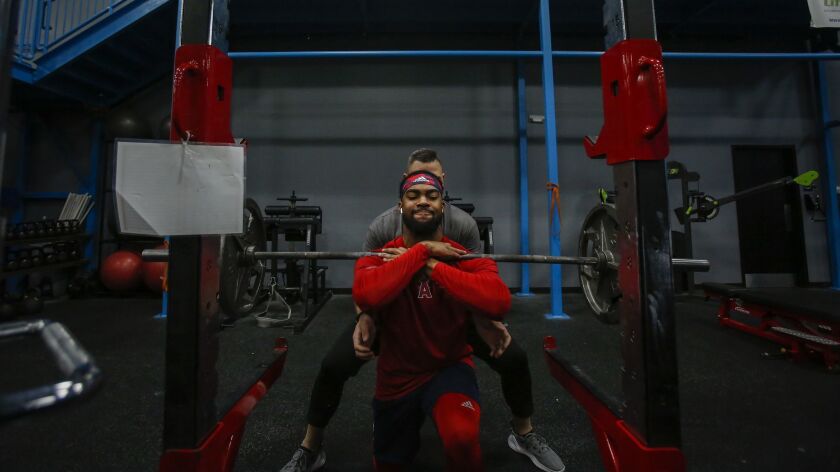 Scouts and team executives who saw Adell on the showcase circuit the summer after his junior year in high school bumped down his hitting grades. He played in his second Under Armour All-America Game, won the home run derby at the late-summer Area Code Games and helped lead his Evoshield Canes team to the WWBA World Championships in Jupiter, Fla. Yet many in the industry wrote him off. They weren't sure his bat would stand the test against elite players in his peer group.
Adell didn't crumble under the negativity. When his friends made teams that he didn't, he called to congratulate them and moved on.
"Getting cut not once but twice," Adell said, "it just makes you go hard."
He made subtle adjustments in his approach during the winter of his senior year. In the spring, he batted .562 and led the nation's high school players with 25 home runs.
The teams that drafted ahead of the Angels weren't convinced. The Angels were. They drafted him in the middle of the first round, signed him to a $4.376-million bonus and were instantly gratified. Following a successful pro debut against other rookies in 2017, Adell worked more closely with minor league hitting coordinators Jeremy Reed and Shawn Wooten, who are both now on the Angels' major league staff. The time Adell spent taking their ideas and weaving them into his own philosophy helped him navigate three levels last year.
"I didn't turn myself into a robot," Adell said. "I learned how to take coaching and really just elevate on all levels mentally."
Adell hit a combined .290 with an .890 on-base-plus-slugging percentage in 99 games. He didn't appease all concerns about his plate discipline — he still struck out in 25.9% of the time — but he drew 32 walks and racked up 215 total bases.
Adell is now the best prospect owner Arte Moreno's franchise has herded through its farm system since Mike Trout was a teenager.
"Knowing him inside and out as a person, knowing his family and support system," Angels amateur scouting director Matt Swanson said, "…I think at the end of the day he could be and can be a franchise player."
::
Adell watches the news for the first time in weeks and is reminded: American Airlines recently announced the creation of a direct flight from the airport in Louisville to Los Angeles International. The first-of-its-kind route is scheduled to start in April.
He mentions the topic to his family as he stands in the kitchen at home.
No one actually says it, but the implication is clear: That nonstop flight might soon be crucial. Adell's major league debut looms, likely in 2020 if not sooner, and the convenience of an airline route would ease the family's travel arrangements when the time comes.
When — not if.
"I mean, anything can happen," says Scott, a former lineman who would have played with the New Orleans Saints if a back injury hadn't ended his NFL aspirations. "It's a difficult sport to begin with and we try to temper it. But you don't have those gifts and work that hard not to get an opportunity to be an everyday guy."
Jo is just as confident. He begins the 2019 season ranked as Baseball America's best center field prospect and as one of the sport's most promising minor leaguers. He will be on the fast track to the Angels' major league depth chart if his 2019 campaign matches last year's performance.
When his father tries to discuss the latest prospect rankings, Adell cuts him off. He is not focused on industry chatter.
He has made a career of ignoring outsiders' opinions.
If he hadn't, "I wouldn't be close to where I'm at," he says. "That's just the fact."
---
Get the latest on L.A.'s teams in the daily Sports Report newsletter.
You may occasionally receive promotional content from the Los Angeles Times.