Angels' pursuit of Tim Lincecum has a familiar ring to it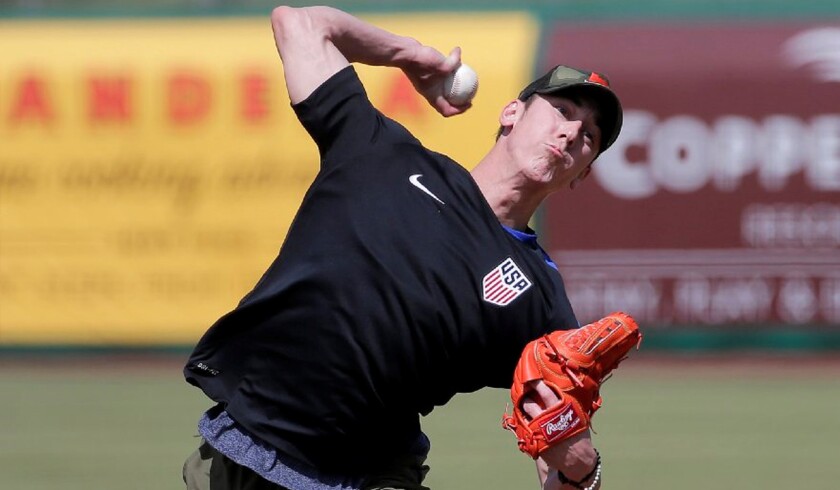 The Angels' owner had zipped up the team wallet. But the team desperately needed a pitcher, so management gambled on a fragile arm. The arm belonged to a former Cy Young winner, a guy who inspired a city, wore multiple World Series championship rings and drew raves from teammates for his accountability and effort.
So the Angels signed Fernando Valenzuela, two months after the Dodgers let him go. The Angels got two major league starts out of him. He lost both, and the Angels let him go.
That was in 1991. Here we are 25 years later, when the Angels ought to be above these kinds of gambles, and Tim Lincecum feels a bit like Valenzuela all over again.
The Angels are close to signing Lincecum, two people familiar with the decision but unwilling to speak publicly ahead of a team announcement said. Lincecum, eight months removed from hip surgery and 11 months removed from his last competitive game, probably would make a few starts in the minor leagues before reporting to Anaheim.
This is not a criticism of Angels General Manager Billy Eppler. The Angels have two starting pitchers with an earned-run average above 6.00, four starting pitchers on the disabled list, nothing significant in the way of money to spend or prospects to promote and an expectation to contend this season.
"I think it will come down to September," Eppler said Monday.
It might. The Angels and all their woes are only 4 1/2 games out of first place in the American League West, which appears to be the weakest top-to-bottom division in the major leagues. So Eppler, in his first year, has provided low-cost upgrades to the margins of the roster over the last week: shortstop Brendan Ryan, pitcher Jhoulys Chacin and now Lincecum.
Lincecum is no longer a brand name, the guy with the two Cy Youngs, three parades and signature hair. He is one month from his 32nd birthday, five years removed from his last good season.
"You try to find lightning in a bottle," Angels coach Gary DiSarcina said.
DiSarcina was the Angels' shortstop during the lost decade of the 1990s, when the money did not flow from ownership and the minor league talent had just started to flow. In the interim, the Angels regularly imported former All-Stars with their best days well behind them.
Not just Valenzuela. There was Eddie Murray, who hit .217 at age 41, and Dave Parker, who hit .232 at 40. In the same year – 1992 – there was Hubie Brooks (.216) and Von Hayes (.225). Of those five players, the Angels cut all but Brooks before the end of the season.
"As a player, it was frustrating," DiSarcina said. "You're not making the big splash. You're not going out and getting David Cone, or Rickey Henderson in his prime."
The Angels had Henderson in 1997, at age 38. He hit .183.
"A lot of people want to downplay those signings," DiSarcina said. "They're not flashy — like this year, the [Yoenis] Cespedes or Alex Gordon or those guys.
"But, for an organization that wasn't winning at that time, to bring in winning ballplayers, even if they were past their prime, helps the organization. It helps the core group of young players — the [Tim] Salmons, the [Garret] Andersons, the [Darin] Erstads, the [Troy] Percivals. … We didn't win in the minor leagues. We were rushed out of need. It was awesome to see these other players coming from winning organizations."
The names came flooding back to DiSarcina: Pat Borders, Alvin Davis, John Farrell, Mark Gubicza, Jack McDowell. They all helped young players back in the day, he said, and he expected that Garrett Richards and Andrew Heaney would pepper Lincecum to share his knowledge.
Still, the 1990s Angels were muddled in mediocrity. These Angels, with the best player in baseball and October aspirations, should not have to resort to a pitcher that is the equivalent of lottery ticket.
"They have financial constraints now," DiSarcina said. "[Owner] Arte [Moreno] has a certain number he really doesn't want to go over. You have to operate within that budget.
"If you bring five guys in like that and even one contributes, it's worth it, especially when the minor league system isn't producing all these big league players. We've got to fill that void somehow."
Lincecum might come back strong this year. He might, as Valenzuela did, pitch one year for the Angels and come back strong in later years, for other teams.
You never know. Are the Angels better today than yesterday? The best they can say is, they don't know.
Twitter: @BillShaikin
---
Get the latest on L.A.'s teams in the daily Sports Report newsletter.
You may occasionally receive promotional content from the Los Angeles Times.