Ricky Nolasco makes 33rd start for Angels, who must replace his 181 innings next season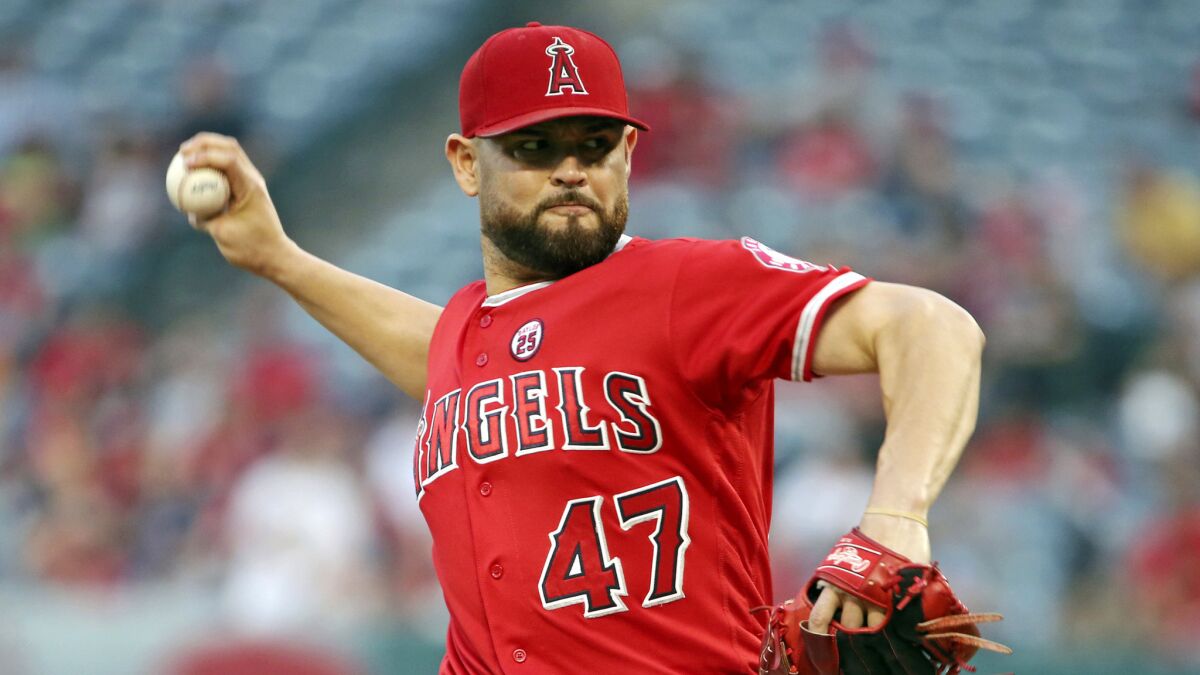 Ricky Nolasco stepped to the mound sporting an Angels uniform Saturday night for what will almost assuredly be the last time. He wiggled his arm often and winced after each of the Seattle Mariners' three extra-base hits.
In visuals and in its 51/3-inning length, the outing was perfectly typical of his 33 starts this season.
In terms of results, it was much better. He gave up only one run, allowing the Angels the opportunity to win and preserve the possibility of a .500 season. They squandered their chance in a 6-4 loss at Angel Stadium.
While Nolasco's 4.92 earned-run average led to a lot of losses this season, he proved to be by far the team's most durable starting pitcher. At 181 innings over 33 starts, he started nine more games and threw 34 more innings than any other Angel.
Those innings, of course, will need to be replaced. Most of what they will require rests within their organization, the Angels believe. General manager Billy Eppler said Saturday that he counts eight pitchers under team control who can formulate much of his team's 2018 rotation.
Those eight: right-handers Garrett Richards, Matt Shoemaker, JC Ramirez, Parker Bridwell, Nick Tropeano, and Jaime Barria, and left-handers Tyler Skaggs and Andrew Heaney.
"Obviously, a lot of them already have pitched in major league games," Eppler said. "And then you add Jaime Barria into that mix as a guy that could come in."
Barria rose from Class A to triple A this season. Scouts consider him a safe bet to settle into a long-term role at the back of a big league rotation. But he turned 21 in July, and three of the other seven starters are currently hurt. Plus, there is the inevitability of attrition. History says some of those pitchers will get hurt within the next year.
"It'd be great to go through an entire season and not use more than eight starters," Eppler said. "Generally, though, you're gonna have some spot starts in there."
To accrue additional depth, he described a plan to "continue to stay active in minor league free agency, waiver wires and smaller trades." One key was welcoming back Richards in September, when his five-start stint assured the Angels they can count on him next year.
"It's a lot more comforting to have him make these starts and feel good," Eppler said, "and have the purity of his stuff be intact as well."
Regarding the bullpen, Eppler named four relievers under team control who will enter 2018 in the "high-leverage bucket." The four: Blake Parker, Blake Wood, Cam Bedrosian and Keynan Middleton. The latter two were drafted and developed by the Angels. Parker and Wood were claimed off of waivers over the last nine months.
Eppler and his staff have found success with such small-time claims. Signed to a minor league contract in February, reliever Yusmeiro Petit won the team's pitcher of the year award. Similar moves would be a boon for 2018.
"It's hard to say whether that's replicable or not," Eppler said.
Short hops
The Angels announced an attendance of 38,075 for Saturday's Fan Appreciation Day. … For the Angels' four runs, Kole Calhoun homered, Albert Pujols and Luis Valbuena drove in runs with outs, and Valbuena later drove in a run with a double. Mike Trout threw a man out at home in the first inning for his fifth assist of 2017. … The Angels honored the players' choices for the club's most valuable player and pitcher in a pregame ceremony Saturday. Petit won for pitching, Trout and Andrelton Simmons split the MVP trophy. … The Angels' first-round pick placement in the 2018 MLB draft is still subject to change after Sunday's outcomes.
Follow Pedro Moura on Twitter @pedromoura
Get the latest on L.A.'s teams in the daily Sports Report newsletter.
You may occasionally receive promotional content from the Los Angeles Times.