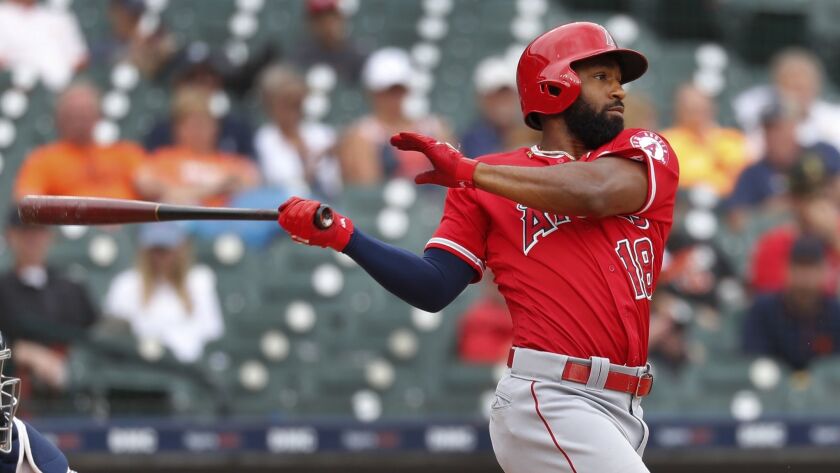 It may be hard to see now. The Angels are 20-23 and 8½ games behind the first-place Houston Astros in the American League West.
But a path for the Angels to emerge from the haze cast over the first quarter of their season exists — if they can build off a succession of recent promising trends.
Unexpected sources start hot
Caught in the rubble of pre-season injuries to left fielder Justin Upton and starting pitcher Andrew Heaney, the Angels made two player moves to shore up their roster ahead of the season. Pitcher Chris Stratton, one of those acquired, was shelled repeatedly and traded to the Pittsburgh Pirates last week.
But outfielder Brian Goodwin, the other acquisition, has performed better than the Angels expected. Since being picked off the waiver wire, Goodwin has turned in a solid first 40 games. His .315 batting average leads the team and his .874 OPS trails only Mike Trout and Tommy La Stella.
The Angels were slow to play Goodwin every day because they were unsure what damage the left-handed hitter could do against left-handed pitchers. He's followed the team trend in that regard — the Angels hit left-handers at an MLB-worst .211 clip and Goodwin has a .217 average against them — but his ability to make daily adjustments has superseded concerns about splits. After being held hitless in 14 at-bats from May 10-14, he broke out of his slump with a four-hit game Wednesday.
La Stella, a career backup acquired in a November trade, heated up in April after hitting three home runs over two days. He now leads the team with 11 homers and has a 1.087 OPS since April 10. Before this season, La Stella had hit 10 home runs in 947 career plate appearances. It took him 121 appearances to reach that number this season.
Angels hitting coaches helped La Stella alter his swing path during spring training. He said last month the adjustments allowed him to relax his grip and generate power more naturally by launching baseballs a few degrees higher, but he wasn't trying to reinvent himself as a slugger. He figured playing on a near-daily basis allowed him to find a better groove at the plate than he had in the past.
It's too early to determine if either development is sustainable through the season. But both roster gambles have provided favorable outcomes.
Experimentation is underway
Perturbed by Justin Bour's .584 OPS that ranked last among first basemen with 100 plate appearances, the Angels optioned the veteran to triple-A after Tuesday's loss in Minneapolis. Jared Walsh came up in his place and had a three-hit game Wednesday, the sixth player in Angels history to do so in his debut.
The move was the latest in a series of bold choices by Angels officials, who promoted top pitching prospect Griffin Canning on April 30 after gave top infield prospect Luis Rengifo a chance to play while Zack Cozart was hurt. And when Cozart returned from the injured list, manager Brad Ausmus indicated that his performance would dictate his playing time.
While they have stuck by veterans Cozart, Albert Pujols and reliever Cody Allen, the Angels have also made it apparent they reward performance. Utility man David Fletcher, for instance, has earned playing time after entering spring training competing for his first opening day roster spot.
Pitching help is coming
Heaney, who has battled left elbow inflammation since spring training and received a cortisone shot to alleviate the pain in early April, threw 58 pitches in four innings on Wednesday in his second extended spring training rehab start. Ausmus said last week Heaney might only need three starts before rejoining the Angels rotation, so he could be in a major league game by the end of the month.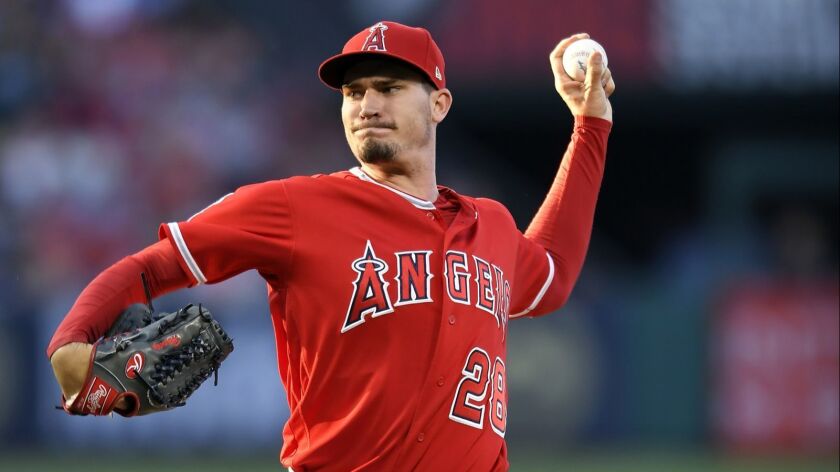 If Heaney can shake off the injury and perform close to his line in 2018 — he struck out 180 in a team-leading 180 innings while improving his ground ball rate and posting a serviceable 4.15 ERA — he could help stabilize the Angels' rotation. As things stand, offseason acquisitions Matt Harvey and Trevor Cahill have a combined 6.83 ERA in 17 starts.
J.C. Ramirez, coming back from Tommy John surgery he had in April 2018, will face hitters Monday in a rehab game for the second time. The Angels have not yet determined what role he will play upon his anticipated activation in late June or July.
Ramirez, 30, enjoyed some success with the Angels when they converted him from a reliever to a starter in 2017. Despite the heavier workload, he maintained his mid-90s fastball, struck out nearly 17% of the batters he faced and saw his team win 14 of his 24 starts.
Ramirez could just as easily slot into the rotation as the bullpen, which ranks in the top 10 in ERA (3.84) but could use a boost. Reliever Keynan Middleton is also expected to return from the injured list in July.
Trout and Ohtani are back together
Shohei Ohtani rejoined the Angels' lineup May 7 and immediately deepened it. The Angels have averaged 6.5 runs and batted .312 with an .880 on-base-plus-slugging percentage in their nine games with Ohtani.
They batted .240 with a .730 OPS before Ohtani came back. Plus, Trout was issued free passes, intentionally and otherwise, in 28% of his plate appearances in his first 31 games of the season. With Ohtani batting third behind him, Trout has drawn a walk at a 17% rate. None have been intentional.
Sign up for our daily sports newsletter »
Trout, the two-time American League most valuable player, is the Angels' OPS leader (1.004) despite a 24-game stretch in which he has hit .253. Ohtani has already collected six RBIs and 10 hits, numbers that might have been higher had he not stranded nine runners in Wednesday's one-run road loss to the Minnesota Twins.
Upton, who is hitting in the cage and throwing, does not yet have a date targeted for his return from a toe sprain. The Angels initially hoped it would come as early as the beginning of June, but he has yet to put weight on his feet while running. When he finally comes back, the middle of the Angels' order will be rejuvenated again.
---