Angels and Astros are ambassadors to Monterrey, Mexico, for a weekend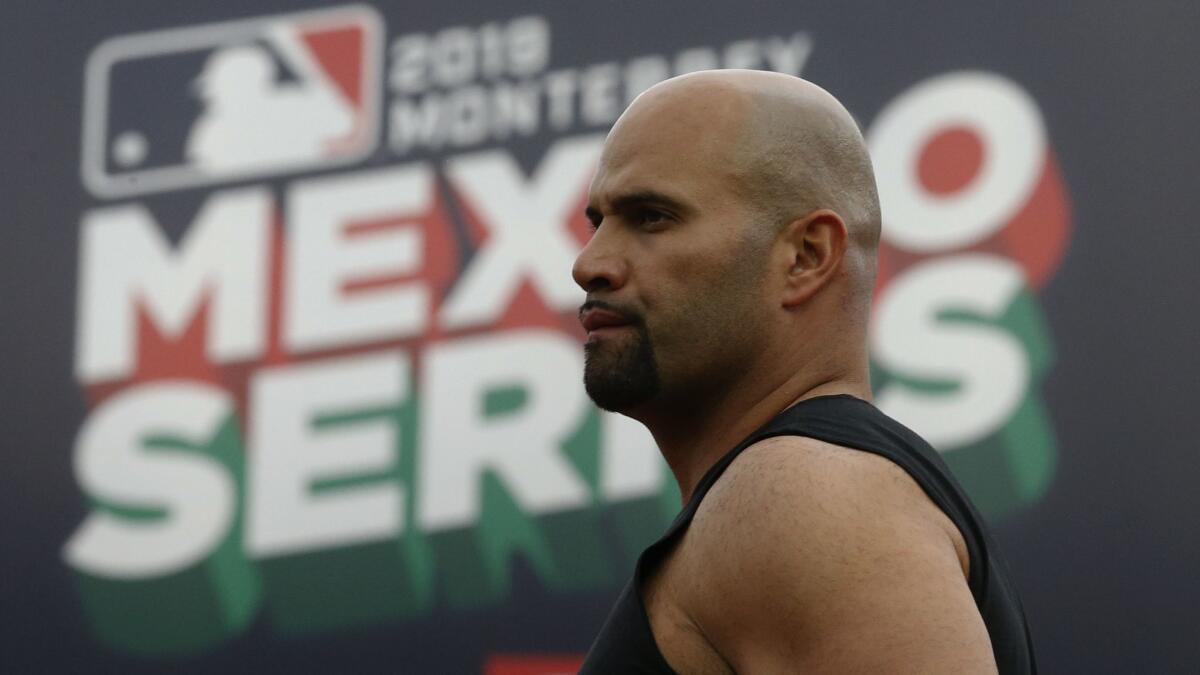 Reporting from MONTERREY, MEXICO —
The signage was visible as soon as passengers passed customs at General Mariano Escobedo International Airport. Advertisements for MLB's three series in Mexico this season were stripped across the walls and posted in terminals, the modern lobbies of the facility populated with the likenesses of Angels star Mike Trout and Houston Astros second baseman Jose Altuve.
Welcome to Monterrey, Mexico's own baseball hotbed and now host to an international baseball series for the fourth time in two seasons.
The Angels begin a two-game series with the Astros at Estadio de Beisbol Monterrey, the current home of the Sultanes of the Mexican League, on Saturday. It's the franchise's first foray south of the border since the Angels played an exhibition against the Arizona Diamondbacks in Hermosillo in 2000.
To MLB, these series aren't kitschy ploys to cash in local fervor for baseball. They're meant to grow the sport's reach.
"We're trying to use games like this, with the Angels and the Astros, to give us a spark," said Jim Small, MLB's senior vice president of international business. "It's a lightning rod to get people's attention throughout Mexico."
Baseball has taken a step forward in its international affairs of late, Small said. Although former commissioner Bud Selig oversaw opening day series in places such as Sydney, San Juan and Tokyo, Rob Manfred has advanced MLB's foothold abroad since succeeding Selig in 2015. Regular-season contests have now been played in Puerto Rico, Japan and Mexico since 2018. A series between the New York Yankees and Boston Red Sox will be played next month in London, MLB's first in-season venture into Europe. The league hopes Monterrey, if not a different city in Mexico, will get another series in 2020.
Mexico, in particular, has received much of Manfred's attention. Like others in Latin America and around the world, the country is dominated by soccer. But the Liga Mexicana de Beisbol, which operates from April to September, and the country's winter league are so popular that usually at least three teams in each league average more than 10,000 tickets sold per game. That leaves plenty of room for MLB to stake its claim.
MLB's average television audience in Mexico has grown 76% between 2015 to 2018, according to MLB research. Since opening an office in Mexico City in 2016, MLB's viewership in Mexico ranks second among professional sports, just behind the Mexican Soccer League.
The growing popularity of MLB is apparent in San Pedro Garza Garcia, a municipality in the Monterrey metropolitan area that MLB chose as its headquarters for this year's Mexico series. Sporting goods stores in the local shopping centers boast racks of jerseys for teams such as the Dodgers, Yankees and Red Sox. All sorts of team hats are on shelves. Angels and Astros merchandise produced by New Era — and priced comparably to the products in the United States — are readily available.
One of the stores had not attracted many Angels fans on the eve of the series, but an associate at Marti Deportes said he'd noticed an appreciable number of people come through to pick up Astros gear this week.
Not that it matters. MLB's goal is to foster fandom league-wide. Courting a team not far removed from its 2017 World Series championship in the Astros and a club that boasts Trout and Albert Pujols, who is two RBIs away from reaching 2,000 in his career, was a move to showcase some of the best talent in the game.
"He's just such a great ambassador for our game, and he's just such a tremendous baseball player," Small said of Trout. "So for him to be able to come and play in Mexico is clearly a a benefit to us because it helps us make that connection between a non-Mexican player and a Mexican fan."
MLB has begun to flourish here not only because of games played within Mexico's borders but because of grass-roots projects that promote youth participation — Small said the MLB Experience program is expected to reach 300,000 elementary students across Mexico this year — and marketing campaigns around the country that draw in locals.
As long as success continues to build, baseball can become part of the fabric of Mexico's culture.
"We're creating context for baseball, creating that social permission for a kid in Mexico City or Guadalajara to say, you know what, I want to be a baseball guy. I want to be connected with the game of baseball," Small said. "That's really what we're after."
Short hops
The Angels arrived in Monterrey on Friday afternoon and worked out on the turf field at Estadio de Beisbol. Here's what you need to know:
- Shohei Ohtani hit Friday and will hit in simulated games again on Saturday and Sunday. Manager Brad Ausmus said Ohtani, the two-way player who has been rehabbing as a hitter from Tommy John surgery, "could be" with the Angels for their upcoming series in Detroit beginning Tuesday.
Sign up for our daily sports newsletter »
- Thunderstorms are expected in the area Saturday and Sunday, but league officials remain confident the games can be played.
- Reliever Cody Allen traveled with the Angels. He has recovered well from the lumbar spine strain that sent him to the injured list a week ago and will throw a bullpen session Saturday, weather permitting.
- Infielder Taylor Ward will be the Angels' 26th player during this series in Mexico.
Get the latest on L.A.'s teams in the daily Sports Report newsletter.
You may occasionally receive promotional content from the Los Angeles Times.