Angels have some solid options including Matt Joyce and C.J. Cron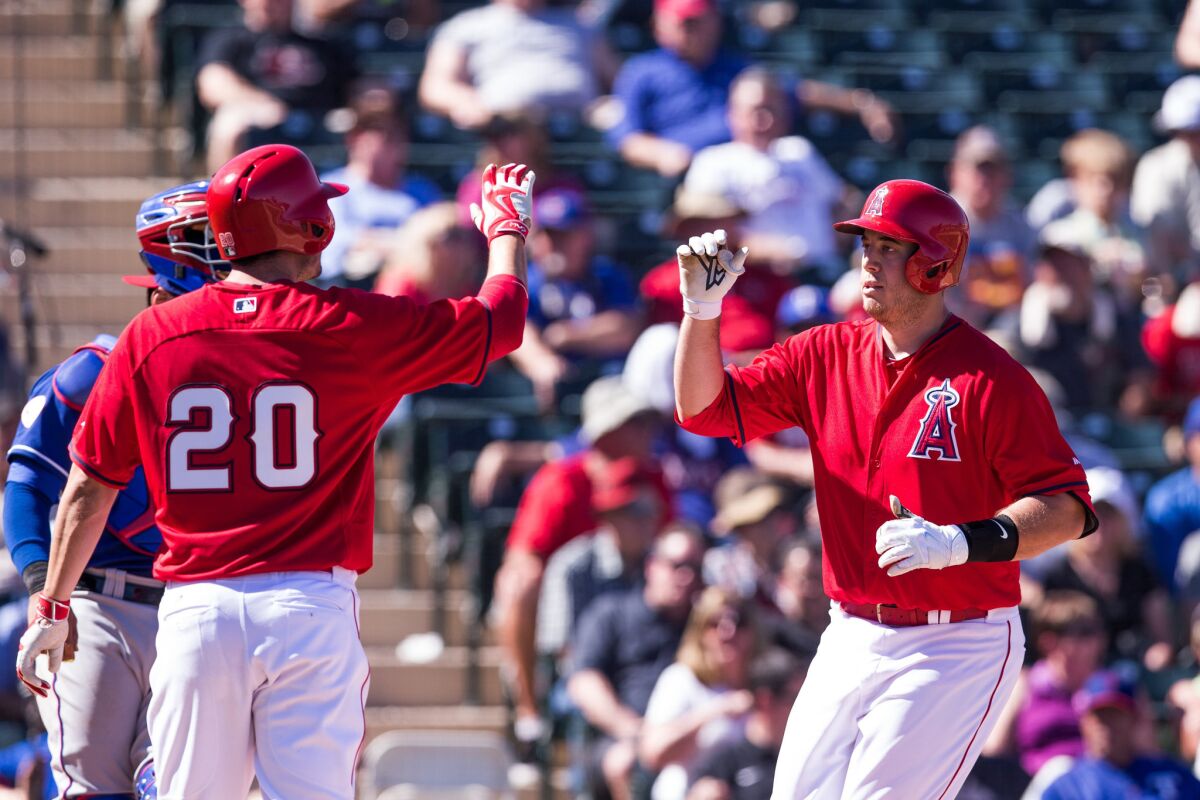 Reporting from TEMPE, Ariz. —
Matt Joyce, an outfielder/designated hitter who bats left-handed, wants to play more against left-handed pitchers. First baseman/DH C.J. Cron, who bats right-handed, wants to play more against right-handers.
Something will have to give, because there won't be enough lineup spots to accommodate both on a nightly basis, especially with solid options such as right-handed-hitting outfielder Collin Cowgill and left-handed-hitting first baseman Efren Navarro available to Manager Mike Scioscia.
"You want to play against right-handers, left-handers, it doesn't matter," said Cron, who drove a run-scoring double to right-center field in the fourth inning of Monday's 5-3 exhibition win over Texas and is batting .357 with two homers and five runs batted in.
"I just want consistent at-bats. That's all you can ask for. Once you get them, you can show what you've got and kind of set up your at-bats. It's a big difference."
Cron has been a middle-of-the-order slugger on just about every team he's played for, but he was a part-time player for the Angels in 2014, cutting his teeth in his first big league season with stretches of regular playing time interrupted by lengthy stints on the bench and two demotions to triple A.
A first-round pick in 2011, Cron hit .256 with 11 homers and 37 RBIs in 79 games last season, and though half of his 62 starts came against left-handers, there wasn't a huge difference in his splits.
Cron hit .258 with four homers and 12 RBIs in 93 at-bats against left-handers and .255 with seven homers and 25 RBIs in 149 at-bats against right-handers. Young players accustomed to playing the field often struggle at DH, and Cron was no different; he hit .282 as a first baseman and .248 as a DH.
"It was definitely a lot different," Cron said. "Any time you do something new, you have to adjust to it, change a routine you've done your whole life, but as the season went on, I learned a lot more about performing in that situation."
Joyce, acquired from Tampa Bay, has been a platoon player for most of his seven-year career, with a .261 average, .356 on-base percentage and .463 slugging percentage in 1,859 at-bats against right-handers but a .189/.258/.316 slash line in 323 at-bats against left-handers.
Joyce, who doubled in the fifth inning Monday, believes he can hit left-handers if given more opportunities, and Scioscia seems inclined to give him a chance.
But Cowgill, a better defensive outfielder, is sure to get some starts in left field against tough left-handers. Would Scioscia really start Joyce at DH over Cron in those games?
"Joyce is not going to be a strict platoon player, but we definitely want Cowgill and Cron to play against left-handers," Scioscia said. "We'll see how Matt handles it. When he's going well, you don't want to sit him down for two days just because you're facing two left-handers."
No hurry
Commissioner Rob Manfred said Josh Hamilton's rehabilitation from right shoulder surgery has removed any sense of urgency to decide on a suspension for the Angels left fielder, who suffered a relapse in his battle with substance abuse.
"Because Josh isn't in a position where he's going to be on the field, it has made the timing a little more relaxed," Manfred said in a meeting with reporters at Dodgers camp in Glendale, Ariz. "Beyond that, I just can't say anything."
Hamilton, who survived a harrowing addiction to cocaine and alcohol to become a five-time All-Star with the Texas Rangers, met with Major League Baseball officials in New York on Feb. 25 for a disciplinary issue. Both CBSSports.com and the New York Daily News reported that Hamilton had used cocaine and alcohol.
There have been extensive negotiations between MLB and the players union to determine the number of times Hamilton has violated his treatment program and whether he should enter a rehabilitation program for substance abuse. Hamilton is rehabilitating his shoulder in Houston and is not expected back until May.
Manfred said confidentiality provisions in the drug program prevent him from discussing Hamilton, but he made it clear Hamilton's fate is in his hands.
"I'm the decision-maker on this one," Manfred said.
Twitter: @MikeDiGiovanna
Times staff writer Kevin Baxter contributed to this report.
Get the latest on L.A.'s teams in the daily Sports Report newsletter.
You may occasionally receive promotional content from the Los Angeles Times.