Shohei Ohtani makes much-anticipated Angels debut as a hitter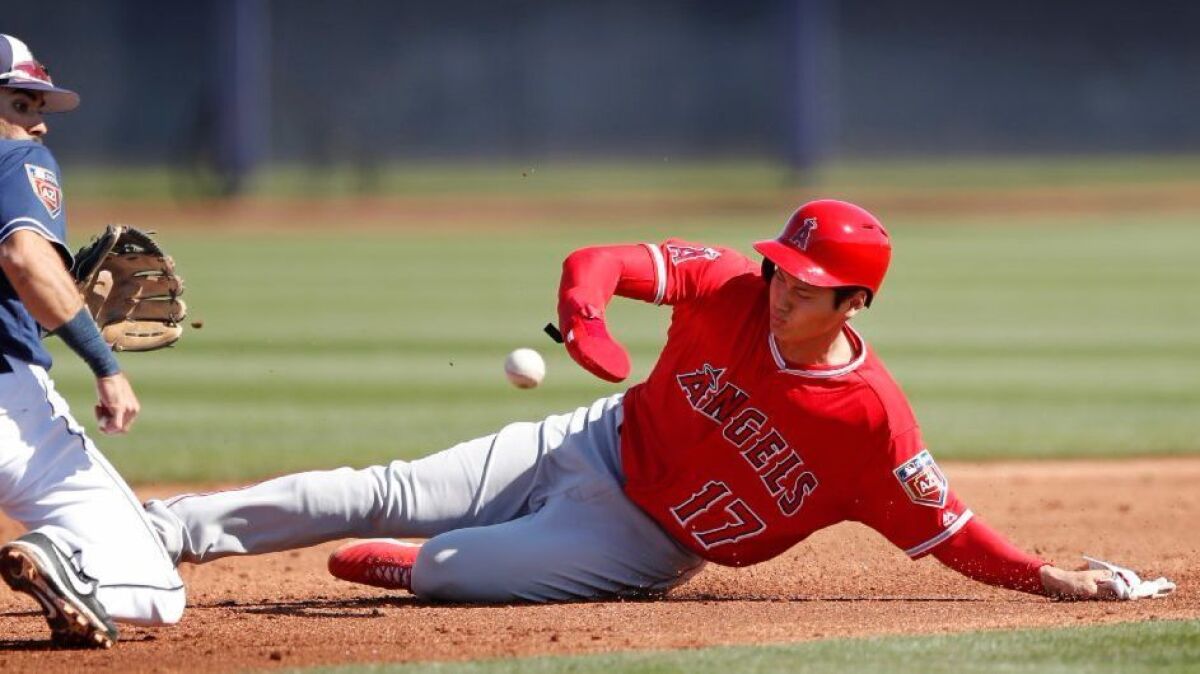 Reporting from Peoria, Ariz. —
After being able to flaunt nothing more than a good eye and fine posture, Shohei Ohtani of the Angels finally was able to flash his celebrated swing Monday.
He singled in his third plate appearance against San Diego, driving in a run in the fifth inning, the ball not traveling 500 feet or anything but instead placed precisely up the middle.
Ohtani, a big league rookie trying to become a star pitcher and a regular contributor on offense, walked in his first two plate appearances in his Cactus League hitting debut.
Before Monday, Ohtani's offensive exploits with the Angels had been limited to batting practice, including one session that featured two massive home runs that prompted oohs and aahs and high-fives from teammates.
This time, his left-handed swing produced a more common, if no less successful result, the single coming on the first pitch from reliever Michael Mariot, a 29-year-old with 44 games in the majors.
Ohtani was removed for a pinch-runner, the Angels having achieved their objective of getting him three plate appearances.
"I was happy to get that first hit out of the way, but I was also happy with my first two at-bats," Ohtani said through an interpreter. "I got to see a lot of pitches. … I feel like I put together pretty good at-bats."
Manager Mike Scioscia said Ohtani could be the Angels designated hitter Tuesday when they face Colorado in Scottsdale, Ariz.
His next start as a pitcher is scheduled for Friday. Scioscia said it could come in a "B" game and not in the Angels' Cactus League game at home against the Chicago Cubs.
This debut went more smoothly than Ohtani's first one, as a pitcher. He struggled with his control in a 1 1/3-inning start Saturday.
Just like that event and everything surrounding Ohtani, his first game as a hitter was dissected with almost surgical precision.
Once he was pulled, he was pressed on every subject from his nerves to his patience to his wardrobe.
When he bats, Ohtani wears an elbow pad and a shin guard because, he explained, he has done so "since high school, maybe even before."
When he was on the bases Monday, he did so with a glove/brace on his right [pitching] hand similar to the one used by Mike Trout because "the team just told me to try it on, so I tried it on."
Ohtani entered the ballpark at 12:52 p.m. and, 20 minutes later, batting second, took strike one from Jordan Lyles. After swinging and missing for strike two, he watched four consecutive balls.
"It actually felt really natural going into my first at bat," Ohtani said. "I was able to see the ball pretty well. Everything felt pretty natural."
In the third inning, facing Buddy Baumann, he walked on five pitches before advancing to second base on a wild pitch and sliding awkwardly.
Though the game was lightly attended — announced crowd: 2,700 — on a sunny afternoon, the media attention on Ohtani remained at near capacity.
His arrival was tracked by photographers — still and video — with Ohtani drawing particular attention as he ascended the dugout steps for pregame stretching.
"One of the reasons why I was able to see so many pitches in the first two at-bats was I wanted to feel the difference in the strike zones between Japan and the States," Ohtani said. "I feel like I accomplished that."
He said he was more aggressive his third time up because there was a runner in scoring position, suggesting his thinking was in mid-summer form even here, in late February.
"It's going to be interesting to see how this goes," Angels third baseman Zack Cozart said. "Worrying about being a hitter is tough enough.
"To be one of the top pitchers and hone that craft, too. … If anybody can handle it, it will be him. It doesn't seem like there's a lot of effort with his movements."
sports@latimes.com
---
Get the latest on L.A.'s teams in the daily Sports Report newsletter.
You may occasionally receive promotional content from the Los Angeles Times.