Mixed bag for Trout: On birthday, he mourns Baylor, collects 1,000th hit, is upstaged by Machado
His 26th birthday started out messy, but it wasn't his fault.
Before Monday's game, Mike Trout's teammates took him into their clubhouse shower and doused him with raw eggs, baby powder and coffee creamer, among other things, in an Angels tradition. The video was posted to Trout's Twitter account, his head buried in his lap to avoid the onslaught.
Trout then blew out the candles in his own impressive way.
He doubled in the fourth inning for his 1,000th hit, then homered in the sixth inning of a 6-2 loss to the Baltimore Orioles at Angel Stadium.
"I felt pretty good," Trout said. "I just wanted to get it over with."
Trout neatly connected two milestones and eras of the Angels, who recognized the passing of Don Baylor in a pregame moment of silence.
Trout is the 10th American League player with 1,000 hits prior to his age-26 season. He hit a home run on his birthday for the fourth time in his six-year career.
Trout shrugged off that unusual statistic and also allowed himself to appreciate his place in history.
"You obviously want to hear your name with the greats, the Hall of Famers," he said. "When you do something, it makes you feel good. It makes you feel special. Just to be a part of such a good company. But for me, it's just about going out there and playing."
Both of Trout's hits were against Baltimore starter Dylan Bundy, who had a career-high 10 strikeouts. Trout's 23rd home run, his second in as many games, was a towering shot off the left field foul pole to tie the score at 2-2.
He scored on Kole Calhoun's sacrifice fly in the fourth before Baltimore scored two runs in the fifth to end JC Ramirez's 12-inning scoreless streak.
Ramirez was struck by the broken bat of Trey Mancini in the fourth inning but stayed in the game and avoided damage until Manny Machado's grand slam in the seventh gave the Orioles a 6-2 lead.
"It is frustrating," Ramirez said. "I tried to pitch [as best] as I can … They're a good team. I know can't miss a pitch."
Baylor reaction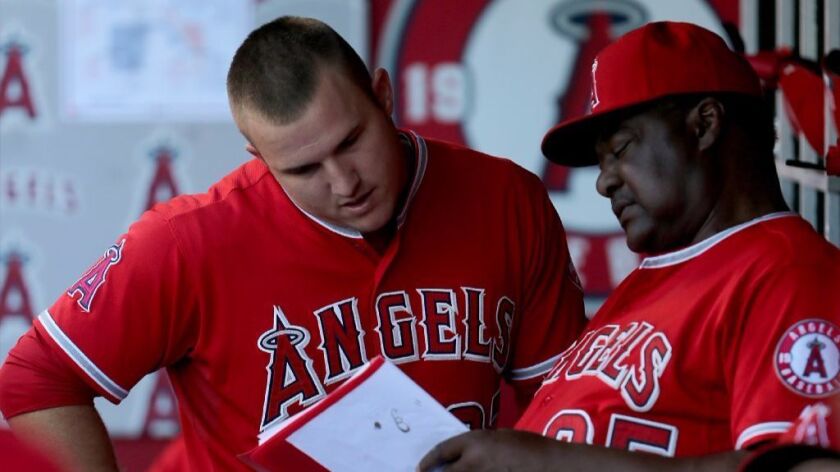 The reactions carried common themes in the Angels' clubhouse after the death Monday of Baylor: Class person. Full of integrity. Someone who affected their lives profoundly.
Baylor might first be known for his playing career, specifically as the 1979 American League most valuable player for the Angels, but those who knew him remember his off-the-field personality the most.
"He was an incredible human being," Angels manager Mike Scioscia said. "The passion that he had for life, the passion he had to help people, his faith — everything you strive to be as a human being. He was off the charts."
Baylor, 68, died after a lengthy bout with multiple myeloma, the family announced Monday. He followed his 19-year playing career with a lengthy coaching career and helped hitters work through struggles with his affable presence.
"I was very sad," Mike Trout said. "It just sucks. You never want to wake up and hear that news. He was a great guy. I learned a lot from him. It's just sad."
Trout added that "He brought a lot of joy to the clubhouse."
Trout and Albert Pujols worked under Baylor when Baylor was the Angels' hitting coach in 2014 and 2015. Pujols stayed in touch with Baylor and remembered Baylor sent him encouraging messages.
"Great human being," Pujols said. "He's definitely going to be missed, and one of probably the toughest men I've ever been around."
Huston Street remembered meeting Baylor as a kid at a restaurant in Austin, Texas, and being in awe. Years later, Baylor would serve as a life mentor to Street with the Colorado Rockies.
Baylor seemed like a giant of a man to Street. It was clear what was under the surface.
"Inside, he had a great heart," Pujols said. "He was always open to listening. He was always open to teach. Just the way he spoke, every word that came out of his mouth was just wisdom and knowledge."
Short hops
The results of an MRI exam on Yunel Escobar were not yet known. Escobar left Sunday's game with an intercostal strain … Cameron Maybin was activated and Shane Robinson was designated for assignment. Jose Alvarez was recalled and Eduardo Paredes was optioned to triple-A. Ramon Flores cleared waivers and was outrighted to triple A.
Twitter: @CurtisZupke
---
Get the latest on L.A.'s teams in the daily Sports Report newsletter.
You may occasionally receive promotional content from the Los Angeles Times.