Justin Upton delivers the Angels a walk-off victory against the Orioles 3-2
Struggling with runners in scoring position, Justin Upton delivered Tuesday when it mattered most — with a runner in winning position.
He delivered a 3-2 walk-off victory for the Angels with a bases-loaded, ninth-inning single, a development that ended a frustrating night when he had failed in each of his three previous at-bats with a chance to produce runs.
The fact all three came after Baltimore had intentionally walked Mike Trout to get to Upton certainly didn't make the failures any easier to accept. For the season, he had been three for 28 with runners in scoring position.
But in the ninth inning, after reliever Cam Bedrosian couldn't hold a 2-0 lead, Upton came through, this time after Trout had been walked unintentionally.
"It's a big win, a big hit," manager Mike Scioscia said. "We know Justin is going to be there. He's going to swing the bat."
Upton's game winner, the Angels' only hit in nine at-bats with runners in scoring position, soothed Bedrosian's rough outing.
It was the Angels' second blown save opportunity in the homestand, coming on the same day the Angels put Keynan Middleton on the 10-day disabled list because of elbow inflammation.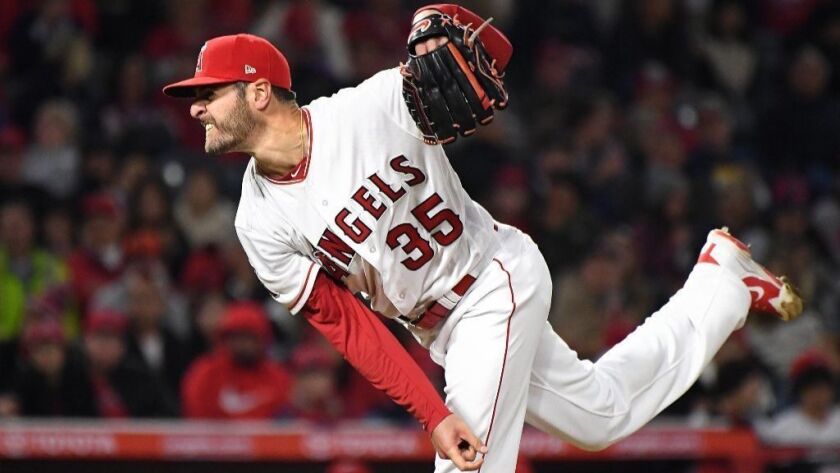 Middleton, who leads the team with six saves, couldn't preserve a one-run lead in the ninth Friday against the New York Yankees.
In his absence, Bedrosian was given the first opportunity in a closing situation, the right-hander surrendering hits to three of the first four batters he faced as Baltimore scored twice to make it 2-2.
This came after Nick Tropeano and three relievers gave up only one hit through eight innings.
Related: Angels put Middleton on the disabled list
Tropeano gave up a double to the third batter he faced, Manny Machado, but not another hit over 61/3 innings. He struck out five, walked two and never appeared to be anything but in control.
Only one other Oriole advanced as far as second base and that didn't happen until there were two outs in the fifth.
Tropeano departed after retiring Adam Jones to open the seventh, a decision based on his 88 pitches and the fact he has only four big league starts on his surgically replaced elbow ligament.
Justin Anderson took over and finished the seventh, doing so with emphasis, his 99-mph fastball striking out Mark Trumbo and giving the rookie five scoreless innings to start his career.
Jose Alvarez and Jim Johnson took care of the eighth, setting up Bedrosian for the finish, the finish that didn't come until Upton's winning line drive.
"You gotta get a ball up in the zone and try to drive it to the outfield," Upton said. "Just get the run in. That's all I'm thinking. Put the ball in play. Make something happen."
Idled recently by slumbering bats, the Angels' offense was awakened by two thundering legs.
Andrelton Simmons' baserunning aggressiveness forced a key error that led to the Angels' first run.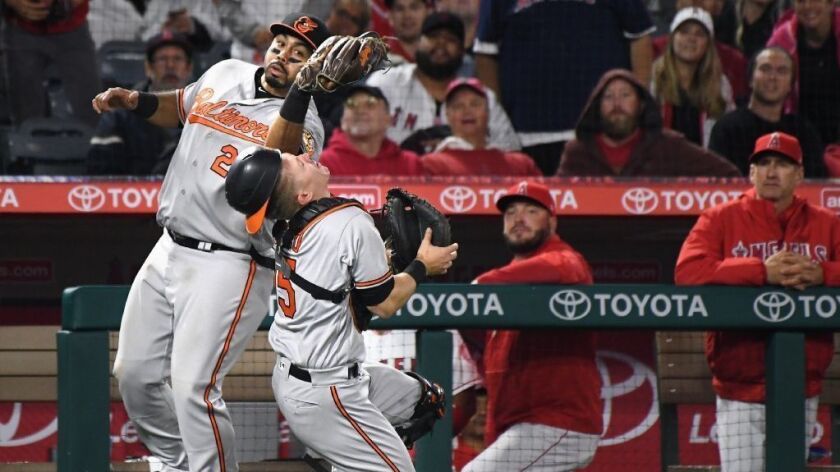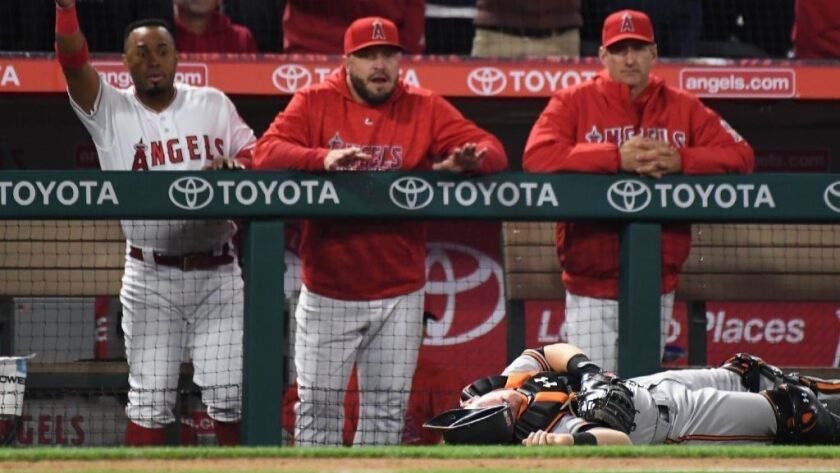 With two outs in the sixth, Simmons hit a drive to left-center field, emphatically discarded his bat and sprinted toward first base.
As left fielder Trey Mancini retrieved the ball and relayed to shortstop Machado, Simmons drew Machado's attention toward second base.
More importantly, he drew a throw from Machado, an errant one that ended up in the Orioles dugout, the two-base error permitting Simmons to score.
The next batter, Luis Valbuena, homered and suddenly, in the span of five pitches, the Angels had a 2-0 lead.
"A great team win," said Tropeano, whose effort helped the Angels end a losing streak at four games. "We're coming in here having fun and expecting to do well."
---
Get the latest on L.A.'s teams in the daily Sports Report newsletter.
You may occasionally receive promotional content from the Los Angeles Times.