Parker Bridwell provides Angels with pitching insurance
If Parker Bridwell has any kind of ego, be it healthy or inflated, he hides it well. The Angels pitcher refused to allow his breakout 2017 season to fuel expectations for 2018 or germinate seeds of complacency or entitlement.
"I try to stay humble," he said after an exhibition start last month, "because this game will humble you as fast as anything. I try to think like I'm a 'JIC,' a just-in-case guy who kind of got here by accident."
Bridwell was referring to the acronym used by managers on spring-training lineup cards for minor leaguers who are available "just in case" the big-league starter gets shelled early and can't complete his stint.
Bridwell, 26, had a record of 10-3 with a 3.64 earned-run average in 21 games as a rookie. His emergence as an effective and reliable starter during a season in which the Angels rotation was ravaged by injuries removed him from the JIC list in Arizona this spring.
But when he was demoted to triple-A Salt Lake at the end of camp, Bridwell joined a pool of minor leaguers whose job is to stay sharp and be ready just in case one of the Angels starters struggled or was injured.
Sure enough, Matt Shoemaker was placed on the disabled list because of a forearm strain Tuesday, and Bridwell was recalled.
Bridwell, a 6-foot-4, 185-pound right-hander, spent all of about 30 hours in Utah's capital city, long enough to sign a lease on a four-bedroom house to share with triple-A teammates Nick Tropeano, John Lamb and Jabari Blash, but not long enough to procure the keys to the place.
The triple-A trio may have to find another roommate. Instead of pitching in Salt Lake's season-opening series against the Albuquerque Isotopes, Bridwell will start against the Oakland Athletics in Angel Stadium on Friday night.
"I was surprised it happened this quick," he said Wednesday. "The circumstances stink, but it's why I'm here. I'm ready to compete. I have to make pitches like I did last year. If I can do that and pound the zone and be efficient, I'm gonna hopefully give my team a chance to win."
By that measure, Bridwell was a star after coming over from the Baltimore Orioles for cash last April 17, helping the short-handed Angels stay in the American League wild-card race until the final week of the season.
The Angels had a record of 17-3 in Bridwell's 20 starts, the best team record in a rookie's starts since 1944, when the St. Louis Cardinals went 18-3 in Ted Wilks' starts.
"Individual stats, I don't really care about," Bridwell said. "They're nice to have at the end of the day, but 17 wins to me is a lot more important than whatever my ERA is or however many strikeouts I have."
Bridwell, who grew up in the tiny West Texas town of Hereford, was a ninth-round pick of the Orioles in 2010. He reached the big leagues in August 2016 after grinding through six minor league seasons marked by inconsistency and one low point in which he nearly quit baseball to give college football a try.
Bridwell made two relief appearances for the Orioles. In the second, against the Washington Nationals, he gave up a grand slam to Daniel Murphy. The next day, Bridwell was demoted to triple-A. He wasn't called up when rosters expanded in September and was sold to the Angels last April.
"We just saw an assortment of pitches, an ability to command the strike zone, and we're always trying to collect starting pitching depth," Angels general manager Billy Eppler said. "My assistant GM, Steve Martone, had been kind of pounding the table for this guy for over a year."
Bridwell's fastball averaged 92.4 mph last season. The Angels, more impressed with his secondary stuff, suggested that Bridwell throw fewer fastballs and more sliders, sinkers and cut-fastballs, the latter pitch particularly effective against left-handed hitters.
After nine minor league appearances, Bridwell was called up by the Angels in late May. He wasn't dominant, striking out 73 batters in 121 innings, an average of only 5.4 strikeouts per nine innings. But he was more effective pitching to contact than he was trying to blow his fastball by hitters.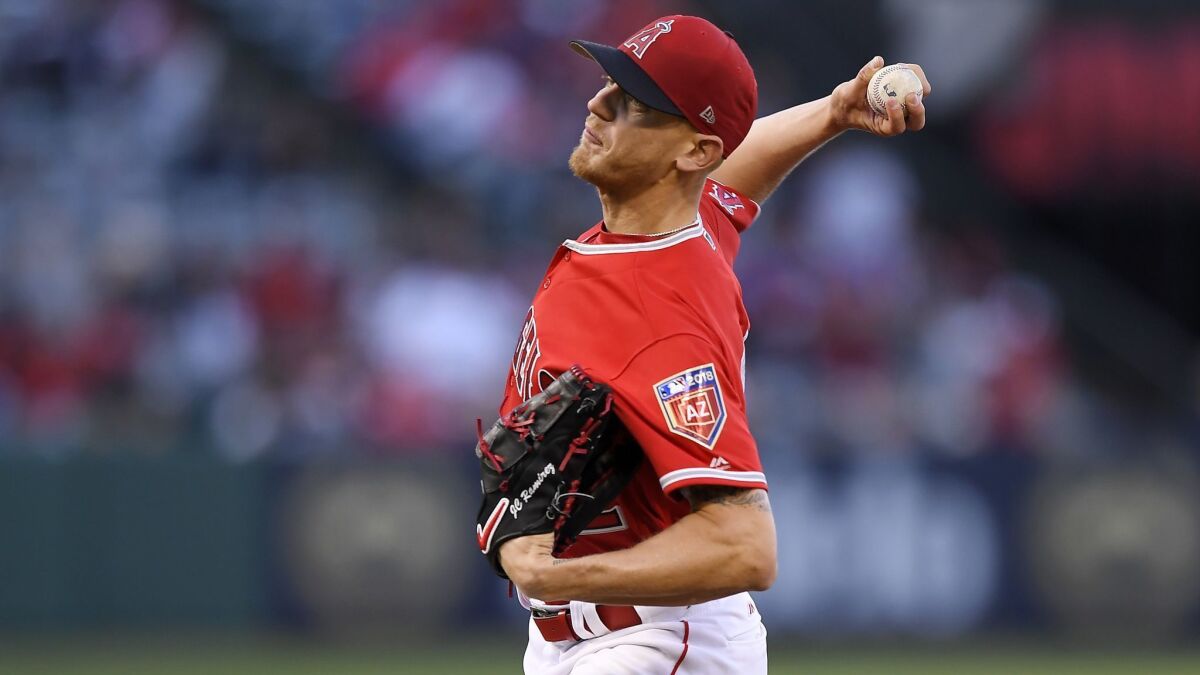 "My mentality was to throw as many fastballs as I could," he said, "but you get to the reality that your fastball is not good enough to do that at this level. You have to show other pitches.
"I think it made me a better pitcher, just kind of picking up a different style and getting past the ego part of it, you know what I mean? Becoming a pitcher and not trying to overpower people with 90 mph."
Bridwell said he is still motivated by his Baltimore chop but is not bitter toward the Orioles.
"I was inconsistent — I never put together multiple good years there — and that's all on me," he said. "It had nothing to do with them. They did what they had to do. I know it's a business. It opened another door, and I'm thankful for that."
How long that door remains open depends on the severity of Shoemaker's injury or if another starter is injured. Bridwell is insurance, and there will be little drop-off in the rotation if he pitches like he did last season. But the fact that he now has a track record won't add any pressure or change his approach.
"If I have to prepare for somebody else's expectations, I'm doing all the wrong things," he said. "All I expect of myself is to compete and give my team a chance to win. All those other people who expect something from me, they can keep looking or expecting. I'm just gonna come out and do me every day."
---
Get the latest on L.A.'s teams in the daily Sports Report newsletter.
You may occasionally receive promotional content from the Los Angeles Times.