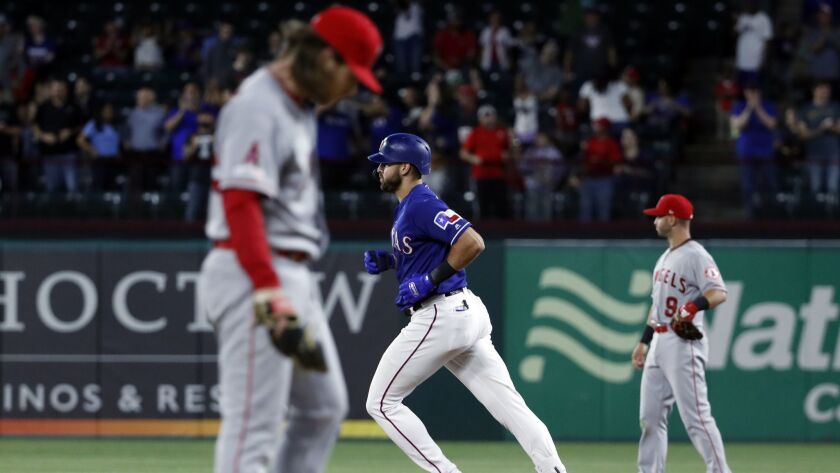 Reporting from ARLINGTON, TEXAS —
Four active players had hit more than four home runs against one team entering play Wednesday.
Milwaukee Brewers slugger Christian Yelich, last year's National League most valuable player, led the group with eight against the St. Louis Cardinals. Three others were tied at five home runs apiece: Angels center fielder Mike Trout against the Texas Rangers, St. Louis Cardinals first baseman Paul Goldschmidt against the Brewers and the Rangers' Joey Gallo against the Angels.
Gallo cracked his latest homer Tuesday night — a line-hugging fly ball that traveled 439 feet onto the concourse behind the right-field wall at Globe Life Park. He drove a pitch by Angels starter Trevor Cahill 436 feet on a moonshot to right field in the third inning of the Rangers' 12-7 victory Monday.
Gallo, who was in the lineup for the Rangers on Wednesday, has hit a home run in each game he's played against the Angels this season.
"He's tough," Cahill said. "He's one of those — they've got a lot of guys that are power hitters but they don't really chase too much."
Gallo's success against the Angels is somewhat unprecedented. Gallo, 25, has been slow to acclimate to major league pitching since making his debut in 2015. He had a career .205 batting average through Tuesday.
But his isolated power number, an advanced metric that measures the average number of extra bases a player collects per at-bat, tells a different story. Gallo has a .314 ISO since 2017; only J.D. Martinez (.328) and Trout (.325) have better numbers in that span. Not even Oakland Athletics outfielder Khris Davis, who has also feasted on Angels pitching throughout his career, has an ISO above .300.
Gallo is considered a "true outcome" player — someone who usually walks, strikes out or hits a home run — and his career-long performance against the Angels is a good representation of that. In 45 games against the Angels entering Wednesday night, he had batted .237 (31 for 131) with 10 home runs, 24 walks and 53 strikeouts.
"I don't know what to do," manager Brad Ausmus said following Tuesday's 5-0 loss. "I'm assuming he can't continue to hit home runs against us at that pace. But I don't know. We'll see."
Trout still day to day in center
Trout, who was in the lineup as the Angels' designated hitter for a third consecutive game Wednesday, has taken a slow approach to returning to play defense since sustaining a right groin strain on April 9.
The center fielder said that he shagged fly balls before Tuesday's game and felt sore later. He doesn't feel any pressure on his groin when he runs in straight lines — which freed him to bust out of the batter's box at an elite speed of 30.6 feet per second and beat a play on a ground ball he chopped up the first base line — but the routes he has to take playing in the outfield still cause discomfort.
Sign up for our daily sports newsletter »
"Obviously I want to play center field," Trout said. "But that's gonna be the approach everyday. I'm gonna play center field tomorrow. Obviously if I come in and it's still aching a little bit, they don't want me to go out there. … Right now, I just want to be in the lineup. I think just being out there and being able to contribute as opposed to sitting on the bench is better than nothing."
Experiments abound
The Angels are again experimenting with new positions for some of their prospects, general manager Billy Eppler said.
Third baseman Taylor Ward, who was drafted as a catcher and switched positions last spring, has recently begun working in the outfield. He will not move there permanently, but versatility could help Ward take hold of a 25-man roster spot. He spent four games with the team last week before being optioned back to triple-A Salt Lake.
Ward made his major league debut last August and played 40 games at third base for the Angels. He made five errors last season and two in two games this season.
Others who are moving around include: First baseman Matt Thaiss, who started at third base for Salt Lake on Wednesday; double-A second baseman Jahmai Jones, who has already made one start in center field, the position he played until before Angels moved him to the infield last year; and Salt Lake infielder Luis Rengifo, who has begun working at third base and in the outfield.
---