Angels' Shohei Ohtani first Japanese MLB player to hit for the cycle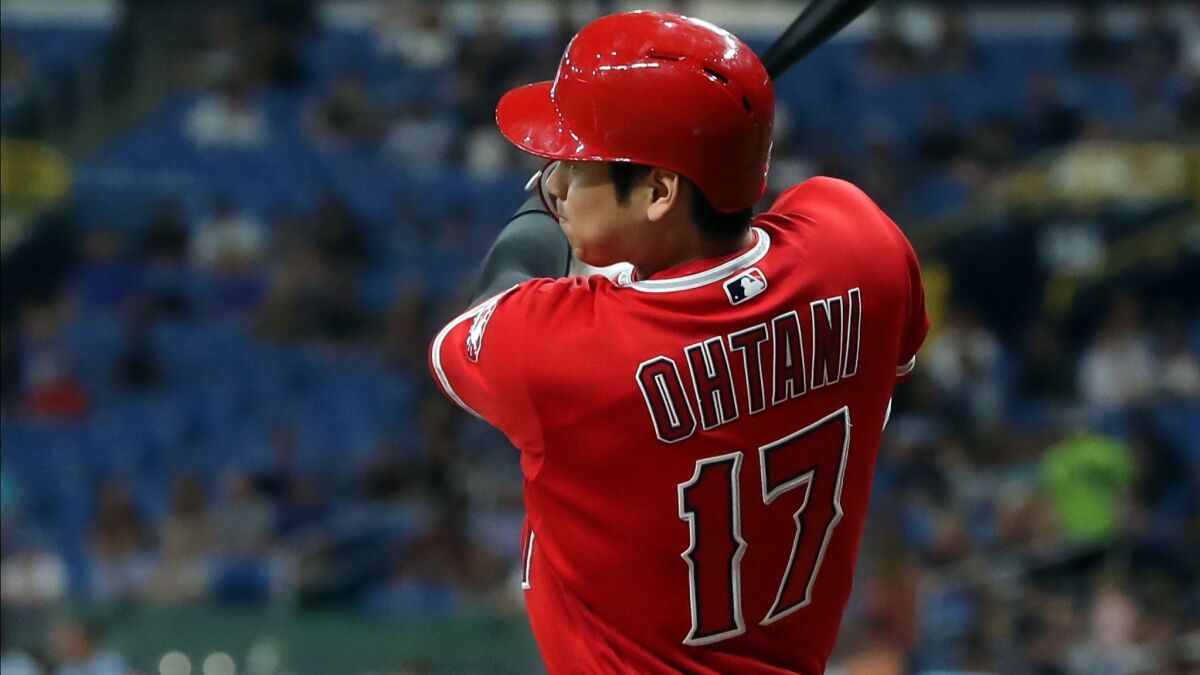 Reporting from ST. PETERSBURG, Fla. —
The details of the celebration were kept on the down low, a secret meant only for those trusted enough to enter the Angels clubhouse immediately after a game.
The only information that came out in the aftermath: Shohei Ohtani, the cause for a robust celebration on this stormy Thursday night in the Tampa Bay area, was showered with beer soon after his first career cycle keyed the Angels' 5-3 victory over the Tampa Bay Rays. His interpreter, he laughed, was there too.
"They did it last year when I got the first win and hit the first home run," Ohtani said through interpreter Ippei Mizuhara, "but it's always great to get the beer shower."
Six years had passed since the Angels last saw a player hit for the cycle.
It came from one of the most likely sources on an evening that featured both a power delay and power display. Ohtani, last year's American League rookie of the year who has knocked over records with ease and poise since debuting as a two-way player last season, collected a single, double, triple and home run in only four at-bats. No other MLB player born in Japan had accomplished the feat.
His single in the seventh inning came despite the Rays shifting their infield to the right, leaving the left side of the field exposed, and Ohtani beat them anyway with a hit into shallow right-center field.
Hands went up in Tropicana Field's visiting dugout. As Ohtani slapped palms with Angels first base coach Jesus Feliciano and reached for the brace that protects his surgically repaired right elbow, the ball was relayed to his teammates.
Ohtani became the first Angel to hit for the cycle since Mike Trout did it on May 21, 2013. Angels players have done so eight times in franchise history, with Angels Hall of Fame inductee Jim Fregosi accomplishing the feat in 1964 and 1968.
"It's special just to be a part of it," said Trout, who needed a home run to seal his own cycle. "I'm happy for him. Once he got that triple, I said he was going to get maybe two more at-bats so he should be able to get it."
Trout, of course, was right. Not that Ohtani really wanted him to be. Found in the batting cage before his final at-bat, Ohtani expressed to infielder David Fletcher that more than anything he wanted to increase the Angels' tenuous two-run lead.
"I went and saw him in the cage and said, 'All you need is a single,'" Fletcher said. "He was like, 'No, I want another homer.' I don't think he was trying to hit a single. He was definitely trying to hit another homer if you watch the at-bat. But I'm glad he got the single."
Ohtani began the night with a three-run homer in the Angels' three-run first inning off Rays starter Ryan Yarbrough. He added a double in the third, making Thursday's game his second multiple-extra-base-hit game of the season. He also improved his season average against left-handed pitching to .300 (12 for 40).
A fire at a nearby electrical substation caused a brief, complete loss of power and delayed the game 36 minutes with one out in the bottom of the fourth inning. That didn't stop Ohtani, who has shaken his slow start and raised his on-base-plus-slugging percentage 195 points since June 1.
He came to bat in the fifth after Angels starter Tyler Skaggs, who stayed in the game long enough to qualify for his first victory since May 13, finished retiring the Rays in order. He smacked a ball into the right-field corner. He raced around the bases, beating the throw from Avisail Garcia easily for his first triple of the season.
"He's starting to lock it in," said Skaggs, who rebounded from a six-run outing a week ago to hold the Rays to three runs on seven hits. "It's really exciting. He's looking like he's the Ohtani of last year, and that's really special."
Ohtani worked an eight-pitch at-bat in the seventh inning. With a 3-and-2 count, he fouled back two straight fastballs on big hacks. Then right-handed reliever Hunter Wood dropped a slider into the inner third of the zone. Ohtani bounced it into right field for a single.
No runs scored on Ohtani's hit, but Noe Ramirez's scoreless, two-hit effort over 22/3 innings and Cam Bedrosian's four-batter ninth assured the Angels (34-35) of their third straight victory and put them within one win of a .500 record again.
"I wasn't necessarily trying to hit a single," he said. "I was just trying to get on base, whether it was a base on balls or any other way."
Ohtani doesn't know what to do with this piece of history yet. He sent his parents back home to the Iwate prefecture in Japan with the baseball from his first hit, acquired in his major league debut last year. A few days ago, he decided to send a baseball to his high school coach after he hit it for a home run off countryman and fellow Hanamaki Higashi High alumnus Yusei Kikuchi of the Seattle Mariners, another left-hander he's conquered recently.
Sign up for our daily sports newsletter »
Few might have guessed in March 2018 that Ohtani might come so far so quickly. When he struggled to hit in his first spring training, scouts suggested to Yahoo Sports that Ohtani might need more than 400 at-bats of seasoning in the minor leagues.
Then Ohtani made a mechanical tweak at the plate, ditching the leg kick that made him successful during his career in Japan and going with a subtle tap of the toe.
He went on to become the first player to log 10 pitching appearances and hit 20 home runs in a season since Babe Ruth in 1919.
"He had as much power as any hitter I've seen," Angels manager Brad Ausmus said.
"The consistent hitting I wasn't sure about. He completely proved me wrong in that sense.
"I thought he'd hit, but I didn't think he'd hit like this. … He does everything right. It's been remarkable to see. We forget how young he is. He's in a new country. He's 24 years old. He carries a lot on his shoulders but still stands pretty tall."
Get the latest on L.A.'s teams in the daily Sports Report newsletter.
You may occasionally receive promotional content from the Los Angeles Times.