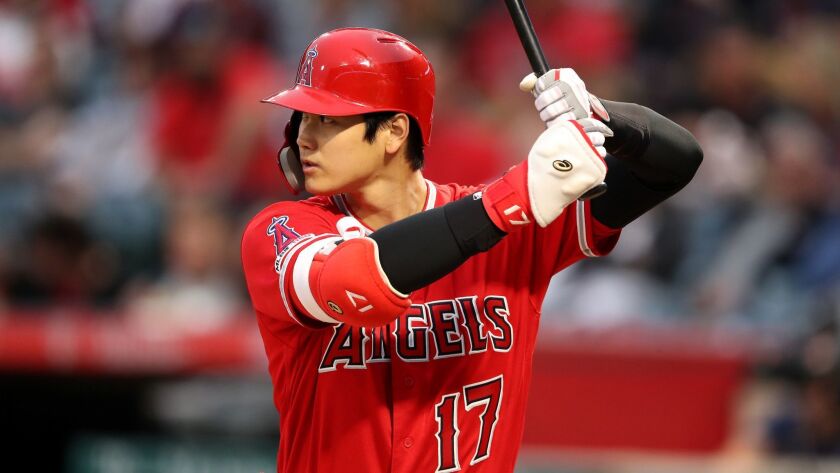 Soon after Shohei Ohtani hit his sixth home run of the season off fellow Japanese pitcher Yusei Kikuchi on Saturday night, Angels staffers retrieved the baseball.
The home run was significant in the scope of Ohtani's professional career, which straddles five seasons in Japan and 141 games in MLB. He had never squared up Kikuchi so well in two encounters against the left-hander during their shared time in the Nippon Professional Baseball league, going 2 for 5 with a double and three strikeouts.
But the occasion held meaning for another reason: Kikuchi, 27, graduated from Ohtani's alma mater months before Ohtani, 24, enrolled at Hanamaki Higashi High in Japan's Iwate prefecture. Alumni from that school, in a rural northern region of Japan's mainland, had never faced one another in baseball's most competitive league.
The souvenir, which represents the unprecedented triumph of a baseball program not known for producing high-caliber talent, is heading back to the school and its coach, Hiroshi Sasaki.
"I'm proud that we could play at the highest level like this," Ohtani said in Japanese. "I'm personally happy about that. But I think that, more than me, the teachers and instructors who guided us might be even happier."
More moments like Saturday's loom on the horizon. The Angels face American League West division rivals 19 times a year. Kikuchi is signed to a four-year contract that guarantees him $56 million through 2022 and can be escalated up to $107 million if club options are exercised. Ohtani, limited to designated hitting this year as he continues to recover from Tommy John surgery on his pitching elbow, is under Angels control through 2023.
Ohtani admired Kikuchi, a pitcher like himself, as a middle schooler. Kikuchi's dominance captured national attention. When he arrived on campus, Ohtani was so sensational he commanded the same spotlight. The emergence of two once-in-a-generation talents put the previously ignored region on the map.
"I thought children who play baseball in the Iwate prefecture might be looking forward to watching it, too," Ohtani said. "So in that sense, I think it was really good."
Four players from Ohtani's high school have turned pro since his graduation. Another pitcher from a different Iwate high school waits in the wings. Senior Rouki Sasaki was clocked in April throwing a 101 mph fastball that broke Ohtani's national velocity record. He is reportedly being scouted by about a dozen major league teams.
Can Ohtani participate in the home run derby?
Asked Sunday if he would like to see Ohtani in this year's home run derby during All-Star game festivities in Cleveland next month, manager Brad Ausmus said the decision was not up to him.
"I think he should do whatever he wants," Ausmus said.
But he also acknowledged Ohtani may not have full control of the situation. Ohtani, a left-handed hitter, is still recovering from Tommy John surgery on his right elbow. Although swinging at max effort during games has not affected him as he has continued his rehabilitation as a pitcher, it's possible the stress put on a body for the extended period of a derby might be a deterrent to Ohtani's participation.
The Angels will not make a determination until Ohtani is presented the opportunity, general manager Billy Eppler said.
Short hops
Utility man David Fletcher was out of the Angels lineup for an unplanned second game on Sunday. He is dealing with soreness in his left shoulder. Ausmus said the strain is not serious enough to merit an injured list stint. … Right-hander Nick Tropeano was recalled from triple-A Salt Lake on Sunday to take the roster spot vacated by Dillon Peters, who was optioned after his outing Saturday. … Starter Trevor Cahill, now officially on the injured list, confirmed Sunday that the elbow soreness he's experiencing is not serious.
Sign up for our daily sports newsletter »
---