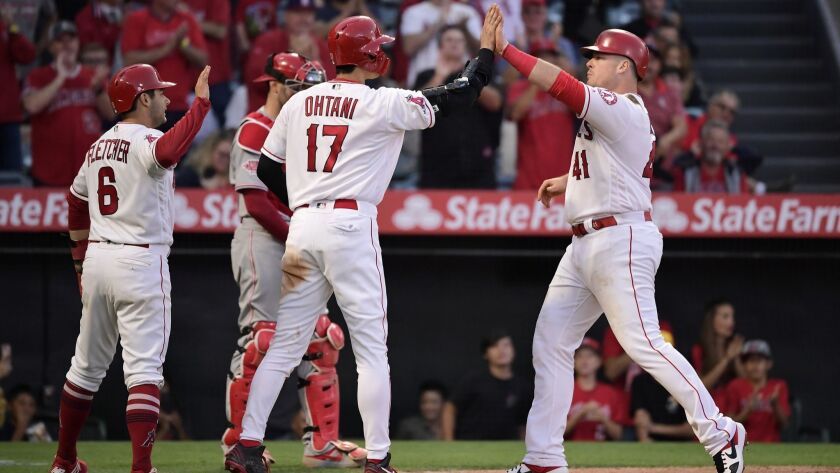 When Justin Bour was demoted to triple A in mid-May with a .163 average and four homers in 112 plate appearances, the Angels first baseman was instructed to stand more upright in the box and make some adjustments to a swing that was not generating much power or hard contact.
"A lot of it is getting my own body out of the way, just using my hands and doing what I do best," Bour said before chuckling at the irony of his comment. The slugger is a hefty 6 feet 4 and 270 pounds and readily acknowledges that "there's a lot of me" to get out of the way.
Whatever tweaks Bour made with Salt Lake hitting coach Brian Betancourth and continued with the Angels hitting coaches after he was recalled on June 11, they appear to be working.
Bour drove a solo home run to left-center field in the fifth inning and sent a three-run moonshot into the right-field seats in the eighth Wednesday night to put the finishing touches on a 5-1 victory over the Cincinnati Reds before an announced crowd of 35,272 in Angel Stadium.
Despite sporadic playing time, Bour, who signed for $2.5 million last winter, is batting .304 (seven for 23) with four homers, two doubles and nine RBIs in seven games — five starts — since returning to the Angels.
"The guy we've seen since he got recalled is the guy we were hoping to see," manager Brad Ausmus said. "He looks like the Justin Bour that we signed."
The Angels pushed their record to 41-40 at the season's mid-way point on the arms of starter Jaime Barria, who gave up one run and three hits in five innings, striking out six and walking none, and relievers Trevor Cahill, Cam Bedrosian and Ty Buttrey, who combined for four scoreless innings.
Third baseman David Fletcher made two great defensive plays, both of which required long throws from behind the bag in foul territory, and snapped a 1-1 tie with an RBI infield single in the eighth, and Shohei Ohtani had three hits, including a fourth-inning double that left his bat at 115.2 mph.
But Bour provided the muscle, driving a 401-foot opposite-field homer in the fifth and a 392-foot rain-maker in the eighth that left his bat at 110 mph, reached 149 feet at its apex and had a hang time of 6.6 seconds.
As a comparison, Reds right fielder Yasiel Puig's fifth-inning laser Wednesday reached 51 feet at its apex and cleared the right-center field wall in 4.2 seconds.
"That's incredible — has that ever happened before?" center fielder Mike Trout said when told the Statcast figures on Bour's second homer. "It's good to see him come back and make an impact. He's a great guy to have on the club. He keeps it loose. To see him perform like that makes you feel good. I'm happy for him."
Utility infielder Wilfredo Tovar was designated for assignment before the game, a move that assures rookie middle infielder Luis Rengifo will remain with the Angels when shortstop Andrelton Simmons is activated, most likely Thursday night.
Ausmus said last week that the Angels would prefer Rengifo, the organization's top infield prospect, play every day at triple A if he wasn't going to have a significant big league role.
But Rengifo, 22, carved out a role with a nine-game surge in which he hit .333 (11 for 33) with two homers — including a three-run shot in Tuesday night's 5-1 win — three doubles and seven RBIs to raise his average from .218 to .245 before going hitless in four at-bats Wednesday night.
"We felt like Rengifo has made a lot of strides recently, especially offensively," Ausmus said. "We feel like he can get enough playing time at this level to keep him and help us win."
Ausmus plans to ease Simmons, who has been out five weeks because of a Grade 3 left-ankle sprain, back into the lineup and give infielders Tommy La Stella and Fletcher more time off. That could open up three to five games a week for Rengifo.
Sign up for our daily sports newsletter »
"We've pushed Fletcher and La Stella to their limits in terms of playing," Ausmus said. "Part of me feels like giving them a day here or there would help keep them strong and healthy long-term. I think some type of rotation … is very doable."
Short hops
Ohtani threw 40 pitches in the bullpen at about 50% effort Wednesday, the first time the right-hander has thrown off a mound since he had Tommy John surgery Oct. 1. "It felt really comfortable," Ohtani said through an interpreter. "It felt good to get on there again." Ohtani, a two-way player who will be relegated to hitting this season, said he has not had any setbacks in his rehabilitation. … Cahill, out since June 6 because of elbow inflammation, was activated and officially demoted to the bullpen. The right-hander went 2-5 with a 6.92 ERA in 11 starts this season but has extensive experience as a reliever — of his 317 big league appearances in 11 years, 98 have come out of the bullpen. "I'm just here to pitch," Cahill said. "It wasn't going great as a starter, so we might as well try something different." … Right-hander JC Ramirez, who is recovering from Tommy John surgery, has agreed to extend his minor league rehab assignment, which was set to expire this week. He threw only 41 pitches in his last outing Monday.
---