Angels get a fresh arm with signing of right-hander Mat Latos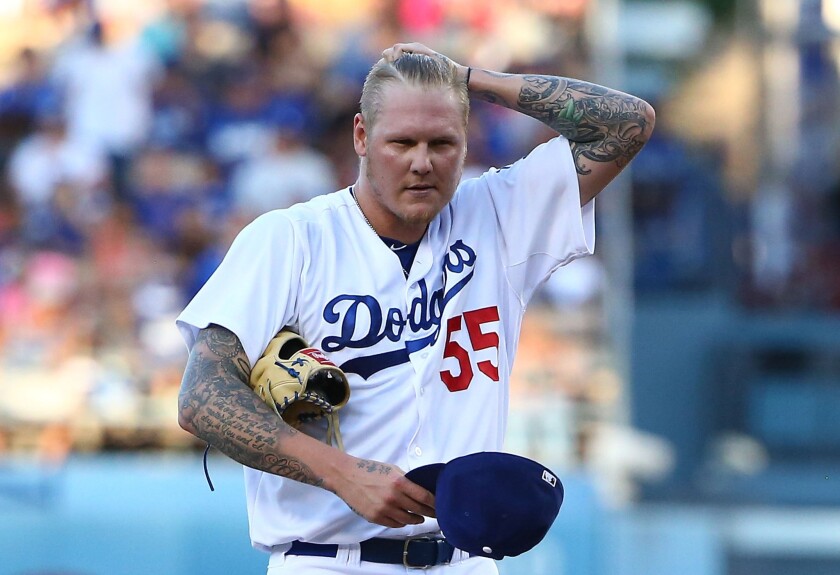 Mat Latos' tenure with the Dodgers was brief and unimpressive. He went 0-3 with a 6.66 earned-run average in six games after being acquired from Miami on July 30 and alienated management with his complaints about being lifted after four innings from a start in which he gave up four runs in the first two innings.
The right-hander was released Friday after giving up a home run in the 16th inning of a loss the night before.
But Latos shined against the Angels on Aug. 2, giving up one run and four hits in six innings of a 5-3 Dodgers win. That was enough for the Angels, desperate for a healthy arm, to sign him Monday to what amounts to a one-week contract.
"His stuff is real, his stuff is good," Manager Mike Scioscia said. "When he pitched against us he was really effective, so you saw his potential to pitch well."
With the Angels hampered by injuries to their top two relievers, Huston Street and Joe Smith, and two starters, Matt Shoemaker and Jered Weaver, Latos provides a fresh arm that can be used as a spot-starter or in relief.
Latos, who has made one relief appearance in nine years, threw in the bullpen Monday and will be available Tuesday.
"We're going to use him where we need him," Scioscia said. "We need arms that are going to help us win games, hold leads."
Latos would not be eligible for postseason games, but he would be eligible to pitch in tiebreaker games. He will be a free agent after the season.
Rehab report
Smith (left-ankle sprain) followed Sunday's brief bullpen workout with fielding drills Monday, and the setup man is scheduled to throw off a mound again Tuesday. Barring a setback, Smith is confident he will return during this weekend's four-game series at Texas.
"The scary thing with a front-leg injury is if you're favoring it when you pitch, the stress goes to different areas and ends up in the arm," Smith said. "But I feel good every day I've done more mound work."
Smith is not concerned about opponents bunting on him.
"They can try. I'll appreciate it. They're giving me an out," Smith said. "I can move and field. I can cover first base. I don't think I'm going to have any problems."
Shoemaker (forearm strain) hasn't thrown off a mound since his last start on Sept. 20. He is feeling better but is questionable for this week. Scioscia expects Weaver to make Friday's start despite shoulder tightness that limited him to five innings Sunday.
GM search
The Angels interviewed Seattle farm director Chris Gwynn, the younger brother of late Hall of Fame outfielder Tony Gwynn, for their general manager job, bringing to nine the number of candidates known to have interviewed for the position vacated by Jerry Dipoto on July 1.
New York Yankees assistant General Manager Billy Eppler, thought to be the front-runner, was also a finalist for the Seattle general manager job that went to Dipoto on Monday. The Angels are expected to make a decision by next week.
Gwynn, 50, spent 12 years as a Padres scout before moving to Seattle after the 2011 season. He was a teammate of Scioscia with the Dodgers from 1987-91.
Short hops
Mike Trout won the team's most-valuable-player award for the fourth straight year, and Street won the Nick Adenhart Award as the team's pitcher of the year. Both were honored before Monday night's game. … Oakland right-hander Sonny Gray was scratched from Wednesday's start because of a hip injury. Left-hander Barry Zito will pitch in the series finale against the Angels. … Veteran left-hander Jo-Jo Reyes, who pitched at triple-A Salt Lake this season, joined the Angels to work out Monday to determine whether he could help them this week. Saturday's game at Texas was moved from 5 p.m. PDT to 10 a.m. to accommodate Fox television.
---
Get the latest on L.A.'s teams in the daily Sports Report newsletter.
You may occasionally receive promotional content from the Los Angeles Times.