Angels defeat Red Sox, 5-2, as trade deadline looms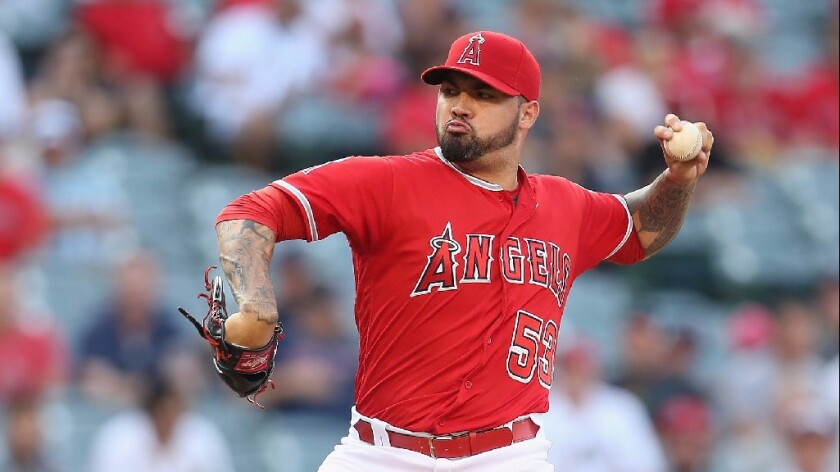 Hector Santiago took the mound at Angel Stadium at 6:07 p.m. Saturday night. His name swirling in trade rumors for weeks, it would not have been a surprise if he exited prematurely, before his allotment of pitches ran out.
But he will remain an Angel for at least one more night. Ultimately, the Angels' penultimate game before Monday's trade deadline concluded without any real resolution — besides a victory. They beat the Boston Red Sox, 5-2, after a serviceable start from Santiago and a balanced effort from their offense.
As wild as ever, Santiago began the game with two fastballs that missed. His third fastball was over the plate, and it was whacked into the visiting bullpen by Boston's Mookie Betts for a solo shot. Santiago would walk three more men and throw 35 more pitches in the inning. Yet, only one more run scored.
And no more runs scored thereafter, although Santiago continued to throw wildly. He needed 119 pitches to finish five innings, the second most any major leaguer has used in as short a span this season. Tim Lincecum also issued six walks on Friday night. It had been 15 years since Angel starting pitchers had walked six men in consecutive games.
"We were fortunate tonight," Angels Manager Mike Scioscia said. "You can't give that club as many baserunners we did and come out of it OK. But he battled. He survived."
Said Santiago, tongue a bit in cheek: "Phenomenal start. We got the win at the end of the night. Who cares about whatever else happened?"
Santiago thanked Scioscia for letting him have the fifth. The 28-year-old left-hander pitched so much better with runners on than with the bases empty that he is considering, more seriously than ever, a permanent move to pitching from the stretch.
"That's something I've been leaning towards for the last couple months," he said.
In each of his three seasons as an Angel, Santiago has held opponents to a lower on-base-plus-slugging-percentage with runners on base. When he ascended to the majors as a reliever with the Chicago White Sox, he sometimes nixed his full wind-up even when he entered at the start of an inning.
Behind Santiago on Saturday, Scioscia called in a parade of relievers. First was Fernando Salas for the first four batters of the sixth, then Joe Smith when two men reached base. He induced a hard groundout from Xander Bogaerts; Yunel Escobar snagged it and stepped on third, ending the inning.
Smith, the most likely Angel to be dealt by Monday's 1 p.m. nonwaiver trade deadline, stayed in for the seventh and retired the side in order. Hoping to avoid rumors involving him, he headed to the bullpen earlier in the game than normal, sequestering himself away from technology.
But, still, he wondered what might happen.
"Yeah, you wonder. Anybody would. Any day you walk in here might be your last," Smith said. "But I just try to keep everything normal. I don't know how else to do it."
Cam Bedrosian struck out the side in a scoreless eighth, lowering his earned-run average to 0.92 in 39 innings this season. In perhaps the most surprising performance by an Angel this season, he has struck out 48 men and walked just 11. And closer Huston Street handled the ninth without issue, securing his ninth save.
New Red Sox acquisition Drew Pomeranz did not display the dominant stuff that enticed Boston into ceding one of baseball's premier prospects for him earlier this month. Mike Trout notched a one-out single in the first inning, moved to second when an Albert Pujols blooper fell in for a hit, and then scored on a wild pitch and groundout. In the third, Pujols slammed a two-run homer, the 580th of his career.
Johnny Giavotella shot a run-scoring single to left in the fourth, and Jett Bandy powered a run-scoring double in the sixth to cap the team's output.
Follow Pedro Moura on Twitter @PedroMoura
---
Get the latest on L.A.'s teams in the daily Sports Report newsletter.
You may occasionally receive promotional content from the Los Angeles Times.