Garrett Richards' elbow is sound, but Angels put him on 10-day DL because of biceps injury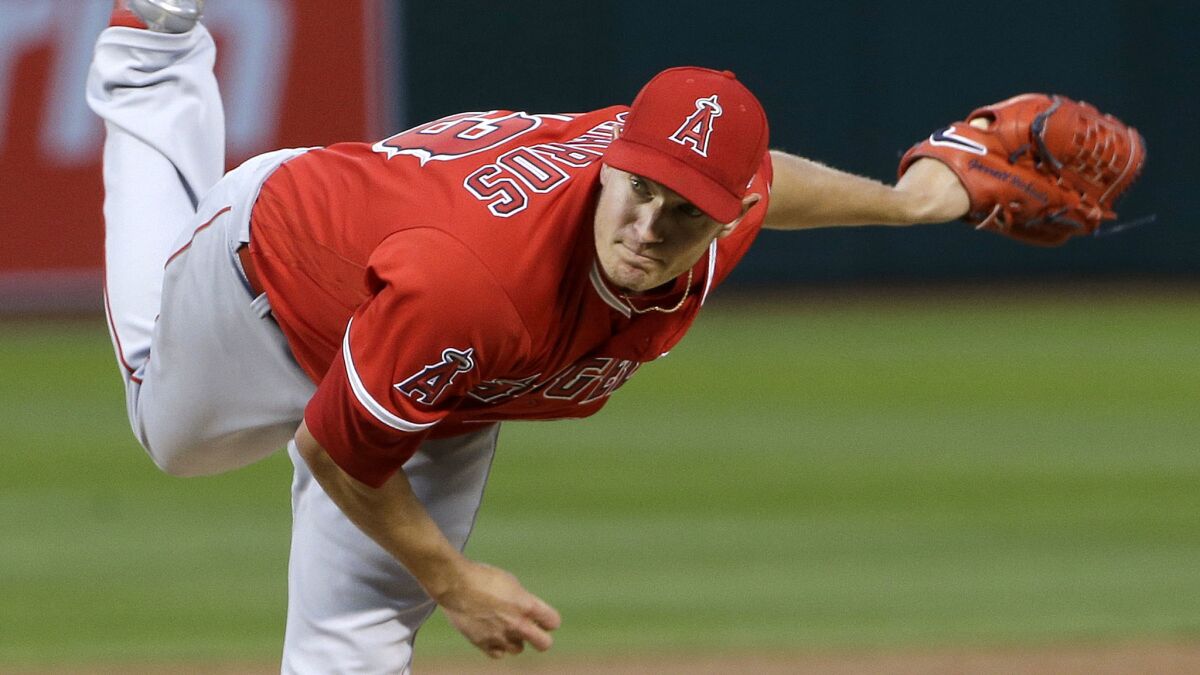 An MRI examination of Angels right-hander Garrett Richards' arm Friday morning showed the ulnar collateral ligament in his elbow remains structurally sound. But the results revealed what the pitcher termed a mild strain within his biceps.
In response, the team placed him on the 10-day disabled list retroactive to Thursday. Richards had been scheduled to start Tuesday against Texas; he's now hoping to start on Easter Sunday in Kansas City, the day he's eligible to be activated.
"Merely, at this moment, it's just precautionary," Richards said. "Oddly enough, I feel pretty much 100% normal right now. There is obviously a strain, but the smart thing to do would be to let it calm down, which is kind of what we're doing right now."
Richards is returning from a rare repair of a torn UCL via a stem-cell injection, rather than the more common Tommy John ligament-replacement surgery. He suffered the tear last season, let his cells regenerate the ligament, and rehabbed for most of the year. He pitched normally throughout spring training, then left his 2017 debut in the fifth inning Wednesday in Oakland, citing pain in his biceps that he said felt like he was being punched.
It was first diagnosed as a cramp in the muscle. That night, Angels manager Mike Scioscia said there were no plans for Richards to undergo an MRI exam, but general manager Billy Eppler said the next day that one had been scheduled for Friday. Richards said the team suggested he have the exam.
Team physician Steve Yoon visited Angel Stadium on Friday. He reviewed the exam results and discussed the matter with Richards. According to two sources who requested anonymity because they were not authorized to talk about the diagnosis publicly, Richards has an irritated nerve within the biceps, which caused the punching feeling he described Friday as a "twitching."
Richards said he hoped to resume throwing as soon as Tuesday, and then throw a full bullpen session later in the week to prove his fitness for a weekend start. His manager took a more conservative approach.
"The information from our medical department is encouraging to the extent that it's relatively minor," Scioscia said. "We're hoping [that] keeping him away from throwing a baseball for about a week will get this behind him, and we'll just see how he responds to his bullpens and is ready to go. Considering where Garrett was last year, this is just a little minor bump in the road."
Richards made just six starts in 2016. He left a May 1 start with what was initially diagnosed as dehydration. The ligament tear was revealed later in the week, and his absence remains often cited as a principal cause of the club's 88-loss campaign.
So, his health is key to the Angels' 2017 hopes. Rival talent evaluators agree he is the team's most talented pitcher, and the club possesses limited depth behind their opening-day rotation.
An off day built into the schedule Monday allows the Angels to stick with four starting pitchers until April 15, the day before Richards can be activated. On Friday, they called up reliever Mike Morin from triple-A Salt Lake.
The team could opt to use right-handed relievers J.C. Ramirez or Yusmeiro Petit for a spot start, or call up right-hander Alex Meyer from Salt Lake.
Neither option offers long-term appeal. Without Richards, the Angels' already precarious playoff hopes would no longer seem plausible. They must hope he will be OK. He believes he already is.
"It was the best thing we could have hoped for," Richards said. "I feel good. My elbow feels good. My shoulder feels good. It must have been just some random thing."
Short hops
Left-hander Andrew Heaney, recovering from Tommy John surgery, hosted a miniature watch party at Angel Stadium for Monday's opening day while the team was in Oakland. Attendees included other injured Angels working out at home while the team travels, including right-hander Nick Tropeano, also recovering from Tommy John surgery. … Reliever Huston Street, on the DL due to a strained muscle in his side, has been throwing for three days, now at 90 feet, and is working through shoulder stiffness. He hopes to begin throwing off a mound late next week.
Follow Pedro Moura on Twitter @pedromoura
---
Get the latest on L.A.'s teams in the daily Sports Report newsletter.
You may occasionally receive promotional content from the Los Angeles Times.