Mike Trout's line drive was the hardest-hit ball by an Angel since 2015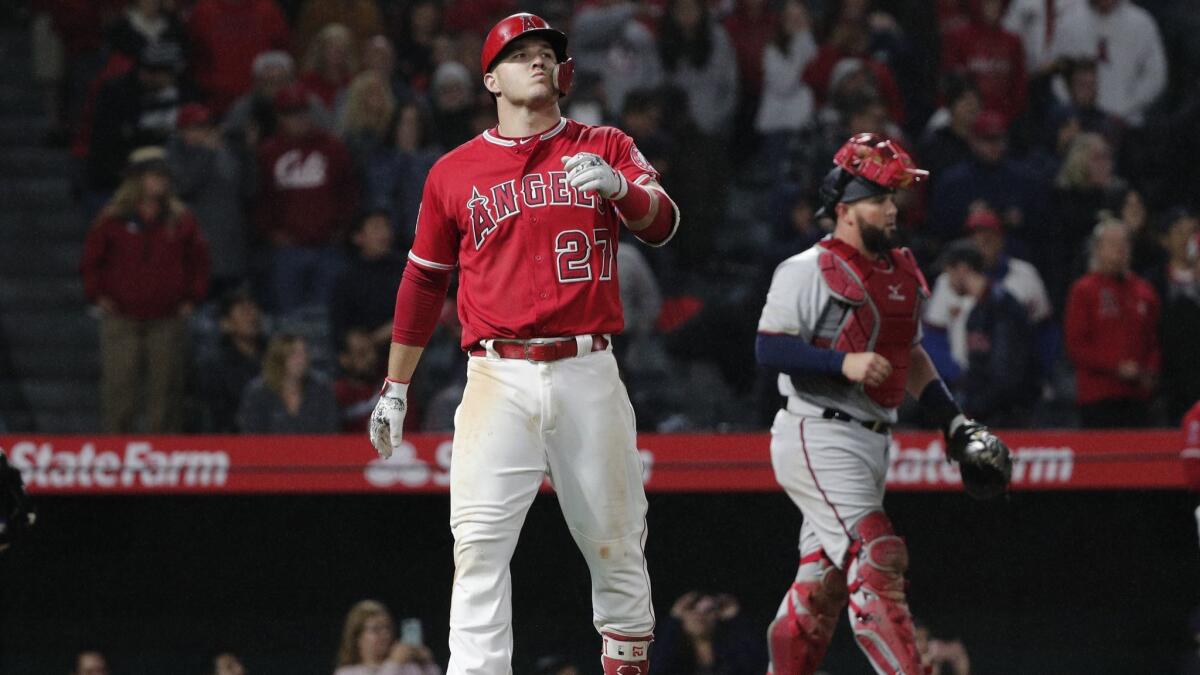 The velocity matched the volume, which is why Minnesota catcher Bobby Wilson was not surprised that Mike Trout's game-ending line drive to shortstop Gregorio Petit on Friday night left the bat at 118.0 mph, the hardest-hit ball by an Angel since Statcast began tracking exit velocity in 2015.
Only 18 balls have been recorded with exit velocities of 118 mph or more since 2015; Trout's was the first to be recorded for an out.
"There are only a couple of guys when I've been behind the plate who can make that kind of sound with a ball coming off the bat, and that's David Ortiz, Alex Rodriguez and Trout," said Wilson, a 35-year-old in his 10th big league season.
"Those are special players, and I put [Shohei] Ohtani in that class, too. It's just a different sound, that whip of the bat, the batting gloves ripping. It's a distinctive sound that I only hear with certain guys, and those guys happen to be really, really good."
Trout represented the potential winning run when he squared up a 93-mph fastball from Fernando Rodney and hit a hooking liner that Petit — fortunately for him — caught in the web of his mitt.
"I was very happy about that," said Petit, a former Angels utility player.
If Trout had gotten slightly under the ball instead of hitting it flush, it could have been a game-winning two-run home run. Instead, the Angels lost 5-4.
"I barreled it up and hit that ball pretty good, but it was right at him," Trout said Saturday. "You have to hit it where they're not."
Trout's liner was the third-hardest batted ball in the major leagues this season behind Colorado's Carlos Gonzalez (118.3 mph) and the New York Yankees' Aaron Judge (118.2 mph).
"He just missed it," Wilson, the former Angel who was a teammate of Trout in 2011 and 2012, said jokingly. "In that situation, he can hit that ball 150 mph. As long as he hit it to somebody in the field of play, I was happy."
Sixth man
The Angels, who Tuesday began a stretch in which they'll play 29 games in 30 days, are finally employing the six-man rotation they expected to use when they signed Ohtani, the two-way star who is scheduled to start Sunday's series finale against the Twins.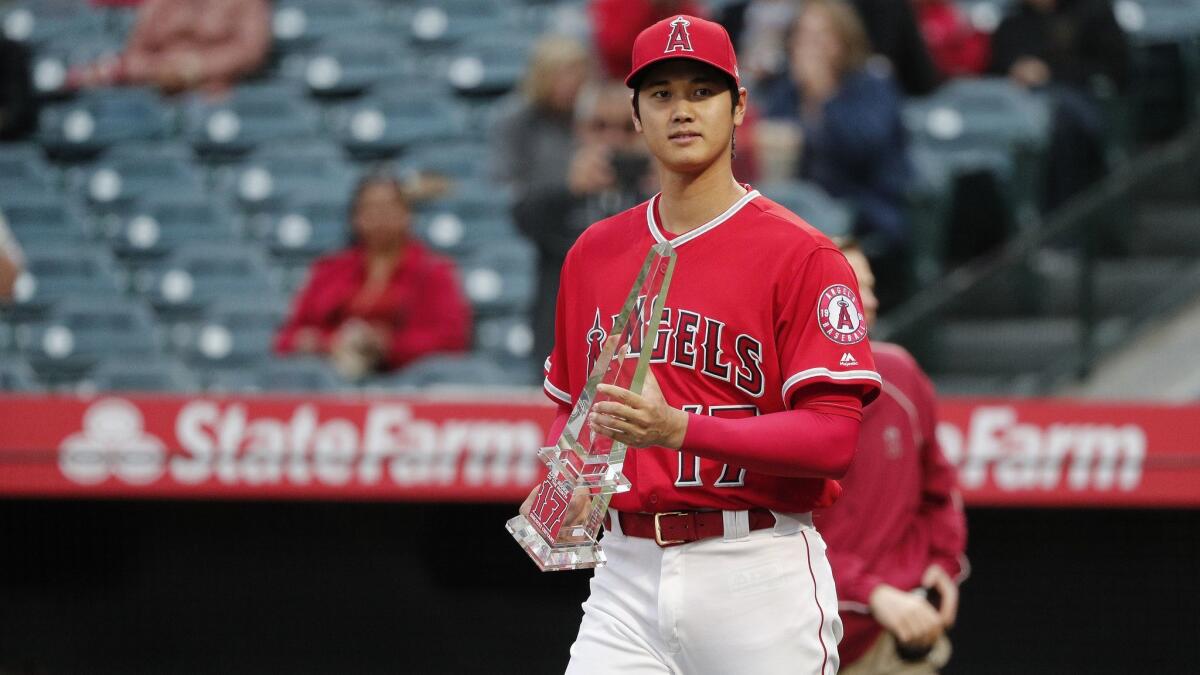 Mike Scioscia said Ohtani will continue to pitch once a week, as he has for the first six weeks. The manager reiterated Saturday that Ohtani could eventually pitch on shorter rest, but that no move was imminent.
"Shohei has been able to pitch on a sixth day, and as he starts to get comfortable, as he gets innings under his belt, hopefully he'll recover and be able to do that at some point," Scioscia said.
"With our schedule, that would help us a lot, but we don't want to get too far ahead of ourselves. Even with Shohei pitching once a week, we've been able to juggle guys ahead of him and behind him and keep guys on regular rest."
Have the Angels spoken to Ohtani about pitching on five days of rest?
"No," Scioscia said, "but he wants to pitch every fourth day, so it won't be a problem."
Short hops
Reliever Blake Wood, sidelined since April 23 because of an elbow impingement, will make a rehabilitation appearance for Class-A Inland Empire on Monday. The right-hander could be activated as soon as Wednesday. … Reliever Akeel Morris was optioned to triple A on Saturday to clear a spot for pitcher Nick Tropeano, who had spent 10 days on the disabled list with shoulder inflammation. He started Saturday and allowed three runs in six innings.
Get the latest on L.A.'s teams in the daily Sports Report newsletter.
You may occasionally receive promotional content from the Los Angeles Times.