Don't bank on Mike Trout participating in the All-Star game Home Run Derby
Aaron Judge says he has no interest in defending his title in the home run derby. Neither Mookie Betts nor J.D. Martinez wants to participate. Even Bryce Harper, whose Washington Nationals are hosting the All-Star festivities, has yet to publicly commit to the derby.
Mike Trout leads the major leagues in home runs. Will this be the first year he joins the derby?
Nope.
"I don't think I'm doing it," Trout said Monday.
Trout said he is not concerned that swinging in the derby would ruin his swing.
"I really just don't have any interest in it," he said. "I like going to it, and watching it."
In an era when baseball has struggled to market its most popular players, some league officials are frustrated that the sport's best player has declined to participate in one of its showcase events, on one of the rare nights there are no other major sports events in the United States.
Trout said he would not rule out taking a shot in the derby before his career ends.
"A lot of people say you should at least do it once," he said. "Probably. Maybe."
Ohtani update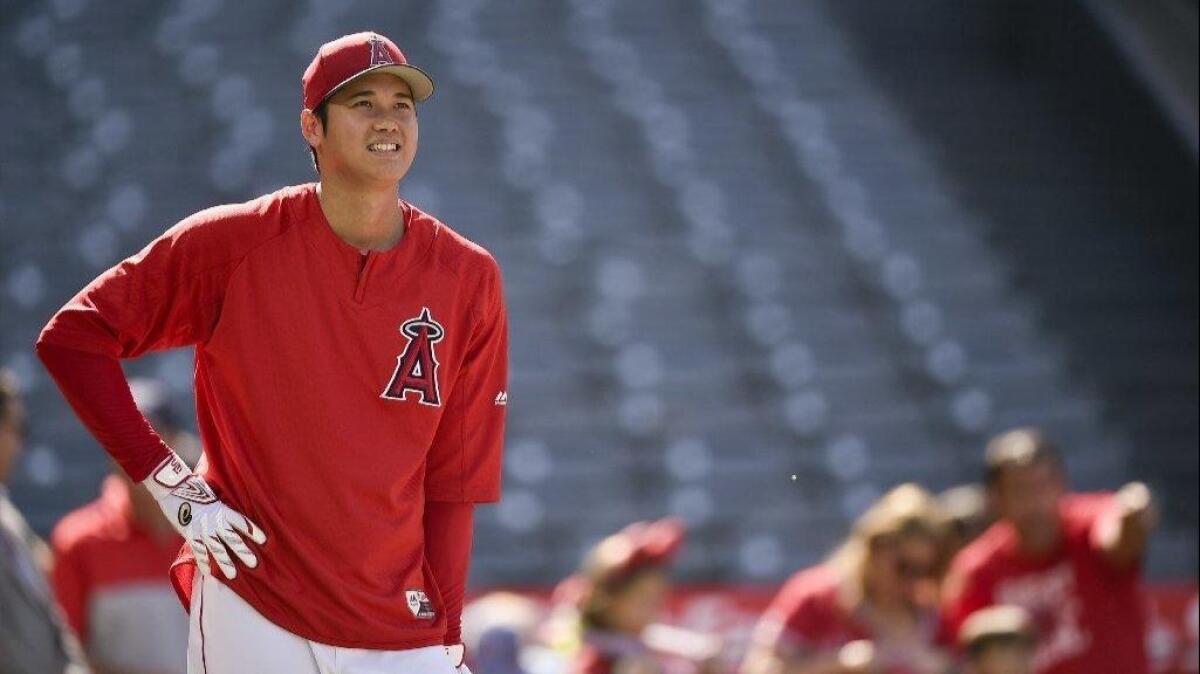 Shohei Ohtani will not pitch any time soon, and the Angels are waiting to see whether he might hit any time soon.
In an effort to avoid surgery to replace a partially torn ligament in his right elbow, Ohtani received injections of stem cells and platelet-rich plasma on June 7. Ohtani is expected to be evaluated in another 10 days, Angels general manager Billy Eppler said Monday.
The Angels' Garrett Richards underwent a similar procedure in May 2016. The procedure was successful, but Richards did not return that season. He did resume bullpen sessions that September, in a season in which the Angels finished 21 games out of first place. The team had him return in the fall instructional league.
If the procedure is not successful for Ohtani, he probably would have surgery and would not return to pitching until the 2020 season.
In the meantime, Ohtani is taking batting practice by only swinging with his left arm, Angels manager Mike Scioscia said, "to keep his trunk going and keep as active as he can, as close to replicating his swing without using two hands." Ohtani also is keeping up with running and strength training in "doing as much as he can without impacting his elbow," Scioscia said.
Doctors will determine whether Ohtani can safely return as a batter without risking additional damage to his pitching elbow.
"The swing is not impacting his ligament at all," Scioscia said. "It's really two different players. One does not necessarily impact the other."
Scioscia said he has spoken with Ohtani.
"Initially, he was obviously very disappointed," Scioscia said. "As he has gone through this first week of therapy, I think he has come to grips with it, and understands exactly what the process will be. Our medical staff and Dr. [orthopedist Steve] Yoon are very optimistic … about the prognosis."
Short hops
The Angels activated outfielder Kole Calhoun and returned outfielder Jabari Blash to triple-A Salt Lake. … Right-hander Felix Pena is scheduled to make his first major league start Tuesday. Pena, 28, has made 38 relief appearances, two for the Angels this year, the others for the Chicago Cubs in 2016-17. … Outfielder Jo Adell, the Angels' first-round draft pick last year, is batting .311 overall and .500 in his past 10 games at Class A Inland Empire. In 25 games there, he has eight home runs and seven stolen bases, and he has not been caught stealing. Adell, 19, has climbed four steps on the Angels' ladder in less than one calendar year since his signing, through the rookie-level teams in Tempe (Ariz.) and Orem (Utah) to A-level teams in Burlington (Iowa) and Inland Empire.
Twitter: @BillShaikin
Get the latest on L.A.'s teams in the daily Sports Report newsletter.
You may occasionally receive promotional content from the Los Angeles Times.