Angels' Albert Pujols has been in Mike Trout's shoes and has no regrets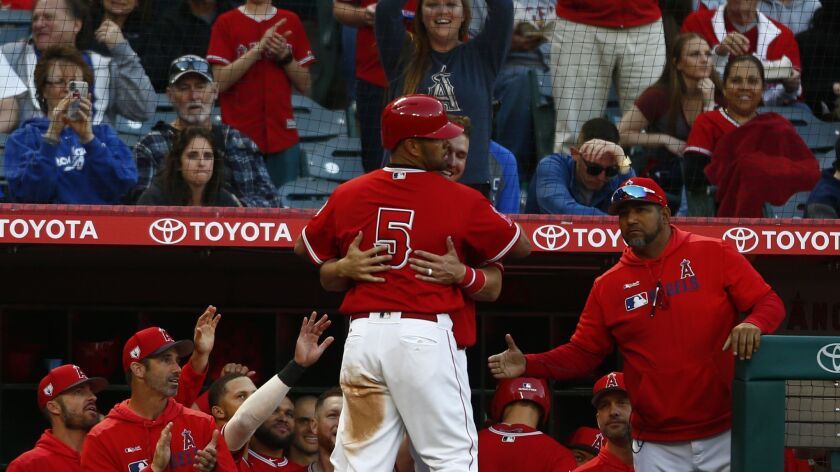 Mike Trout's teammates sat in folding chairs, rows and rows of them, listening to Trout speak with joy at the prospect of playing his entire career for one team, before an adoring fan base. But, amid the fans cheering at Sunday's nationally televised news conference/pep rally, there was only one teammate who truly could relate to Trout.
In 2011, Albert Pujols had to decide whether to play his entire career with one team, before an adoring fan base. Pujols, a three-time National League most valuable player for the St. Louis Cardinals, accepted a 10-year contract from the Angels.
"I made the right decision," Pujols said Sunday. "I want to respect [Angels owner] Arte and Carole [Moreno] and this organization. They made a big commitment to me, just like they did with Mike Trout. I'm serious about that.
"I wouldn't change one thing at all."
In 11 years in St. Louis, Pujols won two World Series championships, made nine All-Star appearances, and generally was regarded as the best hitter in baseball.
In seven years in Anaheim, he has won zero playoff games and made one All-Star appearance. He has been limited by injuries and overshadowed by Trout and Shohei Ohtani, and his 3,000th hit last year attracted little of the attention it would have had he stayed in St. Louis.
"At the end of the day, it doesn't matter whether you wear one uniform or 20 uniforms," Pujols said. "You're in the show. It doesn't get any better than this. I was able to accomplish great things in St. Louis. Here, in Anaheim, not as great. But my career is not over. I'm still enjoying the game, mentoring some of these guys, still learning.
"I can say to my grandkids one day, I got to play with the best player there was from 2010 on, and that's Mike Trout. I don't regret that at all."
Trout speaks fondly about his respect for Pujols and the advice he has provided, but Pujols said he steered clear of counseling Trout on his contract talks. In his case, Pujols said, he heard from too many people telling him what he ought to do.
"I didn't want him to go through that," Pujols said. "I gave him that space."
Pujols' playing contract expires in 2021, but beyond that Moreno has signed him to a 10-year personal services contract. Pujols said he would be around to help Trout, or to give him a hard time.
"I'm really happy for him, that he can stay here for 12 more years," Pujols said. "Hopefully, before I retire, we can win a championship together."
Moreno out on FSW bid
The Angels' television home will have a new owner soon, but Moreno will not be that owner.
Moreno said Sunday he has withdrawn from the bidding for Fox Sports West and Prime Ticket, the two Fox regional sports networks based in Los Angeles. The channels are up for sale.
"Obviously, we have a change of hands going on right now," Moreno said. "I've watched that very closely. I was participating for a while. I'm not participating. There came a time where I made a decision to say, I have other things I need to do."
As a condition of approving its purchase of Fox, the federal government required the Walt Disney Co. to sell the 22 Fox RSNs. The New York Yankees have bought theirs.
Liberty Media, the parent company of the Atlanta Braves, is a suitor for the package of the 21 remaining channels. Sinclair Broadcast Group, a partner in the Chicago Cubs' fledgling cable channel, is another. Major League Baseball as a whole is involved too, concerned in part that venture capitalists and tech giants might buy the channels in a venture that could be better for investors than for the various teams.
Sign up for our daily sports newsletter »
---
Get the latest on L.A.'s teams in the daily Sports Report newsletter.
You may occasionally receive promotional content from the Los Angeles Times.