Angels' game against Royals postponed due to cold weather; Ohtani will get start against Red Sox on Tuesday
Reporting from Kansas City, Mo. —
From frostbite to sunlight, the decision to postpone the Angels' game here Sunday was more significant than most of these calls.
The move now means Shohei Ohtani will make his third pitching start at home Tuesday, against the first-place Boston Red Sox instead of the last-place Kansas City Royals.
For Ohtani's second start, April 8 at Angel Stadium, the first pitch temperature was 73 degrees and the occasion attracted a larger crowd -- 44,742 -- than the Angels drew on opening day.
Sunday, the wind chill at game time was hovering around 20 and, an hour earlier, StubHub had tickets available for as low as $6.
When the game was officially called about 25 minutes before the first pitch, there were fewer than a thousand people inside Kauffman Stadium, and that's counting both teams.
"The fans, their cheers and their support is going to help me pitch," Ohtani said through an interpreter looking toward Tuesday night. "I'm going to try to use the momentum once again."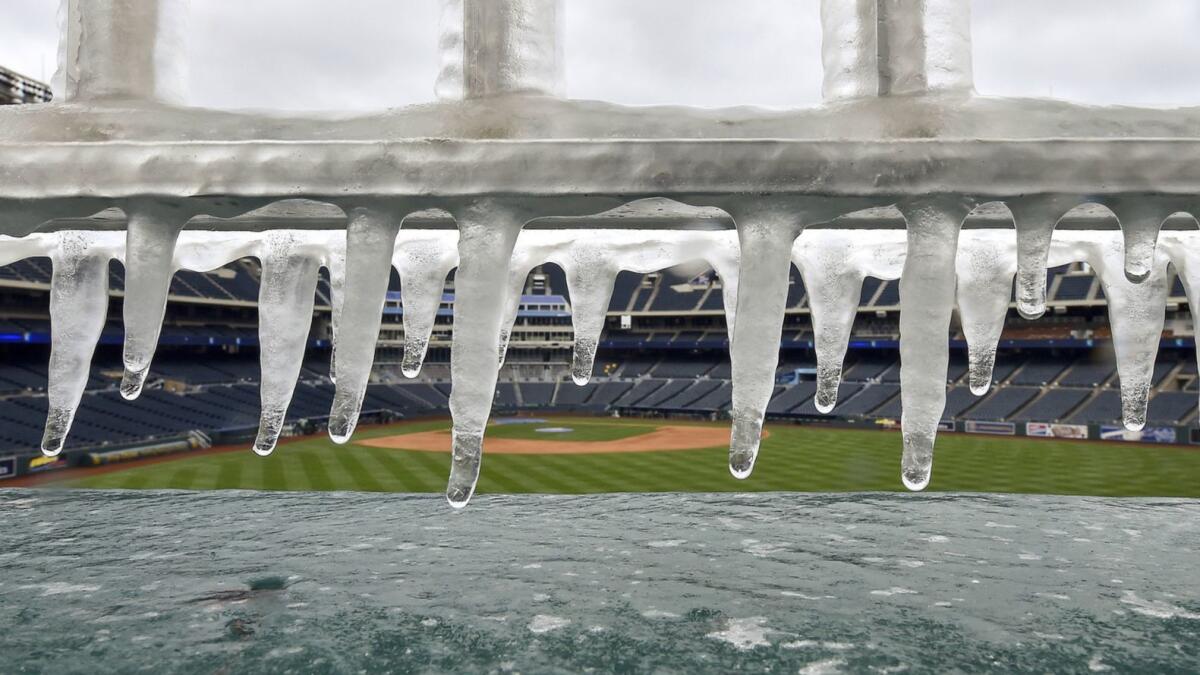 In that second start, he had a perfect game through six innings against Oakland and eventually gave up one hit and one walk before departing after the seventh. For the season, he's 2-0 with a 2.08 ERA and 18 strikeouts in 13 innings.
Ohtani grew up in a rural town in northern Japan, about 300 miles from Tokyo, and has plenty of experience living in cold weather. But he said he could not remember pitching in temperatures like the ones here Sunday.
He called the prospect of playing in the conditions "a little worrisome," specifically mentioning the possibility of numbness in his fingertips. But he admitted it might have aided in his development.
"It would have been a good experience maybe in the long run," he said. "In that case, maybe I'm a little disappointed."
In the Angels clubhouse, the sentiment that was voiced was a little different.
"Excited about it, honestly," outfielder Justin Upton said. "If there's a time when we can play in better conditions - pitchers are safe, batters are safe - then let's do that."
The Angels beat the Royals, 5-3, Saturday in a game affected by cold, wind and snow flurries. Several players on both teams wore masks to protect their faces, and Mike Trout explained that he could barely see some pitches in his final at-bat.
"I threw a couple balls in and couldn't feel my hand," Upton said. "My elbow was zinging a little bit. I can't imagine being on the mound and having to continuously throw. I don't personally think it's safe."
The postponement will be made up here June 25, the day before the Angels open a trip in Boston.
By the time this game was called, five others around baseball already had been postponed.
The weather had manager Mike Scioscia talking about bone-chilling memories from his playing days, of frigid nights at Candlestick Park and snow-dusted playoff games in Montreal.
"We've all played in cold weather, but at some point it crosses the line," Scioscia said. "I think today definitely crossed the line."
After Ohtani, the Angels are set to start Tyler Skaggs on Wednesday and Nick Tropeano on Thursday. David Price is scheduled to start for Boston opposite Ohtani.
The weather proved to be the only thing that could slow the Angels on their second trip of the season. They finished 6-0 and have won seven straight overall. At 13-3, they're off to the best start after 16 games in franchise history.
The Red Sox already have had a nine-game winning streak. They also won 5 of 6 on their first trip, taking series in Tampa and Miami.
"It comes down to how you're playing the game, not who you're playing or where you're playing," Scioscia said. "We need to continue with our momentum that we've built up and play with the confidence we've played with."
Get the latest on L.A.'s teams in the daily Sports Report newsletter.
You may occasionally receive promotional content from the Los Angeles Times.