Column: Angels may be losing their window to play in the World Series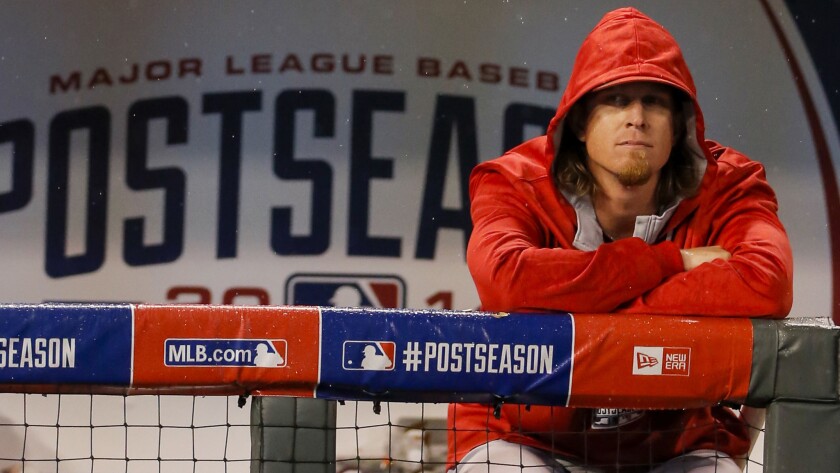 From KANSAS CITY, Mo. —
Jered Weaver shuffled slowly to his locker. He sat down, stared into his locker, then dropped his head into his hands.
This was not for a few moments. This was for minutes, and more than a few.
All around him, his teammates went about their business. The season had just ended, sooner than anyone had imagined, but there were interviews to do, showers to take, meals to eat, handshakes and hugs to give, a final postgame bus to catch.
Weaver sat some more, his hands clasped behind his head, his back to the clubhouse, his solitary routine interrupted only when teammates tapped him on the shoulder to offer an encouraging word or two, but not many more.
When the Angels drafted Weaver, he was 21. On Saturday, he turned 32. He turned his back on free agency to devote his professional loyalty to the Angels.
He has pitched in the playoffs four times, the league championship series once. This might have been his best chance to get to the World Series — maybe even his last chance — and the Angels could not even win a single postseason game.
"We could have done it this year," he said. "It didn't happen."
The Angels are an old team, Mike Trout notwithstanding. Their window to excel should extend through next season. The competition might be tougher next season.
"You always want to do the most you can when you have the most leverage," pitcher C.J. Wilson said.
"Texas had a down year. Oakland had a rough September. We had a really good chance to get what we got, which was home-field advantage, and we didn't do anything with it."
The Angels control second baseman Howie Kendrick, third baseman David Freese, catcher Chris Iannetta, and closer Huston Street through 2015, and shortstop Erick Aybar through 2016. By the time the 2016 season opens, all five of those players will be 32.
According to Baseball America, the Angels have traded four of their top six prospects among position players over the past year. The Angels are in win-now mode, and the trades brought back Street, Freese and relievers Fernando Salas and Joe Thatcher.
But, of those six prospects, the two that remain are C.J. Cron, a designated hitter, and second baseman Alex Yarbrough, whose suspect fielding might limit him to DH.
Free agency? That is the source of the Angels' greatest challenge, since owner Arte Moreno's decisions to spend $375 million on Albert Pujols and Josh Hamilton stripped the team of the top draft choices necessary to rebuild the farm system and restricted the financial flexibility available to upgrade the major league roster.
On opening day 2016, Pujols will be 36, Hamilton 34, Wilson 35, Weaver 33. The Angels have all four under contract for 2016, for a total of $98 million.
Add another $40 million for Trout, Aybar and pitchers Garrett Richards and Joe Smith, and there's your core.
It is painfully apparent, then, that the Angels are likely to go as far as Trout, Pujols and Hamilton will take them.
Trout is the best player in baseball. Pujols is not close to that level anymore, but he can hit well enough to hold down the No. 3 spot in the batting order.
But what can the Angels expect from the enigmatic and oft-injured Hamilton?
"Who knows?" he said. "What do you think, I'm a fortune teller?"
Hamilton went hitless in the division series, homerless in his last 55 at-bats of the season. In his two seasons in Anaheim, he has hit .255 in 240 games, with a total of 31 home runs and 123 runs batted in.
"I wish I could tell you I was going to hit .330 with 130 [RBI] and 40 [homers] every year," he said.
What the Angels would love to see — really, what they need to see — is Trout, Pujols and Hamilton all healthy and productive for an entire season.
"We'll see," he said. "It would be a good surprise for you."
It would be a first. And, for this aging band of Angels, an increasingly necessary one.
---
Get the latest on L.A.'s teams in the daily Sports Report newsletter.
You may occasionally receive promotional content from the Los Angeles Times.