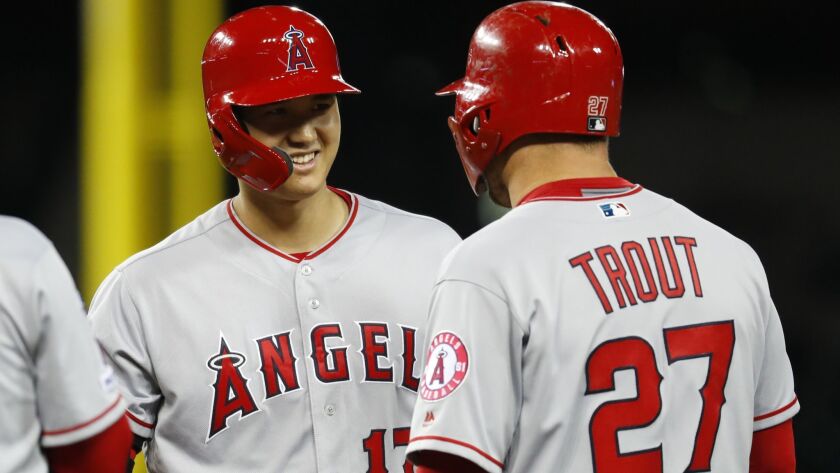 Reporting from Detroit —
As lofty as the expectations are for Shohei Ohtani, the Angels did their best to temper them — for one night, at least — before the slugger's highly anticipated 2019 debut Tuesday.
"I think he'll bring the tools we've all seen — the power, the speed, the plate discipline," general manager Billy Eppler said of Ohtani, who is returning from Tommy John surgery. "But he's basically finishing spring training, and it can take guys a little time to get into the flow and comfort of their routines."
True to Eppler's word, Ohtani looked like a player who hadn't faced major league pitching in more than seven months, going hitless in four at-bats with two strikeouts, an RBI groundout and a walk in a 5-2 victory over the Detroit Tigers before 14,169 in Comerica Park.
The 2018 American League rookie of the year was upstaged by this season's highly touted rookie. Griffin Canning, making his second big league start, gave up two runs and four hits in 5 1/3 innings, striking out seven — most with his slider — and walking one for his first win.
Andrelton Simmons had RBI singles in the third and ninth innings and saved a run with a superb over-the-shoulder catch in shallow center field in the sixth, and Luke Bard, Ty Buttrey and Hansel Robles combined for 3 2/3 innings of scoreless relief.
"Before anything, I'm really glad that we got the victory," Ohtani said through an interpreter. "I'm glad today is over, and I'll be ready again tomorrow."
Ohtani hit third against Detroit left-hander Daniel Norris, an indication of the confidence the Angels have in the left-handed hitter.
Ohtani's timing seemed off, and he looked jumpy in his first three at-bats. His helmet flew off after swings and misses in his first two at-bats.
"I'm not sure," Ohtani said of the helmet. "Maybe the size isn't right."
Ohtani took a two-and-two slider on the outside corner for a called third strike in the first inning and struck out swinging at a sweeping slider in the dirt in the fifth. In between, he capped a three-run rally in the third by driving in a run on a groundout to shortstop.
Ohtani looked better in his fourth at-bat, when he lined out to third in the seventh. He walked off left-hander Jose Manuel Fernandez in the ninth.
"As I got more at-bats, I got more comfortable," Ohtani said. "I felt better as the game went on. My timing was better toward the end."
Once Ohtani finds his rhythm and timing, he should have a significant impact on an offense that entered Tuesday ranked 12th in the AL in batting (.240) and 10th in on-base-plus-slugging percentage (.730). He also should have a positive impact on Mike Trout, who bats second in the lineup.
No player should benefit more from Ohtani's return than Trout, the two-time AL most valuable player who, with minimal lineup protection in the wake of injuries to Ohtani and slugger Justin Upton, has been walked an AL-leading 33 times, seven of those intentional.
"You know, a lot of people say if you have some guys behind you who can do some damage, you're going to get pitched differently, you get to see more pitches," said Trout, who walked in the first and ninth innings Tuesday and doubled in the seventh.
"I'm not going to change my approach. I hope I get to see more pitches in the zone, but I think me getting on base and Shohei hitting with guys on base is big for the club."
Trout entered Tuesday with 24 plate appearances with runners in scoring position. He'd walked 11 times, five intentional, in those plate appearances. He was even intentionally walked twice with the bases empty.
Sign up for our daily sports newsletter »
The team's No. 3 batters — Justin Bour (15 games), Andrelton Simmons (12), Brian Goodwin (five) and Albert Pujols (one) — combined to hit .261 with a .769 OPS, six homers and 18 RBIs.
Ohtani, who hit .285 with a .925 OPS, 22 homers, 21 doubles and 61 RBIs in 104 games last season, is the kind of hitter who can force opponents to pitch to Trout more often.
After taking over as the team's primary designated hitter in August, Ohtani hit .318 with 1.042 OPS, 13 homers and 36 RBIs in 48 games over the final two months.
"Having him behind Mike, if Mike's getting on base at the clip he gets on base, they're gonna have to hold a runner on first, and that will open up a lane over there as well," Eppler said. "You're just adding a middle-of-the-order bat, and when you can do that, it can help everybody throughout the lineup."
Eppler said Ohtani will be the team's every-day DH, which will force Pujols to play more first base and share the position with Bour. Manager Brad Ausmus said Ohtani will bat third against right-handers and left-handers.
"Ohtani injects some offense, for sure," Ausmus said. "Definitely power. I compare him to [Tigers slugger Miguel Cabrera]. Miggy is the biggest power I've seen off the bat, and Shohei has similar power."
---