Angels armed with a new coach, hope pitchers are poised for a breakthrough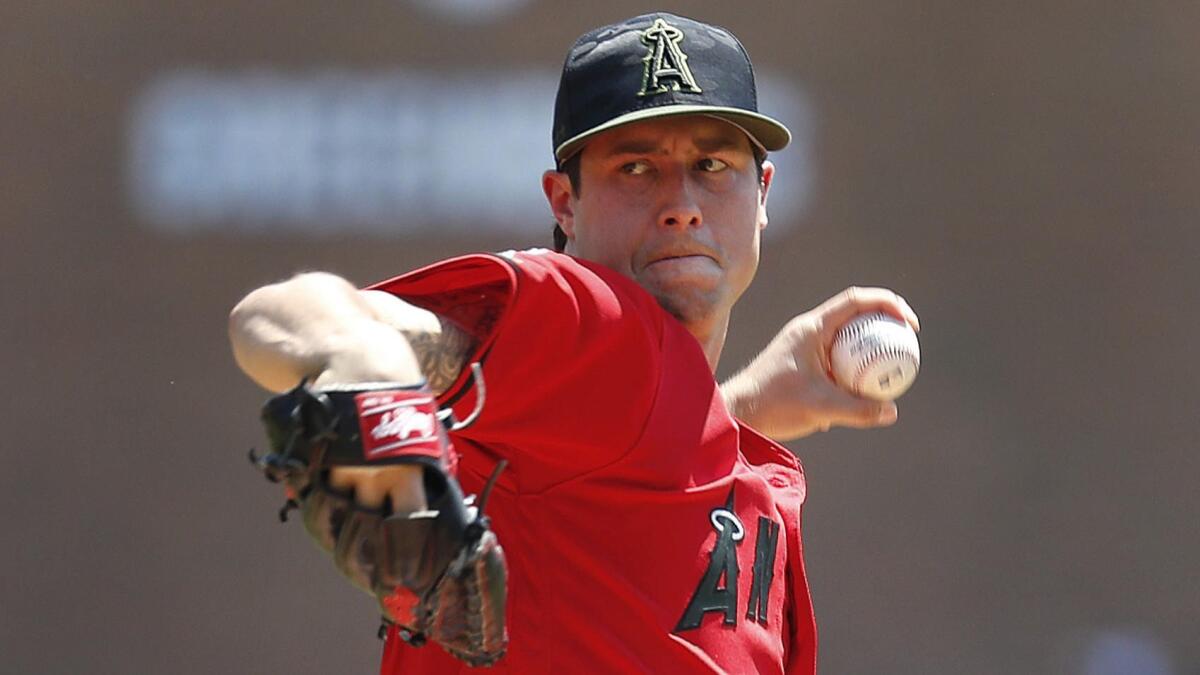 About six weeks into his tenure as the Angels' new manager, Brad Ausmus was addressing reporters during baseball's winter meetings when he publicly issued a challenge to one of the starting pitchers now within his purview.
"I'm going to put a little heat on it," Ausmus said earlier this month. "I think he should be one of the best lefties in the league."
He was speaking of left-hander Tyler Skaggs, the 27-year-old who might have become an All-Star for the first time in his career last season if a weight-room incident hadn't waylaid his chances.
Skaggs is one of two left-handers expected to return to the Angels' rotation next season. The other is Andrew Heaney, for whom Ausmus appended his statement.
But there was a catch.
"I feel the same way about Heaney but I just haven't told him," Ausmus said. "I'll see him tomorrow. So hold off … to print that or write it."
Ausmus smiled slyly. The news conference was being streamed on the internet, so the praise Ausmus heaped on Heaney might have been transmitted to the intended target immediately.
As general manager Billy Eppler constructs the 2019 roster, the Angels have renewed confidence in the potential of Heaney and Skaggs. They will be glad to move ahead with the two of them as the leaders of the 2019 rotation, which now includes veteran right-handers Matt Harvey and Trevor Cahill on one-year contracts, if no other transaction shakes up the projected order.
Underlying Eppler's and Ausmus' faith in Heaney and Skaggs is their trust in new pitching coach Doug White.
"He's really, really bright, young," Ausmus said. "Kind of a new mind. His background isn't the typical pitching coach background, but he'll make our pitchers better."
White, who has been a pitching coach in some capacity since 2003, spent last season as the Houston Astros' bullpen coach. It was his first major league job, yet the pressure did not rattle him. Astros relievers had a major-league best 3.03 earned-run average, improving by more than a run from their 2017 ERA under White's direction.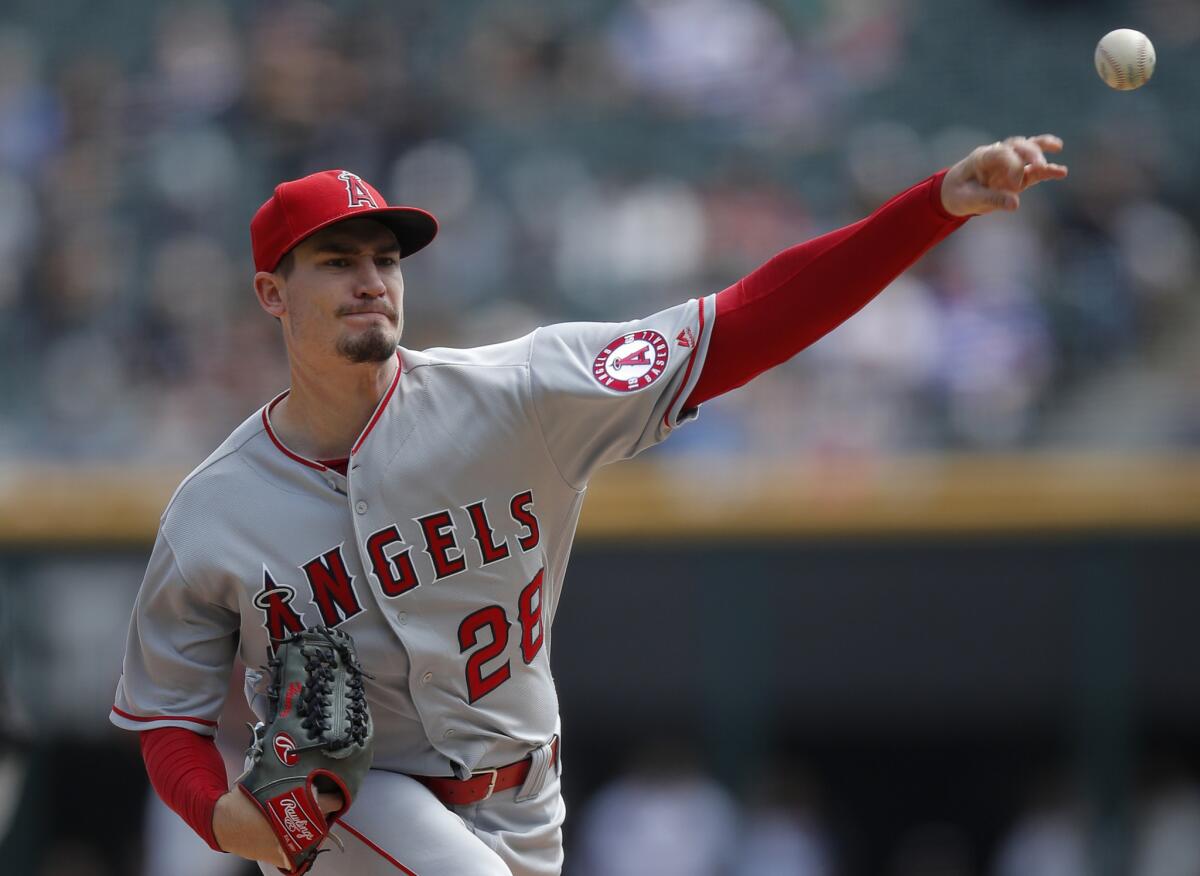 The Angels divulge little information, so White declined to discuss plans for his new pitching staff.
He conceded one point: As he bolstered his resume in the analytically sophisticated Astros system, White became proficient at melding data points with mechanical changes. He will use similar information to help pitchers throughout the Angels organization, getting everything up to code where analytics are concerned.
The technique is no longer revolutionary, but it's unique that those changes will be implemented by someone who boasts no professional playing experience.
It is traditional for teams to employ former professional pitchers in such roles. Yet the advent of analytics has caused a paradigm shift, allowing the so-called "new mind" to break in. White is one of only four major league pitching coaches who does not have professional playing experience.
"I know it can be notable when a coach gets hired to look at their playing resume and things like that," Eppler said. "But if you take a step back, don't a lot of the hitters and pitchers see specialists in the wintertime? So aren't you just doing the same thing if you're hiring them in your organization? It must not be that important to the player."
The Angels are relying on White to help unlock the potential in Heaney and Skaggs. Both were among the top left-handed pitching prospects in baseball. Neither has translated the pedigree into sustained success at the major league level because of injuries.
Heaney, 27, finally made 30 starts last year, going 9-10 with a 4.15 ERA. But Skaggs was one of eight Angels starting pitchers who landed on the disabled list after opening day and did not get to test his efficacy over the course of a full season.
Skaggs spent the second half of the season battling a groin injury that erased the formidable 2.64 earned-run average he carried through his first 16 starts. By year's end, Skaggs had only made eight more starts and across them posted a 7.83 ERA (29 earned runs in 33⅓ innings).
He finished 8-10 with a 4.02 ERA.
"I do not see them as finished products," Eppler said. "Those guys are going to continue to grow and get better and learn."
Although he was hired less than two months ago, White has already experienced success implementing the Angels' new direction. He's spent his time since early November evaluating the pitchers in the organization and setting up meetings with them. Conversations about approaches have gone so well he said it's almost "one of those 'too good to be true' deals, you know?"
"The first step is the listening process and a lot of dudes won't even do that because there's a fence right away," White said. "But that's not what's happening here and I'm so appreciative of that."
If that trend continues — and if Angels pitchers can avoid catastrophic injuries next season — perhaps Ausmus' predictions won't seem all that bold.
Get the latest on L.A.'s teams in the daily Sports Report newsletter.
You may occasionally receive promotional content from the Los Angeles Times.