Taylor Ward making strides in his quest to win a third base job with Angels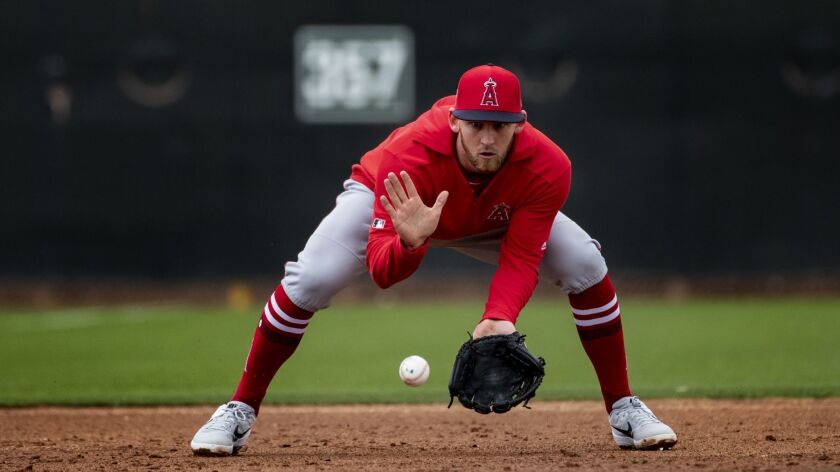 Reporting from Tempe, Ariz. —
In the 146 days that elapsed between official at-bats, Angels third baseman Taylor Ward worked.
He barely stopped hitting, committed to a readjusting his approach. He occasionally did infield drills at third base. He sculpted a leaner frame.
It was a different offseason for the 25-year-old. Until this past winter, Ward prepared for every baseball season as a catcher. Until this past winter, he went through life as a prospect wondering when he'd get a chance to receive a major league pitch behind the plate.
Things changed quickly. He converted to third base during spring training last year, made his major league debut five months later in the middle of August, and sent Mike Scioscia into the sunset with a walk-off home run to end the final game of the longtime manager's career in an Angels uniform.
Ward, the Angels' first-round pick of the 2015 draft, spent his offseason chasing a new goal — to win a third base job out of spring training. And after back-to-back Cactus League appearances in the opening games of the Angels' exhibition season, Ward's efforts have begun to bear fruit.
"I just need to go out there and do what I need to do to the best of my capability," Ward said. "Whatever happens at that point is what happens. As long as I know that I leave this clubhouse every day knowing I've put my best foot forward today that day, that's all I can ask for."
Ward hit a grand slam in his first at-bat of the spring in Saturday's 10-3 win over the San Francisco Giants. He added a walk to his ledger in Sunday's 14-2 loss to the Cincinnati Reds.
But Ward's defensive strides have stood out a little more in the early weeks of spring. His reads off the bats have improved and his first steps have become crisper. In Saturday's game, Ward made a smooth backhanded play on a ball that rolled down the third base line. He gloved the ball, briefly gathered his bearings and made an accurate throw to first base. It arrived on a short hop, just in time to retire the Giants runner. In Sunday's game, Ward charged in from his spot at third to nab a groundball off the infield grass and throw to first base. Only this time the runner was too fast and Ward could not prevent him from recording an infield single.
Ward is part of a crowded competition for an opening day job in the Angels' infield. Veteran Zack Cozart will play at either second or third base, depending on how the five others, including Ward, perform in camp.
It's still early, but Ward has taken a good jump.
"About a year ago he was disappointed because he'd been a catcher his whole life," new manager Brad Ausmus said. "But he's coming along."
Injury updates
It may be a few days before outfielder Michael Hermosillo, who is competing for a spot on the Angels' opening day roster, cracks a spring training lineup.
Hermosillo aggravated the adductor muscle in his right leg. He can run without discomfort, he said Sunday, but the injury makes hip turns difficult.
The flare-up was caused by scar tissue remaining from an offseason surgery he underwent to repair a sports hernia that kept him out of the triple-A lineup in August and cut short his stay in the Dominican Republic winter leagues. Hermosillo's recovery has otherwise gone smoothly.
"The doctor after the surgery told me that I'd have little issues here and again with the scar tissue breaking up in the area of the surgery," said Hermosillo, 24. "But it's all good. I've been working to make sure everything is good."
The Angels are also being cautious with first baseman Justin Bour. The free-agent pickup sustained a mild hamstring strain prior to the start of spring training camp.
Right-hander Matt Harvey, who was shut down for three days because of a glute strain, could see game action soon. He is scheduled to pitch live batting practice once or twice this week.
Sign up for our daily sports newsletter »
---
Get the latest on L.A.'s teams in the daily Sports Report newsletter.
You may occasionally receive promotional content from the Los Angeles Times.