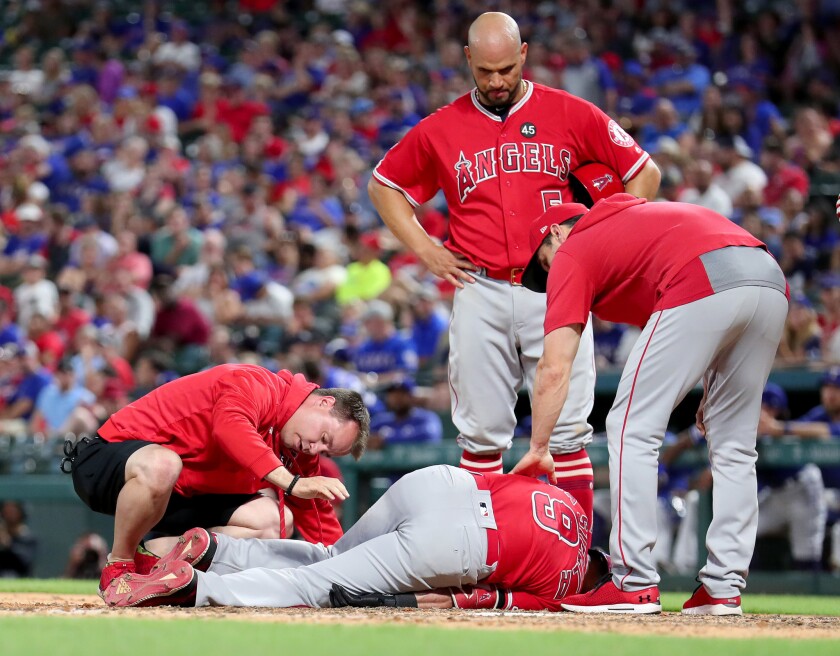 Reporting from ARLINGTON, Texas —
Tommy La Stella was placed on the injured list because of a right-tibia fracture Wednesday, an injury that will knock the Angels infielder out of Tuesday's All-Star game and sideline him for eight to 10 weeks.
La Stella, who is batting .300 with 16 homers and 44 RBIs, suffered the injury when he fouled a ball off his shin in the sixth inning of Tuesday night's game against the Texas Rangers. He was unable to put weight on the leg as he was carried off the field, and a CT scan Wednesday revealed the break.
"The entire team feels awful for Tommy," manager Brad Ausmus said. "He came over here and has had this breakout season, he's named to the All-Star team, and six days before the break he gets a two-month injury. You just feel awful for Tommy. It's a blow to our team, no question."
La Stella, who was on crutches Wednesday, was replaced on the American League' All-Star roster by Tampa Bay Rays infielder Brandon Lowe. La Stella can still take part in All-Star festivities, but two days after the death of teammate Tyler Skaggs, he was unsure if he would travel to Cleveland next week.
"Honestly, with everything that's been going on, it's kind of been the last thing on my mind," La Stella said. "I'll think about it over the next 24 hours or so."
The Angels placed outfielder Brian Goodwin on the 10-day injured list because of a bruised right wrist, suffered when he was hit by a pitch in the seventh inning Tuesday. Goodwin is expected to return after the All-Star break.
La Stella and Goodwin were replaced on the roster by corner infielder Matt Thaiss, the Angels' first-round pick out of Virginia in 2016, and outfielder Jarrett Parker. Right-hander Jaime Barria was also called up from triple-A Salt Lake to start Wednesday night's game.
Thaiss, 24, was drafted as a catcher and moved to first base after he signed. He began playing third base this season — he has played 47 games there and 23 at first — and made his major league debut at third base Wednesday night.
"It's going to be a little foreign to him, we understand that," Angels general manager Billy Eppler said. "We understand it's not a finished product, but we'll find spots for him to get in the lineup and make an impact."
Thaiss was hitting .274 with 14 homers and an .867 on-base-percentage at Salt Lake, including a .330 mark with a 1.102 OPS and seven homers over the last 30 days. He admitted it was awkward to get his first big league call-up with a team reeling from Skaggs' death.
"Obviously, there's a lot going on with what happened," Thaiss said. "It was felt across the entire organization, triple A, double A, up here. It's something that really hit home for everyone."
Short hops
Wednesday night marked the first game in major league history matching two pitchers from Panama, Barria and Rangers right-hander Ariel Jurado. … Griffin Canning was originally scheduled to start Wednesday, but Ausmus moved him back to Thursday night's game to give the rookie an extra day of rest. … Reliever Keynan Middleton, who is rehabilitating from Tommy John surgery, pitched in simulated-game conditions Tuesday and will begin a rehab assignment shortly, Eppler said.
Sign up for our daily sports newsletter »
---