Who are the Angels' top prospects?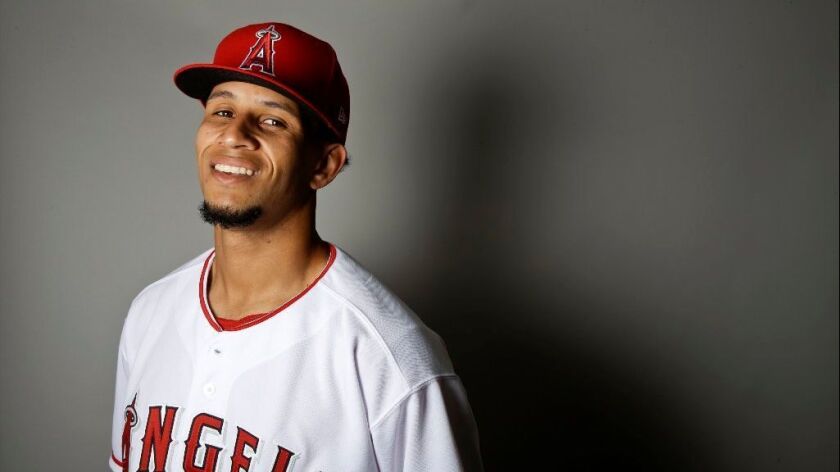 Reporting from Tempe, Ariz. —
As of last year, the consensus around baseball was that the Angels' farm system was the worst in the sport. It has improved some, but is still among the five worst, according to most evaluators. Years of international neglect and sacrificing top picks for free-agent signings could hurt the club for another half a decade or longer. Here are the club's top five prospects.
Keynan Middleton
6-2, 185, RP
Bats: Right. Throws: Right
Hometown: Portland, Ore.
Middleton was the Angels' 2013 third-round pick, a junior college two-sport athlete who had more experience playing basketball than baseball. Now 23, he was a failure in his first two full years in the organization. When he converted to the bullpen before last season, it unlocked the velocity scouts had projected. His fastball was regularly clocked between 96 and 99 mph, and reportedly touched 102. His secondary pitches are not as impressive, but on a good day his slider deceives. He could pitch for the Angels sooner rather than later.
::
Matt Thaiss
6-0, 195, 1B
Bats: Left. Throws: Right.
Hometown: Jackson, N.J.
A college catcher at Virginia, Thaiss switched to first base when the Angels drafted him 16th overall last June. Club officials worked him out at the position just before the draft. He's far slighter than is standard for major league first baseman, but his bat control is well-regarded among talent evaluators, and he is expected to be a capable major league hitter. He walked almost as much as he struck out in his first half a season.
::
Jahmai Jones
6-0, 215, OF
Bats: Right. Throws: Right.
Hometown: Roswell, Ga.
Still 19, Jones is said to have the highest ceiling of any prospect in the organization. He was the club's second-round pick in 2015, and received a bonus well over MLB's recommended figure. Two of his brothers have played in the NFL, and his father played at Notre Dame. Because Jones spent two months of 2016 in extended spring training, he played only 64 games split between rookie ball and low Class A. But, in those games, he stole 20 bases and hit .302 with an .801 on-base-plus-slugging percentage.
::
Taylor Ward
6-1, 185, C
Bats: Right. Throws: Right.
Hometown: Dayton, Ohio.
Ward was taken surprisingly high, 26th overall, in the 2015 draft. Many amateur scouts projected him as a backup, and many professional scouts still do. But club officials rave about his defense. After pounding less experienced pitching in 2015, Ward struggled at Class-A Inland Empire last season, hitting .249 with a .323 on-base percentage and .337 slugging mark. Now 23, he needs a rebound season to retain his prospect status.
::
Nate Smith
6-3, 210, SP
Bats: Left. Throws: Left.
Hometown: Spokane, Wash.
Smith would have pitched for the Angels last September had he not reported elbow tendinitis on the eve of his call-up from triple-A Salt Lake. But the 25-year-old says he's healthy now, having changed his workout routine over the off-season to better protect his arm. Scouts offer different opinions on his potential. Some say he could be a fine No. 5 starter right away; others say he's destined to spend his career shuffling between triple A and the majors.
Follow Pedro Moura on Twitter @pedromoura
---
Get the latest on L.A.'s teams in the daily Sports Report newsletter.
You may occasionally receive promotional content from the Los Angeles Times.