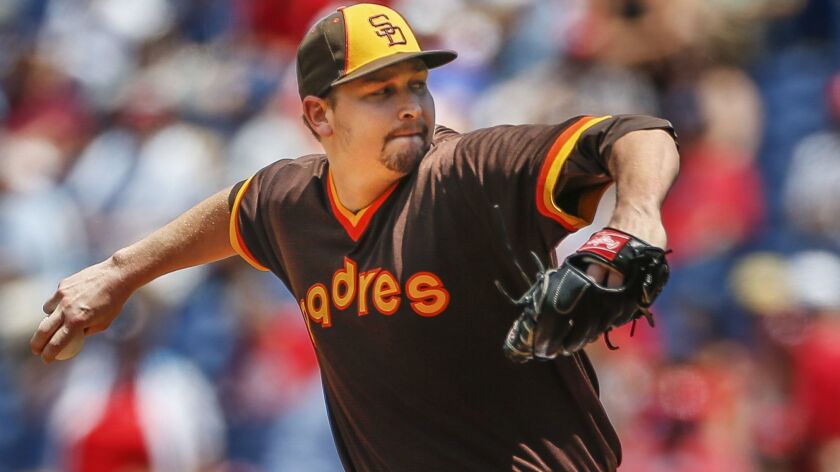 For weeks, Angels general manager Billy Eppler made calls on free-agent starting pitchers and attempted to barter his team's assets for an opportunity to acquire a starter via trade. Free agents spurned Anaheim for East Coast destinations. Teams hoarded talent and declined exchange propositions. Solutions continually eluded Eppler.
In the last couple of days, Eppler's fortunes appear to have reversed. The Angels are now expected to add two pitchers with playoff experience to their rotation.The Angels signed former Oakland Athletics starter Trevor Cahill on Thursday, two days after agreeing to terms with resurgent right-hander Matt Harvey on a similar one-year contract. Cahill's deal is worth a guaranteed $9 million, plus $1.5 million in incentives, according to a source who is not authorized to speak publicly on the matter.
The acquisition of Cahill won't revolutionize the Angels' injury bitten starting rotation. Like Harvey, Cahill has an extensive injury history. He was limited to only 110 innings in 2018.
But Cahill capitalized on the opportunity the Athletics afforded him in March, when they signed him to a modest $1.5-million, one-year contract at the end of spring training. Once he cracked Oakland's starting rotation, he put together one of his best campaigns since 2012: He had a 2.0 wins above replacement (WAR), according to Fangraphs' version of the statistic; posted a 3.76 ERA over 21 games (20 starts); and decreased his walks-per-nine-innings rate by more than one walk to 3.35.
Cahill may not have been the Angels' first choice for the starting rotation. They chased free agents Nathan Eovaldi, Patrick Corbin and J.A. Happ earlier this month. But his availability persisted in tandem with the Angels' inability to check off the most prominent item on their offseason wish list, making him a near-perfect target for an Angels team that needed to shore up the shakiest portion of its roster.
If he can keep pace with the strides he made last year, Cahill would prove a worthy short-term investment. So would Harvey, who agreed to a one-year deal worth up to $14 million; his signing has not yet become official.
Cahill, who will be 31 in March, pitches to the formula the Angels prefer. He induces a lot of ground balls, which accounted for 53.4 % of batted balls against him last year, and suppresses home runs. He also effectively misses bats. His swinging-strike rate increased marginally to 11.7 % last year, setting a career high, and he struck out 8.18 batters per nine innings last season.
Cahill was picked by the Athletics in the second round of the 2006 draft out of Vista High School in Oceanside. He climbed quickly through their farm system. After debuting in the major leagues in 2009, he made at least 25 starts and pitched more than 140 innings each of the five years that followed.
Injuries have derailed Cahill's progress. Since 2014, Cahill has bounced from the Arizona Diamondbacks — for whom he broke out with a 3.78 ERA in 32 starts and 200 innings, 2.6 WAR and 7.02 strikeouts-per-nine-innings — to the Chicago Cubs, San Diego Padres, Kansas City Royals and back to the Athletics.
Cahill found modest success in the Cubs' bullpen, appearing in six games for the Cubs during the 2015 postseason and pitching to a 2.74 ERA over 50 games in 2016. Although he did not pitch for the Cubs during the 2016 postseason, he received a World Series ring. But his low-to-mid 90s sinking fastball and high-80s slider — which received a nearly 3-mph boost last year, according to Fangraphs — have always been better suited to a starting rotation.
Neither Cahill nor Harvey will be expected to lead the Angels rotation. That task will fall to left-handers Andrew Heaney and Tyler Skaggs, who received praise from Eppler and new manager Brad Ausmus during last week's winter meetings. But the Angels' newest acquisitions should offer some stability and veteran leadership for the back end of a rotation that could include Jaime Barria, Felix Pena or Nick Tropeano during the first half of 2019.
---
UPDATES:
3:25 p.m.: This article was updated throughout.
This article was originally published at 9:25 a.m.
---