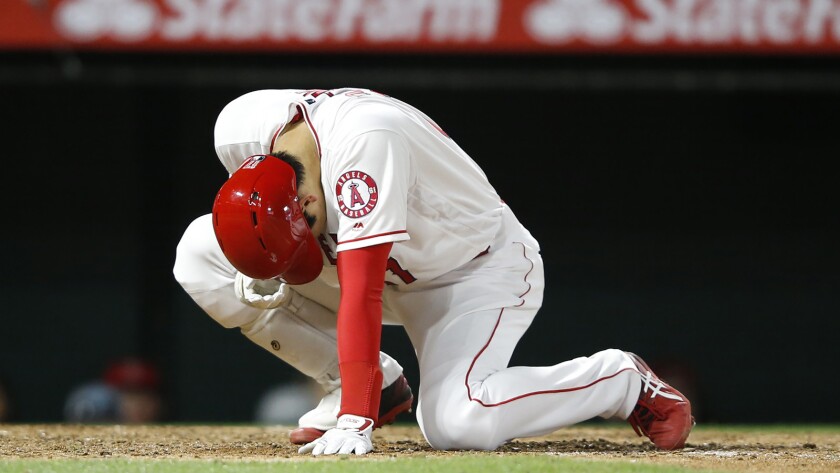 In the moments after the Angels lost 3-1 to the Minnesota Twins on Monday night at Angel Stadium, a sense of dread befell a group that seemed on the verge of cutting down the number of players on its injured list.
Angels trainer Adam Nevala jogged onto the field in the eighth inning to tend to designated hitter Shohei Ohtani, who was hit on the ring finger of his right hand by a Taylor Rogers fastball as he swung and missed to strike out.
Shortly after, Andrelton Simmons, the team's Gold Glove shortstop, crashed to the ground in foul territory in an effort to beat out a ground ball. He overextended his stride and turned his ankle grotesquely when his left foot landed just shy of the first base bag. The impact sent Simmons rolling and writhing with what was later determined by negative X-Rays to be a left ankle sprain.
An MRI exam Tuesday showed Simmons sustained a Grade 3 sprain, which is the most severe, and he was placed on the 10-day injured list. He is expected to be out longer, but the Angels will not announce a timeline for his recovery until he sees a specialist Wednesday.
The team announced that Ohtani was feeling better. He was back in the lineup as the Angels' designated hitter for Tuesday night's game against the Minnesota Twins.
"It's tough. The way he plays, he plays hard, 100 percent," Mike Trout said of Simmons. "You can't tell him not to. He's always been doing that, lunging at the bag, trying to get a hit. It was a big situation in the game. If he gets on base there, a two-run homer ties it. So it's tough, especially if you lose a guy like Simba. Hopefully it's not for too long."
The injuries occurred at a time when the Angels are close to welcoming back at least one key player. Starting pitcher Andrew Heaney cleared another hurdle in his return from elbow inflammation, throwing 73 pitches and striking out 10 in a 4 1/3-inning rehab start Monday; he could be asked to make one more rehab outing but the Angels are open to bringing him back before being stretched to 90 pitches if he still feels good Tuesday. A little farther down the line is the impending return of right-hander J.C. Ramirez, who could come back from last year's Tommy John surgery next month. Slugging outfielder Justin Upton could recover from a sprained toe, suffered days before the season began, around the same time.
Starting pitching might now be the least of the Angels' worries. In a matter of moments, the Angels (22-25) caught two bad breaks that could cost them stability in the batting order as they begin a stretch where they'll face American League West division rivals in the five series that follow this one against the Twins.
"That was a pretty creepy inning," said reliever Ty Buttrey, who gave up a two-run, go-ahead homer in the top of the eighth inning. "That escalated very quickly. Ohtani getting hit and Simba going down and me giving up the [tie], you couldn't have drawn it up any worse than that.
"Those guys are huge parts of our lineup and great teammates. I hope they recover just fine."
The Angels have a short list of options to back up Simmons if he is headed to the injured list. David Fletcher and Zack Cozart can fill in at shortstop, but having Fletcher, Cozart and Tommy La Stella playing every day would limit the Angels' versatility. The lack of depth was evident as soon as Simmons was carried off the field. Down to one position player, the Angels moved catcher Jonathan Lucroy to first base and brought in backup catcher Kevan Smith.
The Angels have 14 pitchers and only six infielders, but the roster balance did not shift when they called in reinforcements from the minor leagues Tuesday. Middle infielder Luis Rengifo was called up from triple-A Salt Lake as the only corresponding move.
The upside with Simmons is he's a notoriously quick healer. He hurt his back in early April but only missed one game. Simmons suffered a grade 2 ankle sprain last June 5 when he twisted it coming down the dugout steps before a game. He was placed on the injured list but only missed 10 days.
Simmons hasn't missed significant time with an injury since he tore a ligament in his left thumb in May 2016. He was back nearly a month later.
"You never know with Simba," Trout said Monday night. "Hopefully he comes back faster than normal. He's different, for sure."
At any rate, the blow to the lineup could be catastrophic. Ohtani rejoined the Angels' lineup May 7 and lit a spark in the Angels' offense. Entering Monday's game, the Angels' .298 batting average since May 7 was second only to the Twins' .299 average.
Simmons has been putting up career numbers. He has collected a hit in 28 of his last 32 games and he leads baseball with 45 hits since April 15.
"It's still early," Trout said. "We can't say it's going to derail a season. We've got a lot of guys in the minor leagues that can come up and fill in, guys that have been up here before. We'll go from there."
Sign up for our daily sports newsletter »
---