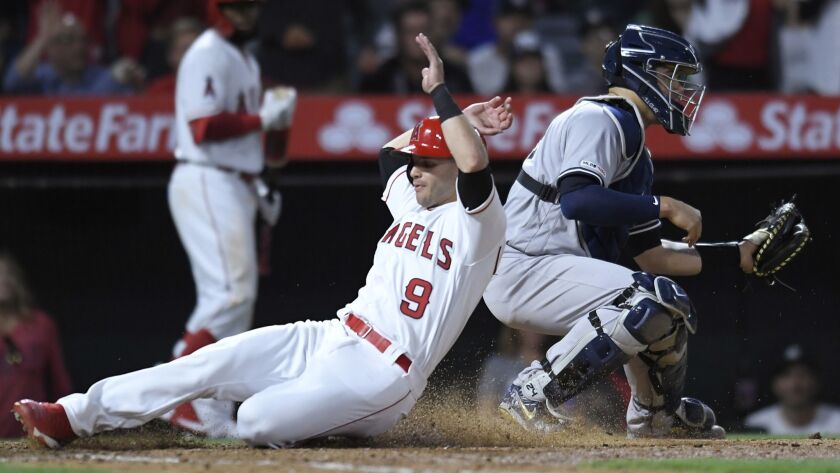 A team in dire need of a morale boost and a victory got both Thursday night when the Angels muscled their way out of a four-run hole for an 11-5 win over the New York Yankees, preventing a four-game sweep by the visitors in Angel Stadium.
The Angels had lost 10 of 12 games, seven by two runs or less, a rough patch that left them somewhat encouraged by their ability to rally from deficits and compete but far more frustrated by their inability to finish teams off.
But one night after blowing a 5-0 fifth-inning lead in a 6-5 loss, the Angels overcame a 4-0 deficit with two-run homers by Tommy La Stella and Kole Calhoun in the fifth inning and David Fletcher's two-out, two-run single in the sixth, which made it 6-4.
The Angels then blew the game open with a six-run seventh, a rally highlighted by Andrelton Simmons' RBI single and Fletcher's three-run triple, a fly ball he sliced down the right-field line to give him a career-high five RBIs.
"That was very much needed," Angels manager Brad Ausmus said before the Angels embarked on an overnight flight to Kansas City. "The energy has been really good in the clubhouse, in the dugout. Guys have had their spirits up.
"But in the first half of the game tonight, I sensed we were a little down. Then we put some runs on the board, and it picked up right where it's been."
Yankees starter Masahiro Tanaka, who entered with a 3-0 record and 1.59 ERA in six career starts against the Angels, allowed two hits in four shutout innings before faltering in the fifth.
Jonathan Lucroy singled and La Stella lined his team-leading seventh homer of the season over the wall in right-center to make it 4-2. Luis Rengifo, making his major league debut, singled to center for his first big-league hit, and Calhoun smoked his sixth homer to right for a 4-4 tie.
"Tommy is definitely showing more power," Ausmus said of La Stella.
"I couldn't tell you if it's a conscious effort to drive the ball more, if he's just squaring up the ball better, if it's something he's done with the hitting coaches … I really couldn't pin it down for you, but he's been really good for us."
La Stella, a former Chicago Cubs utility player, had never hit more than five homers in a season. He now has one more homer than Mike Trout.
"I'm sure that will last," La Stella said, "for about a day or so."
The comeback masked another shaky start by Trevor Cahill, who allowed four runs and six hits in four innings, walked four and struck out two.
It took him 93 pitches — 50 strikes and 43 balls — to record 12 outs.
This was not an outlier. Angels starters are 2-10 and rank 28th in baseball with a 6.06 ERA. They average 42/3 innings per game.
The Angels called up their top infield prospect in Rengifo on Thursday. Could their top pitching prospect be far behind?
Griffin Canning, the former UCLA standout, was scratched from Wednesday's triple-A start so he could boost his pitch count to 90 in the controlled setting of an extended spring-training game in Arizona, an indication the right-hander could be on the verge of a big-league promotion.
Canning, 22, was a second-round pick in 2017. He went 1-0 with an 0.56 ERA in his first three starts at Salt Lake, striking out 17 and walking two in 16 innings. His repertoire has been compared to that of Cleveland's Trevor Bauer.
Asked how seriously the Angels are considering Canning, Ausmus said, "I mean, he's on the radar, for sure."
Will Canning's next start be in Arizona. For Salt Lake? For the Angels?
"I'm not ready to say right now," Ausmus said. "He's on the radar."
Matt Harvey (0-2, 8.03 ERA) and Cahill (1-2, 5.93 ERA) are expected to remain in the rotation. Felix Pena (3.63 ERA) and Jaime Barria (4.26 ERA) have pitched well but can be optioned to the minor leagues. Chris Stratton (0-2, 7.04 ERA in five starts) could be vulnerable.
Tyler Skaggs will come off the injured list to start Friday in Kansas City, and the left-hander could push Stratton to the bullpen. Stratton could also be designated for assignment to make room for Skaggs or, possibly, Canning.
Could there be a shakeup in the rotation?
"Not tonight," Ausmus said. "We've got a long flight."
Sign up for our daily sports newsletter »
---