Men with beards are the new face of baseball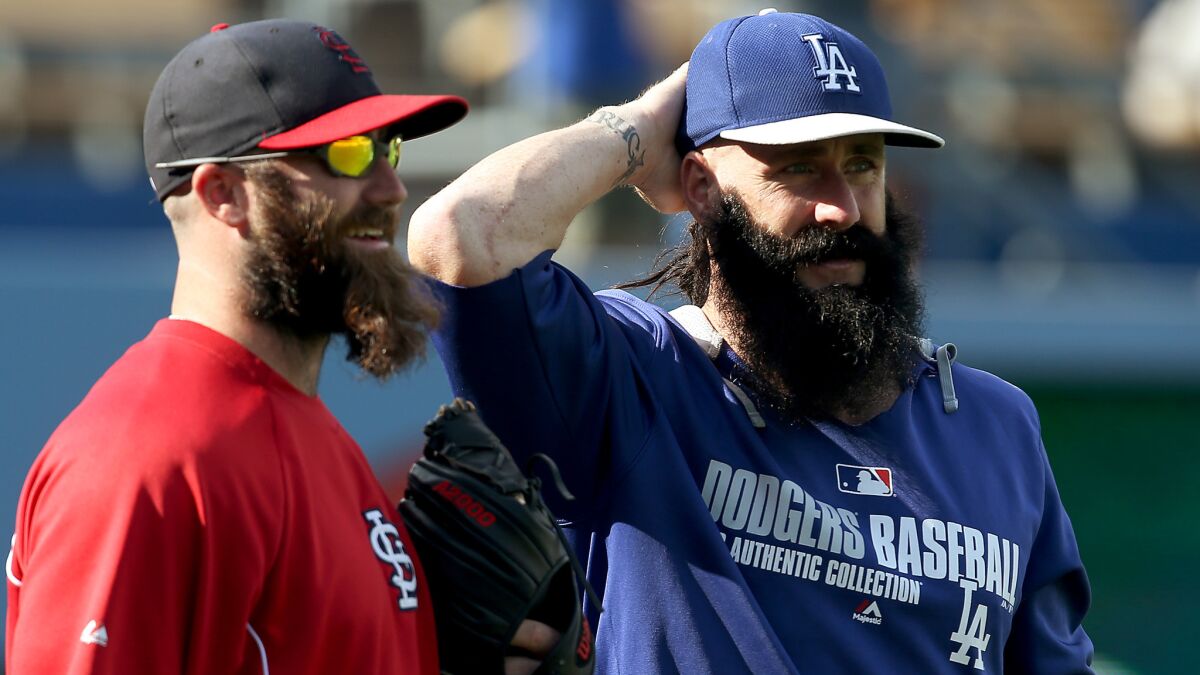 Pennant races always had the potential to get a little hairy, and these days that's not always about late-inning rallies, fluke bounces or the questionable call by an umpire.
Sometimes, it's the actual hair.
Last season's World Series between the Boston Red Sox and St. Louis Cardinals was tabbed a "Battle of the Beards" as players built upon bold hirsute statements such as the one Brian Wilson (a.k.a. "The Beard") made with the 2010 champion San Francisco Giants.
Baseball beards run the gamut, from garden-variety trimmed mustaches, to soul patches and Fu Manchus, to full-grown face bushes like the one sported by Dodgers outfielder Scott Van Slyke.
"It's basically the epitome of man," says Wilson, now a setup man with the Dodgers. "God gave man the ability to grow facial hair, and that's what he did."
Baseball players couldn't always take advantage, and some still can't.
Before Reggie Jackson and the mustached Oakland Athletics of the early 1970s, major league teams generally frowned upon facial hair, and clean-shaven faces were part of the game's image. The late New York Yankees owner George Steinbrenner in particular disliked long hair and shaggy faces, and his policies — which have been referred to as "shave up or ship out" — have been in place before the better part of four decades.
But most teams allow facial hair, and in 2013 the Wall Street Journal reported that 58% of 912 major league ballplayers it checked had some type of mustache or beard.
Among this year's Dodgers, Josh Beckett, Adrian Gonzalez, Dan Haren, J.P. Howell, Matt Kemp, Clayton Kershaw, Justin Turner, Van Slyke and Wilson have or had grown noticeable facial hair.
Among Angels, it's newcomer Jason Grilli and Josh Hamilton, Kevin Jepsen, Howie Kendrick, Albert Pujols and Matt Shoemaker — with the rookie Shoemaker's beard the most prominent of the bunch.
"I think, yeah, there's an epidemic of beards lately," Wilson says. "I don't think that that's any one person's doing. I just think the more people that have it, the more people feel comfortable wearing it."
Several players have made unique facial hair part of their image over the years. The mustaches of former closers Rollie Fingers and Goose Gossage (handlebar and Fu Manchu, respectively) spring to mind when one thinks about All-Star facial hair, but beards are taking over.
"It's the trend," says Grilli, a veteran who was recently acquired by the Angels from the Pittsburgh Pirates. ". . . I think 20 years from now we'll be looking back on it going, 'Why was everybody having beards and long hair?' It's just the thing to do, I guess. It's caught on."
A beard or mustache can appear or disappear based on superstition. If a player is slumping, sometimes the hair is what has to go.
"In this game you go with what you think is working, and it's not always the reason," Grilli says, "but if you can convince yourself of that, then you just go with it."
Dodgers left-hander Howell says the aura of mystery created by beards might also contribute to the trend.
"It feels like a little cape," he says. "You can hide behind it. No one knows what my face really looks like, I don't think. It's been years since I've had it shaved, so I don't even know what I look like anymore. I know what I look like with a beard, and that's it."
Kershaw says his beard provides him an edge. "It might be a little more intimidation a little bit just because I look so young without a beard," he says. "I don't want people thinking they're facing a 12-year-old out there."
To grow his beard, Kershaw first had to make a bargain.
"I've always kind of had a deal with my wife where, in the off-season, I'm kind of clean-shaven, and during the season just kind of let it go," Kershaw says.
Howell is lucky in that way. He says his wife is on board with the wild beard fad.
"My wife loves it, man, she does," Howell says. "She's a huge fan. She's always been a fan of facial hair on me, so the more the better for her."
---
Get the latest on L.A.'s teams in the daily Sports Report newsletter.
You may occasionally receive promotional content from the Los Angeles Times.