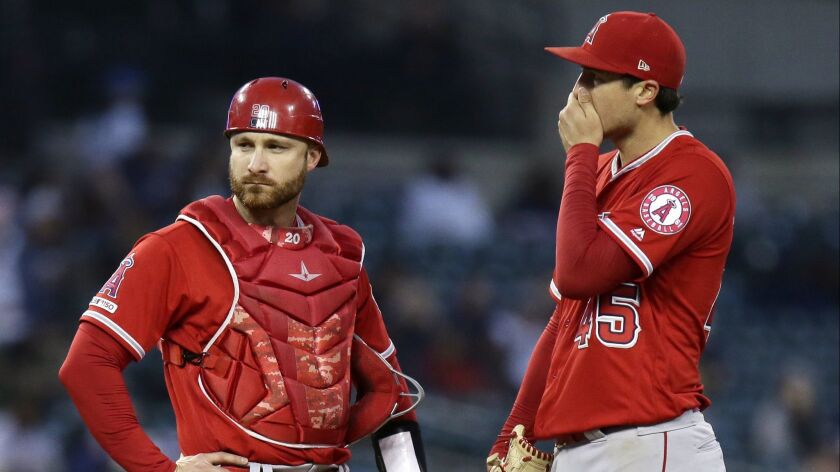 Reporting from ARLINGTON, Texas —
Jonathan Lucroy absorbed a second staggering blow this week after the death of Angels pitcher Tyler Skaggs on Monday. The catcher's college coach, Tony Robichaux of Louisiana-Lafayette, died on Wednesday in New Orleans at the age of 57.
Robichaux, who won more than 1,000 games and took the Ragin' Cajuns to the College World Series in 2000, suffered a heart attack on June 23 and had two open-heart surgeries. Lucroy last saw Robichaux in Globe Life Park in April.
"It's been a tough couple of days," Lucroy said. "It hasn't been easy, but you grind through. Both Skaggsy and my college coach wouldn't want us sitting here feeling sorry for ourselves and mourning them. They would want us to go out there and grind and fight and keep playing hard."
After Sunday's game in Houston, Lucroy will drive with his wife and kids to Lafayette to attend funeral services for Robichaux.
"He was a very important person in my life and a lot of guys' lives," Lucroy said. "He was very respected, revered, in Louisiana and in college baseball in general."
Lucroy said he will always remember Robichaux for his funny sayings.
"One of his favorites was that he wants players who drink out of the water hose," Lucroy said. "He doesn't want players whose mommies come down and give them a Powerade in the third inning."
Power aided
Mike Trout crushed a 445-foot homer off the facing of the second deck in left field in the first inning Thursday night for his 25th homer of the season and his ninth in 13 games against the Rangers in 2019.
The center fielder tied a franchise record for the most homers by an Angels batter in a single season against one opponent, a mark also achieved by Vladimir Guerrero against Seattle in 2005 and Tim Salmon against Cleveland in 1998.
Trout is one homer away from tying the club record of 26 homers before the All-Star break set by Trout in 2015 and Garret Anderson in 2000.
Cleveland rocks
Manager Brad Ausmus said infielder Tommy La Stella, who will be sidelined for eight to 10 weeks because of a right-tibia fracture, will attend the All-Star Game festivities in Cleveland next week. La Stella, voted by players as an American League reserve, suffered the injury when he fouled a ball off his leg on Tuesday.
"I talked to him [Wednesday] about it and he said he's going, which is good, he should," Ausmus said. "He deserved it. He earned it. He won't be able to play, but he gets to enjoy all the festivities surrounding the game, watch the home run derby. He'd regret it if he didn't go experience it."
Short hops
Shortstop Andrelton Simmons made two superb defensive plays Thursday. In the third inning, he backhanded Shin-Soo Choo's grounder, jumped into the air and, with his momentum carrying him into the outfield, threw to first on the fly for the out. In the sixth, he charged Jeff Mathis' slow roller, made a barehanded grab and strong off-balance throw to first. … First baseman Albert Pujols sat out his second straight game after fouling a ball off his left ankle Tuesday. … Left fielder Justin Upton did not play Thursday after departing Wednesday night's game because of left quadriceps tightness, but the injury is not believed to be serious.
---