Brad Ausmus impressed with Angels prospect Jose Rojas: 'He's been tearing the cover off the ball'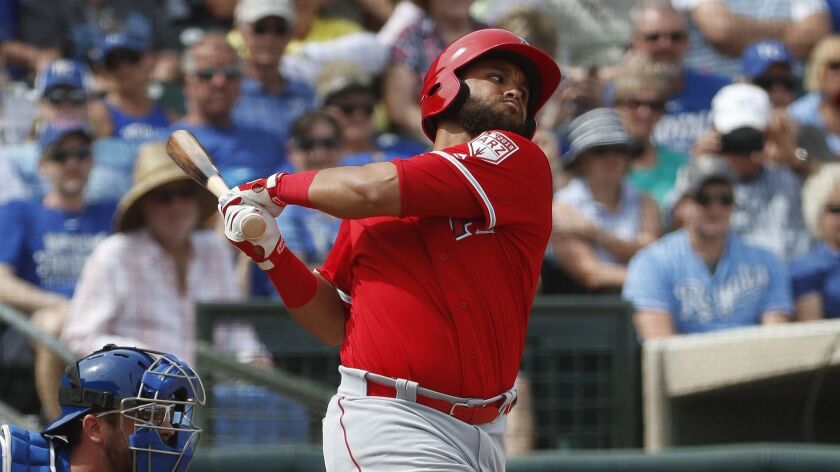 Reporting from phoenix —
Going into spring training, Angels manager Brad Ausmus thought he knew Jose Rojas.
But recently, when Rojas has stepped up to bat ...
"He's been tearing the cover off the ball," Ausmus said. "He's certainly opened some eyes."
Rojas, an infielder, has a .469 on-base percentage and a .786 slugging percentage this spring. He is tied with Mike Trout and Matt Thaiss for a team-leading seven extra-base hits, including two home runs.
"He doesn't get a ton of hype maybe in the media," said Angels two-way player Jared Walsh, a minor league teammate of Rojas'. "But I think if you ask most of his peers … they would say he's probably one of the most complete hitters in the minor league organization."
Over three minor league seasons, Rojas has compiled an .811 .on-base-plus-slugging percentage and earned a reputation for his even-keeled disposition.
Walsh said he admired Rojas' "majestic home runs." He recalled a highlight against the Lancaster Jethawks in which Rojas, playing for the Inland Empire 66ers, whacked a ball out of the stadium and onto a nearby highway. It traveled about 475 feet, Walsh estimated.
But to Walsh, the most impressive part of Rojas' hitting includes more than slugging. Rojas can deliver singles too, like the two-run, bases-loaded liner he drove to left field in a win over the San Diego Padres on Wednesday.
"He's just really consistent, as a hitter and a person," Walsh said.
Rojas is from Anaheim, and he grew up going to 10 to 12 Angels games every summer with his family. He played baseball at Anaheim High and shares a love for the team with his father.
"I always would ask him questions like, 'What do I need to do to get here?' " Rojas said.
Rojas, who turned 26 in February, came to spring training after playing winter ball in Venezuela, where he logged an .865 OBP. During his time there, he learned how to deliver on expectations and avoid overthinking.
Rojas' abilities became more obvious.
"I'd seen him play, but I hadn't seen him do this," Ausmus said. "At the very least he's brought some attention to himself."
When the young player heard Ausmus' praise, he remained unfazed.
"It's something special, obviously, hearing that from him," Rojas said. "But I'm going to keep working."
Skaggs pitches minor league game
Tyler Skaggs threw about 50 pitches in a minor league game Friday, as he recovers from forearm fatigue.
Skaggs allowed one hit. While he said he was "a little rusty" at first, he was pleased with his performance.
"Some pitches weren't as crisp," Skaggs said, "but overall [my] mechanics felt really smooth."
Justin Upton and Zack Cozart were designated hitters in the game. Upton is recovering from a knee injury, Cozart from a calf injury.
"From a health perspective, I feel 100 percent." Cozart said. "Now it's just about getting at-bats and timing in my eyes."
Upton said he also feels healthy, adding that he aims to gain outfield experience next.
"It will just be a matter of kind of getting my legs under me," he said.
Roster moves
The Angels announced that pitchers John Curtiss and Williams Jerez were optioned to the triple-A Salt Lake Bees. Outfielder Jo Adell and pitchers Alex Meyer and Forrest Snow were reassigned to minor league camp.
Sign up for our daily sports newsletter »
---
Get the latest on L.A.'s teams in the daily Sports Report newsletter.
You may occasionally receive promotional content from the Los Angeles Times.